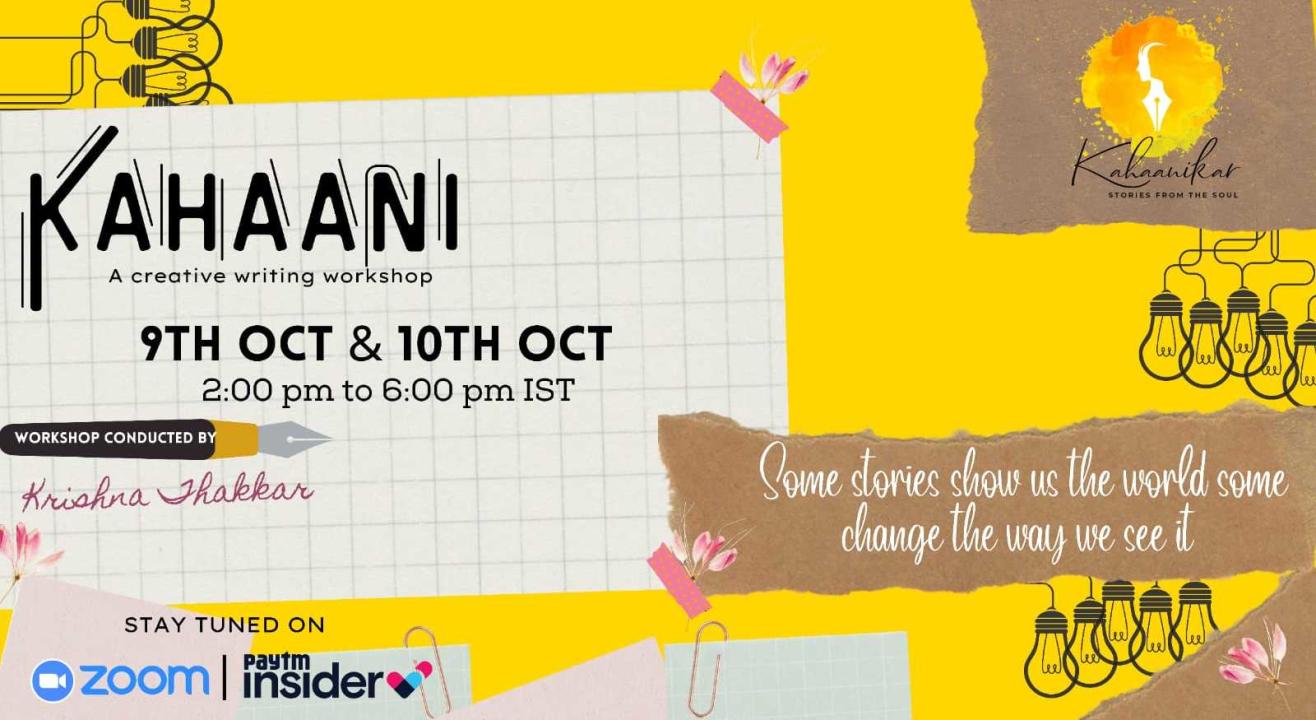 Enjoy this event from your home
Event Guide
Digital Event
Live On Insider
Masterclass
Learn from an expert
Invite your friends
and enjoy a shared experience
Event Guide
Digital Event
Live On Insider
Masterclass
Learn from an expert
Invite your friends
and enjoy a shared experience
About the Event
"Krishna Thakkar encapsulated the whole journey of a story, not in boring theories, but with fun exercises & live examples. And I finished with a fresh story of my own!! Great value for money & time."
- Vishal Agarwala, Lyricist, Writer, Voice Over Artist, Former films executive at DDB Mudra Group, one of the attendees of the workshop.
So what's the workshop about?
We all have stories weaved by our imaginations, but how do we translate our story in a way that it captivates the imagination & connects with our readers/ audiences?
Kahaani is a workshop for every amateur writer looking forward to being a professional one, it is also apt for professional writers willing to enhance their skill sets. It includes internationally valid concepts of structured writing and discusses universally accepted tools for building characters, developing strong narrative, a good plot & memorable dialogues.
topics covered
1. How to craft a plot.
2. Characters - how to layer your characters and make them absolutely original.
3. Dialogues - how can the most popular dialogue in films be, 'Kitney AAdmi The'! how much does the language, tone of the dialogue matters, crafting dialogues
4. Power of Narration.
this workshop is suitable for writers who want to go and pursue careers as novelists, short story writers, script writers etc. across all streams of professional writing.
The workshop is open to all above 17 years of age.
About Faculty:-
About Krishna Thakkar
Krishna has done her post-graduation in Human Resource Management from the Aston University in United Kingdom. Having discovered her passion for writing, she chased it as her career and worked as a part of shows like 'Mere Sai' &'ahilya' both being telecast on Sony Entertainment Television.
She stepped into the creative world of English Theatre by joining Raëll Padamsee's ACE Productions, where her passion for writing was honed by her mentor and theatre Stalwart, Raëll Padmasee.
Krishna's first mega production, 'Mahatma - Come find the Gandhi in you' was produced by ACE Productions and premiered at Jamshed Bhabha Theatre, NCPA, followed by a farcical comedy, 'Knock Knock Who's There' & a mega production, 'Rediscover the Epic'- based on the Ramayana- which premiered at the Royal Opera House.
Krishna by then also got the opportunity and exposure to work in the capacity of Co-Associate & Co -Creative Director at Ace Productions and is now in process to publish her debut novel- A Saga Untold.
Having a flare for public speaking and connecting with people from various walks of life she loves sharing her practical writing experience with people who share a similar passion for writing.
Press link:-
https://mumbaimirror.indiatimes.com/mumbai/other/cm-wife-attend-play-at-royal-opera-house/articleshow/59167785.cms