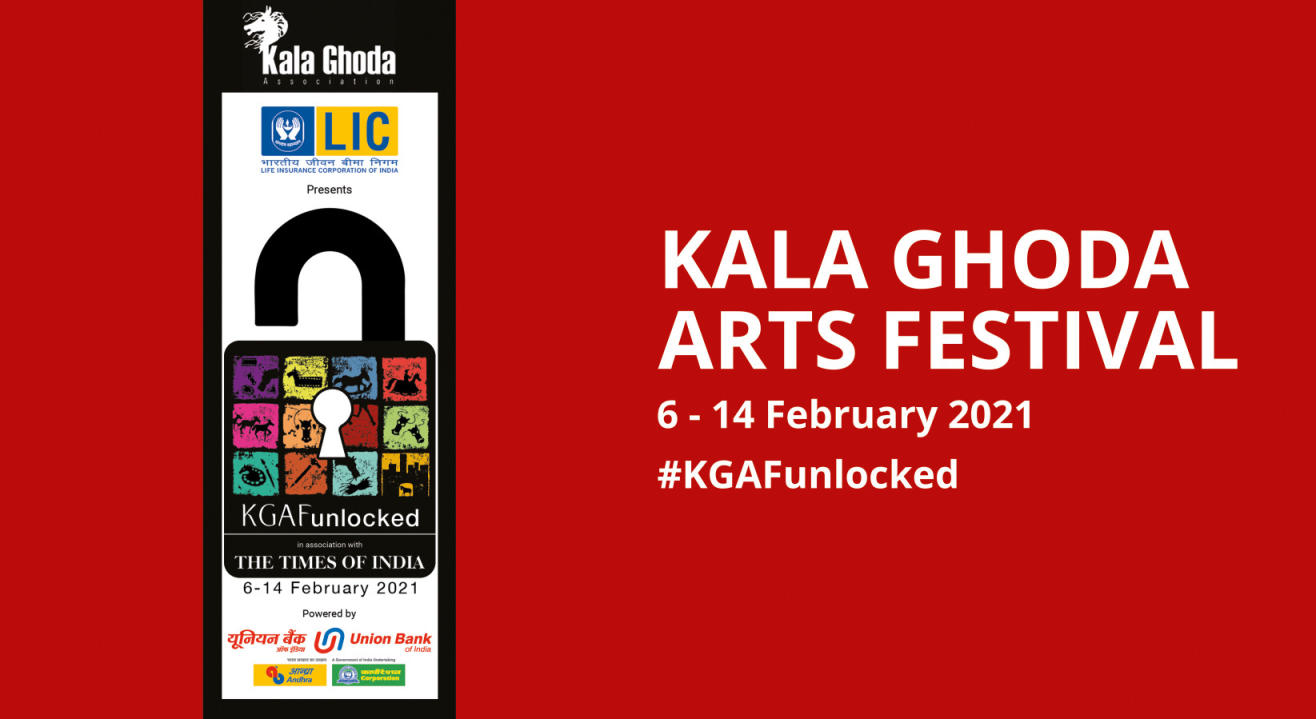 The Kala Ghoda Arts Festival, 2021
Feb 06 to Feb 14 - India's biggest cultural festival returns for its 22nd edition. And this time - in a digital format.
Invite your friends
and enjoy a shared experience
If there's one thing that draws attendees year after year to the Kala Ghoda Arts Festival - it's the fact that there's always something for everyone at Mumbai's most beloved cultural festival.
These are extraordinary times - but you need not worry about missing KGAF 2021, because the lovely folks behind the festival have made sure the entire experience comes to your home in a virtual format.
If you're new to experience KGAF you must know that the 9 days of the fest are a rollercoaster ride with films and filmmaking, arts and crafts, prose and poetry, culture, music, dance, storytelling, culinary arts, martial arts, theatre - and actually, there's lots more - but you get the idea. Now, you've just gotta experience it. And yes, like always - it's FREE FOR ALL
Go Offstage
While there are some events taking place on Frontstage on Paytm Insider, we have a couple of online shows taking place side by side. Check them out here:


What's in store for the next couple of days at the Kala Ghoda Arts Festival, 2021?
Explore the day wise schedule and sign up to attend your favourite workshops, talks and gigs of your choice.
Art Entrance - hear it from them!
Watch It On Demand
Anytime, Anywhere - catch a recording of some really cool at-home experiences below. Couple of events lined up. More coming soon.
Artist Lineup
Leslee Lewis • Saransh Goila • Arzan Khambatta • Devdutt Patnaik • Dia Mirza • Rohini Ramanathan • Licypriya Kangujam • Mad Rob • Pooja Dhingra • Khaki Tours • Art Deco Mumbai • Tahira Kashyap • Shilpa Rao • TM Krishna • Usha Uthup • Ankur Tewari • Radhika Vaz • Carlo-Maria Ricci • Ranjit Hoskote • Premanand Chandavarkar • Eric Oberdoff • Renato Barbatuques • Priya Malik • Gaurav Tripathi • Mariyam Saigal • Amandeep Singh • Tess Joseph • Naima • Gino Banks • Kashyap Swaroop • Tommaso Petrolo • Sonali Gupta • Purbayan Chatterjee • Audrey Truschke • Arshia Sattar • Rana Safvi • Rakesh Chaurasia • Tara Deshpande • Kunal Vijaykar • Perumal Murugan • Nandini • Ruth Padel • Shubha Mudgal • Jeet Thayil • Anand Neelakantan • Aamhi Kon • Zeba Kohli • Simren George • Bea Debrabant • Shabnam Minwala • Ojas Adhiya • Talat Aziz • Pratibha Singh Baghel • Sonali Thakker • Aditi Mittal • Jeeya Sethi • Sorabh Pant • Atul Khatri • Gargi Kothari • Fabio Mazzolini • Laura Kenyon • Ashley Lobo • Pankaj Udhas • Kavita Krishnamoorthy • Vir Das • Rohan Joshi
Frequently Asked Questions
Click here to take a look at all the FAQs.
Q. How can I attend the event?
A. Let's start with first finding the venue. It's mentioned on your e-ticket. If it says 'Watch on Insider', you need to log-in on the Paytm Insider website via your desktop browser or mobile browser. Remember to use your registered email ID (one on which you've received your e-ticket). Then click on the "Join Event" button on your e-ticket to join in.

If the venue name is Online, then you'll receive joining details from the organizer's end before the event.


And in case a venue name has been mentioned, that means it will be an on-ground event - and you will have to visit the venue in order to attend it.

Q. I have a ticket for an on-ground event. What all do I need to attend it?
A. Just two things. Your e-ticket and a valid Government ID proof. Please keep in mind, the safety protocols and follow the instructions provided by the venue authorities.
Q. Can I attend the events available on the Paytm Insider platform via the app?
A. Hopefully soon. We're trying our best. But for Kala Ghoda Arts Festival 2021, you can only attend the event via a desktop or mobile browser.
Q. Can I join the event late?
A. Of course. Please note, if you miss out on a portion of the event, you can watch it 24 hours after the event ends - using the same e-ticket. Because the show will be available as video on demand till 14th February. Oh yes!
*This will only be available for all events taking place on Paytm Insider. You can check out if Video on Demand is available or not on the event page.
Q. Can I screencast the event on my TV?
A. Yes. Experience it on the big screen with the help of an HDMI, Smart TV, Chromecast, Google Home or a streaming device. You'll see a screencast button on the top-right of your screen. Click on it to screencast the event.
Q. What if I face poor network connectivity during the event?
A. Noooo. That'd be bad! We suggest double-checking to have a stable and strong 4G or WiFi connection - to have a seamless viewing experience.
Q. I reside outside India. Is there a way for me to attend the event?
A. There is. You can attend the event from any part of the world. No restrictions whatsoever.
Q. What is the Chat Room?
A. Chat Room is a space where you can chat with fellow festival attendees using the "Send a message" button. Say hello to fellow fans & attendees 👋
Q. Where can I get the event updates?
A. All important event updates will be mentioned on the event page. Stay updated on everything about the festival via the Paytm Insider and Kala Ghoda Arts Festival social media pages. Follow updates on these handles-

Kala Ghoda Arts Festival
Instagram @kgafest
Facebook @kalaghodaartsfestival

Paytm Insider
Twitter @paytminsider
Instagram @insider.in
Facebook @paytminsider
Email help@insider
Subscribe to receive our newsletter!
Find the best experiences happening out there in your city or enjoy handpicked content while sitting comfortably at home. Paytm Insider is your go-to place to figure out what to do today!