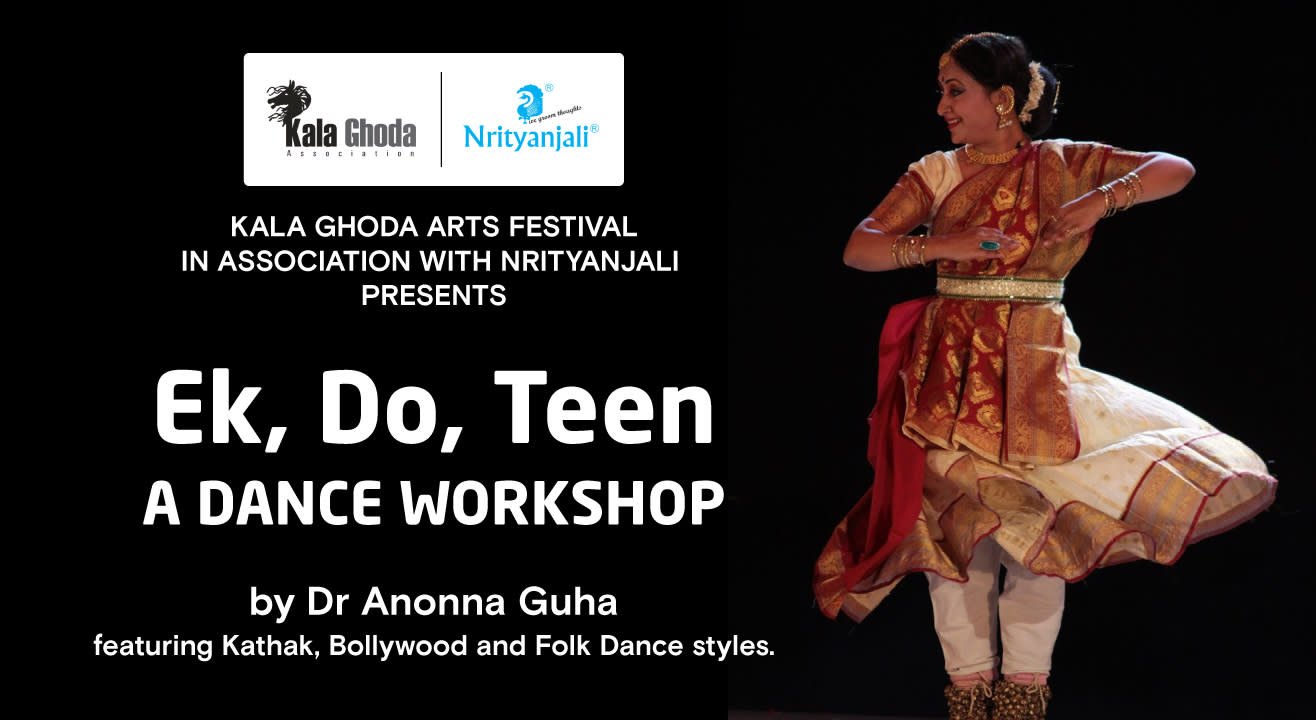 Ek, Do, Teen - A Dance Workshop by Dr. Anonna Guha
Enjoy this event from your home
Event Guide
Digital Event
Live On Insider
For Age(s)
Family Friendly
Live Performance
Enjoy a unique experience
Invite your friends
and enjoy a shared experience
Ek, Do, Teen - A Dance Workshop by Dr. Anonna Guha
Enjoy this event from your home
Event Guide
Digital Event
Live On Insider
For Age(s)
Family Friendly
Live Performance
Enjoy a unique experience
Invite your friends
and enjoy a shared experience
Event Guide
Digital Event
Live On Insider
For Age(s)
Family Friendly
Live Performance
Enjoy a unique experience
Invite your friends
and enjoy a shared experience
(All proceeds from this workshop will be donated towards Dr Tushar Guha's Nrityanjali for Covid relief activities)
Ek Do Teen is a workshop of happiness and rhythm with an integral part of India's rich cultural heritage - Dance. The role and function of Dance has been changing over the last couple of years. From being the prerogative and from being performed by few families of dance artistes, today dance is embraced by lakhs of people. Right from Indian classical dancing to folk dancing to popular Bollywood dancing, we express our inner most thoughts, desires and feelings through this creative form. Sometimes we dance solo, some times we dance in a group but on both occasions, there can be cathartic moments.
This workshop by Dr. Tushar Guha's Nrityanjali is based on 58 years of dance research and performances. Lucknow gharana's 'Nazakat' in Kathak, community spirit of Folk Dances and Popular dance moves of Bollywood will be taught and performed in Ek Do Teen.
Dr. Anonna Guha with co artistes Mr. Girish Salvi and Ms. Sangita Sawant will explore dance as a genre with moves of Kathak from North of India, Lezim from Maharashtra, Garba from Gujarat and Bollywood's popular dancing.
Through Dance, with our movement, with our bodies and in spirit, we express our solidarity, our love, our compassion, our spirituality, our Humane Quotient and our strength of mind, during these COVID times.
Proceeds from this workshop will be directed towards:
Teaching classical – Kathak and Indian folk dances Online, to schools with students from less privileged backgrounds to keep them engaged and energized
Computer Syndrome Exercises using elements of performing arts and teaching them to students since they are online most times – exercises for eyes, neck, handles, shoulders, fingers, back
Online interactive conversations on Mental Wellbeing issues and using music, dance, drama to heal
Online as well as Physical Counselling of individuals to help them handle issues like anxiety and fear during this pandemic
Distribution of Food grains to widowed and women who are single parents, from lower income groups
Supporting education and exam fees for students from Adivasi and lower income group families
Online Workshops on Parenting and its dimensions during Covid times and after, for schools
Conversations on Creating Inclusive Spaces and the ways to do so, to include Covid affected patients and their families
Nrityanjali was founded as an institute of music, dance, dramatics and is a centre of learning. It is also a centre of understanding , thought and action. Nrityanjali's approach is simple and its medium is music, dance and dramatics.
Music, dance and dramatics have universal appeal and it is through these performing art forms that Nrityanjali is striving to reach its goal of social service.
Formed on July 19th 1963 by Dr. Tushar Guha with the twin objective of imparting discipline and promoting our great cultural heritage among the youth, we have progressed over the years, culminating into the present day Nrityanjali, extending our activities to include personality development and management services as well – Nrityanjali the institute of performing arts, education, personality development & management services.
The emblem of Nrityanjali is the peacock. The peacock symbolises the finer elements of life-beauty, grace, rhythm and vibrance - which add colour to life. The outstretched leg of the peacock denotes our progressive outlook even to the unconventional. The missing "ghungroo" leaves us open to thought in its various forms.
Nrityanjali imparts lessons in dance, dance drama (Indian classical, folk, western) music (Hindustani and Rabindra Sangeet) and drama, personality development, education. It also presents and performs the same (dance, music, drama) and tries to reach out to people both Indians and foreigners, enabling them to grasp the nuances of the Indian performing arts in its various forms and thus providing people with an enriching experience. Nrityanjali also organises Festivals of Regional Music, Dance and Dramatics.
Nrityanjali Membership is through Invitation and has no Fees. Individuals from different walks of life education, medicine, science, arts, accounts, law, administration, housewives and students of different age groups (from 10 years to 70 years) work together for social service, education through the medium of music, dance and drama.
Nrityanjali Sunday Class is held every Sunday for more than 50 years, from 2 pm to 5 pm and is free for the youth and lovers of art. Here the youth and the participants are imparted free training in music, dance, drama and performing arts based games and activities. Oratory, compering, stagecraft, dress designing, make-up, stage management, choreography, in-depth knowledge of the art (history, geography, music, costume etc.), event management and the art of communication are the other aspects of these classes. The Sunday Classes through their methodical interaction motivate and develop self-confidence, team spirit, leadership qualities and selfless attitude.
Several other Nrityanjali initiatives like Counselling for relationship, children, work, marriage, rehabilitation of victims of domestic violence are held gratis and the environment of performing arts enables the individuals to overcome and evolve.
Music and dance performances for the inmates of orphanages, old age homes, cancer patients and the terminally ill are regularly organized and performed throughout the year at their respective centres.
Founder-Chairman Dr. Tushar Guha's research work On Personality Development and the PhD thesis titled 'Utilsing the elements of performing arts in day to day life to make a complete personality' is the approved reference book on Personality Development by the Government of Maharashtra in 1996, supported by the then secretary of education, Mrs. Kumud Bansal. This research of Utilising performing arts in education has also been presented on Ted x by Trustee Dr. Anonna Guha and is also taught at University of Mumbai and Film and Television Institute of India (FTII), as part of the Curriculum.
About Kala Ghoda Arts Festival :
Kala Ghoda Arts Festival is, today, the country's largest multi-cultural street festival, that is held in February every year. The Festival draws visitors in large numbers, not just from the city, but from all over the country, and the world.
The Kala Ghoda Arts Festival (KGAF) has been a beloved part of Mumbai's rich history for the past two decades – 21 years to be precise. Since our inception, KGAF has been a pioneer in evoking a sense of civic responsibility towards the cultural and historic heritage of a city.
Log onto www.kgaf2021.com to watch this year's fantastic virtual events and follow us on Instagram at @kgafest
Ek, Do, Teen - A Dance Workshop by Dr. Anonna Guha
Enjoy this event from your home
Event Guide
Digital Event
Live On Insider
For Age(s)
Family Friendly
Live Performance
Enjoy a unique experience
Invite your friends
and enjoy a shared experience