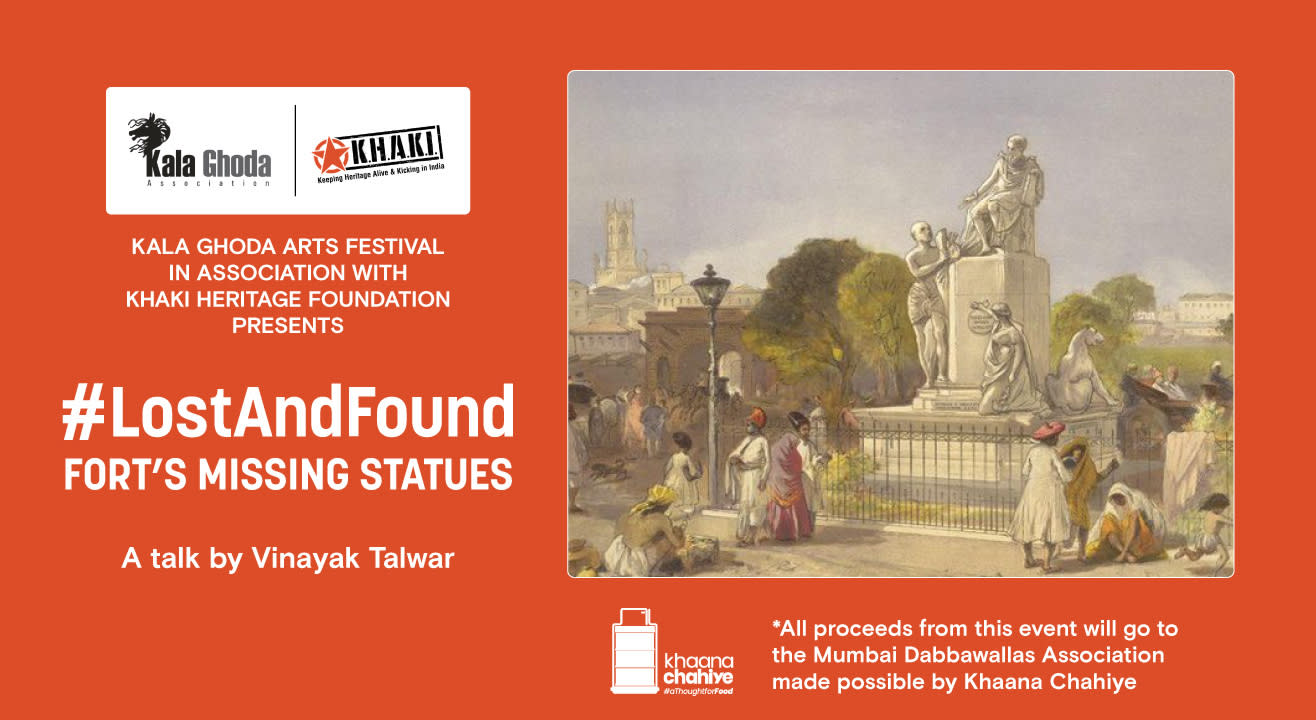 #LostAndFound - Fort's Missing Statues, A talk by Vinayak Talwar
Event Guide
Digital Event
Live On Insider
For Age(s)
Family Friendly
Interactive show
Be a part of the show
Invite your friends
and enjoy a shared experience
#LostAndFound - Fort's Missing Statues, A talk by Vinayak Talwar
Event Guide
Digital Event
Live On Insider
For Age(s)
Family Friendly
Interactive show
Be a part of the show
Invite your friends
and enjoy a shared experience
Event Guide
Digital Event
Live On Insider
For Age(s)
Family Friendly
Interactive show
Be a part of the show
Invite your friends
and enjoy a shared experience
Kala Ghoda in association with Khaki Heritage Foundation presents #LostAndFound - Fort's Missing Statues, A talk by Vinayak Talwar. All proceeds from this event will be donated towards the Mumbai Dabbawallas Association made possible by Khaana Chahiye.
Once upon a time, Mumbai's Fort district was peppered with colonial statues of British royalty, nobility and Governors and Governor Generals. And not just before independence, but even 15 years after. Until a nationalist movement in the 1960s saw many of them getting vandalized and disfigured in an attempt to erase India's colonial past. Some statues were hidden away and some even went missing, their place being taken over by statues of Indian leaders. But the clues of a past not too long back still linger around. At our Online Talk '#LostAndFound - Fort's Missing Statues', Vinayak Talwar of Khaki Heritage Foundation takes us around the Fort area to show us the locations of these statues and tells us who they memorialized, what befell them and other stories around these relics of the Raj.
Image credits: Pixels
Vinayak Talwar is a Dilliwalla who gets a kick out of showing Mumbaikars their own city. Living and working in Mumbai since the last 6 years, the city has enchanted him into exploring its nooks and crannies whenever he gets the chance. When he is not tramping down the streets of Fort and other Mumbai localities, Vinayak works as an HR professional with an Indian conglomerate.
About Kala Ghoda Arts Festival :
Kala Ghoda Arts Festival is, today, the country's largest multi-cultural street festival, that is held in February every year. The Festival draws visitors in large numbers, not just from the city, but from all over the country, and the world. The Kala Ghoda Arts Festival (KGAF) has been a beloved part of Mumbai's rich history for the past two decades – 21 years to be precise. Since our inception, KGAF has been a pioneer in evoking a sense of civic responsibility towards the cultural and historic heritage of a city. Log onto www.kgaf2021.com to watch this year's fantastic virtual events and follow us on Instagram at @kgafest
About Khaki Heritage Foundation:
Khaki Heritage Foundation is a Mumbai-based not-for-profit organisation involved in heritage awareness, archiving and conservation. The Foundation was established in 2018 by Bharat Gothoskar, founder of Khaki Tours, to do more for Mumbai's heritage than a tour company could. KHAKI stands for Keeping Heritage Alive and Kicking in India.
Khaana Chahiye is a ground-up citizen movement striving to combat hunger in the city of Mumbai, including Thane, New Mumbai and other neighbouring areas. The initiative is aimed at the marginalized section of the society who are the most vulnerable in these times.
It's inception began during the first lockdown in March 2020. We leveraged technology to crowdsource a comprehensive hunger map. The execution of which is fulfilled by our on-ground volunteers.
We address the issue of hunger by providing our beneficiaries with cooked meals and daily supplies of ration.
At present, we are also empowering local community kitchens run by women who would help provide cooked meals on a daily basis.
Support #Mumbai's Fight Against Hunger
Khaanachahiye is sharing-
- 38k meals Daily.
- 7.65 lakh meals since April 21.
- 54 lakh meals since March 20.
Volunteer: http://bit.ly/volunteer4kc
Report Hunger: http://bit.ly/KCReportHunger

Know more about our work: Khaana Chahiye
If any queries please reach out to contact@khaanachahiye.com
#LostAndFound - Fort's Missing Statues, A talk by Vinayak Talwar
Event Guide
Digital Event
Live On Insider
For Age(s)
Family Friendly
Interactive show
Be a part of the show
Invite your friends
and enjoy a shared experience