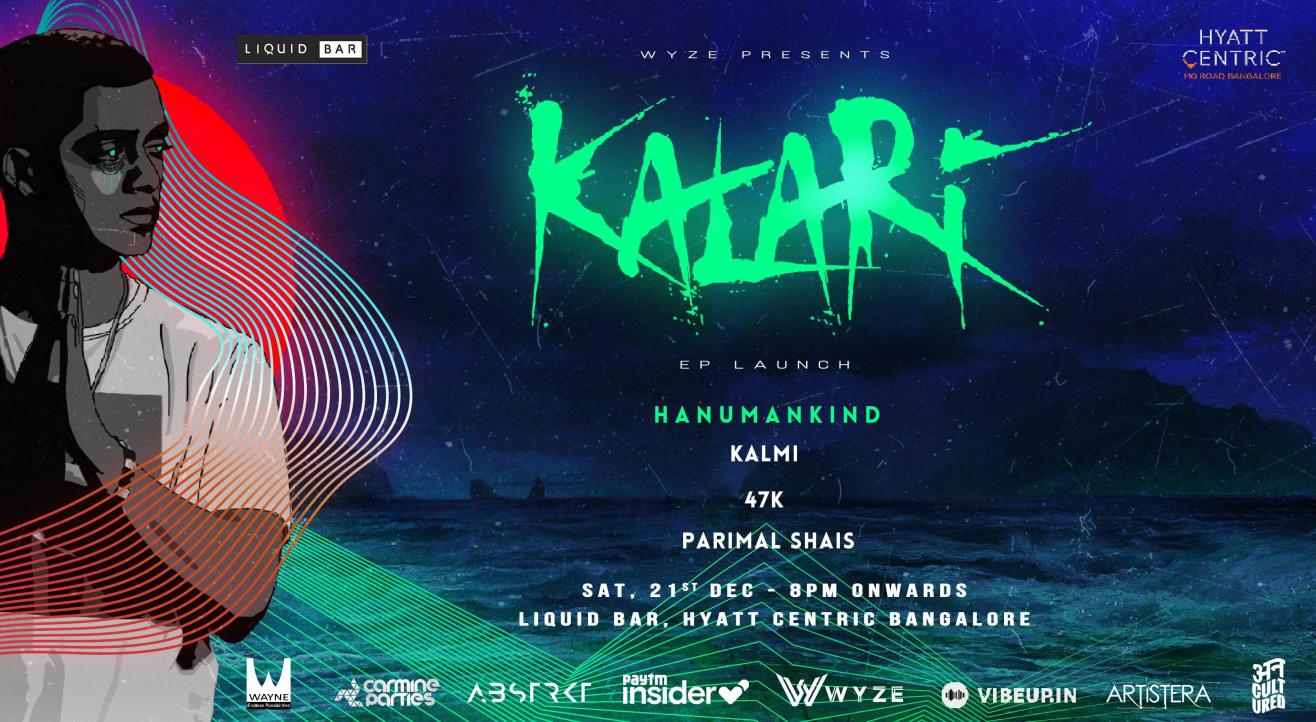 Kalari EP Launch feat. Hanumankind
December 21 | 8PM - December 22 | 1AM
Invite your friends
and enjoy a shared experience
Invite your friends
and enjoy a shared experience
About the Event
One of the biggest nights in India for Hip Hop, as the most anticipated release is happening from one of the best rappers to bless the mic - Hanumankind. It's the debut album, and it's sounding HUGE. Be there to witness one of the greatest shows Bangalore has seen from their homegrown artist!
This is the biggest bass and hip hop line up to go live in Bangalore after many months, and it's looking to a wild night with the best lyricists and beatmakers laying down the HEAT at the show.
Kalari is the result of 8 months of writing and production from the whole team of producers and Hanumankind himself, and it's going to preview what's to come for the next year. This event is the showcase for everybody who was involved in the making of the project.
About your artists:
Hanumankind - One of the best things about Hanumankind to is - he's just like one of us. He's big and passionate on speaking for the voiceless and uplifting people. That explains why he has such a wide variety of music. He's slow and sentimental tracks speaking on mental health, but he's also got upbeat club bangers, as well as inspirational/uprising tracks. He's so versatile and the combination of his flow, lyrical dominance and variety of beats available to him allows him to do so. I think his influencers are ones of the same. I mean looking up to guys like: SPM Houston, Suicide Boys, Chamillionare, Lupe Fiasco, Kendrick Lamar, and Logic - all ones that follow a similar path. Making music, of course for themselves, but also giving the fan/listener the ability to put them on at given vibe and relate.
Parimal Shais - Kochi-based producer Parimal Shais – who's out with his 15-track collaborative album Kumari Kandam Traps, Vol. 1 – is telling us about the importance of South Indian identity and he's found a new way to show solidarity.
47k - 47K has been an active part of the hip-hop scene in Chennai, performing with his rap collective, 'ElevatedPride'. He'll be performing a LIVE electronic bass set
Kalmi - Musician-composer Kalimireddy Nikhil aka 'Kalmi', a Hyderabad-based electronic music producer, has been making waves in the electronic music scene since 2015. Kalmi started his musical journey six years ago. His last project, a Tamil song called Amma, which released in the end-2018, was featured in the May edition of Rolling Stone India, the Indian edition of one of the world's greatest music magazines.
Liquid Bar
Hyatt Centric MG Road Bangalore, 1/1, Swamy Vivekananda Rd, Someshwarpura, Ulsoor
GET DIRECTIONS