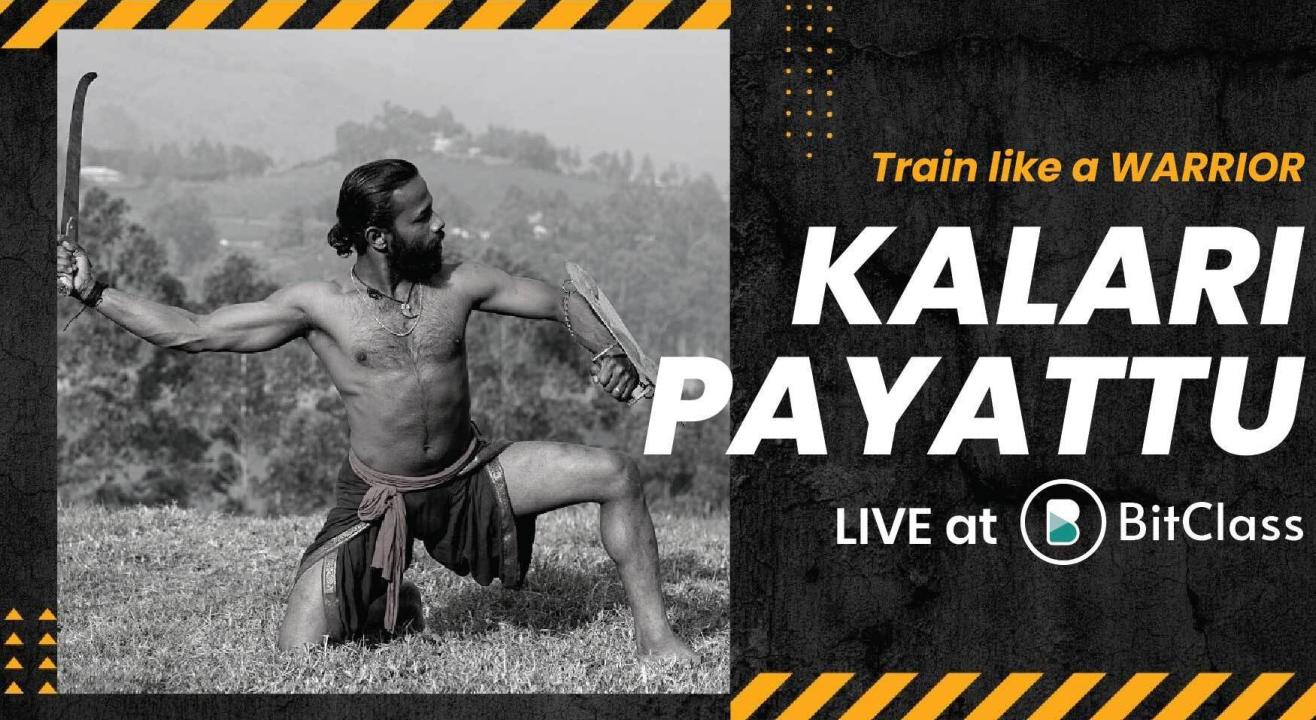 Kalaripayattu - Indian Martial Art | Full Course
October 4 | 7AM - October 29 | 8PM
Enjoy this event from your home
Event Guide
For Age(s)
Family Friendly
Live Fitness
Workout with a pro
Invite your friends
and enjoy a shared experience
Kalaripayattu - Indian Martial Art | Full Course
October 4 | 7AM - October 29 | 8PM
Enjoy this event from your home
Event Guide
For Age(s)
Family Friendly
Live Fitness
Workout with a pro
Invite your friends
and enjoy a shared experience
Event Guide
For Age(s)
Family Friendly
Live Fitness
Workout with a pro
Invite your friends
and enjoy a shared experience
Learn from a Limca Book of Records holder and a Master teacher.
Gurukal Amit Sudarshan with first-ever live Kalari classes.
Kalaripayattu, also known simply as Kalari, is an Indian martial art that originated in modern-day Kerala, a state on the southwestern coast of India. Kalaripayattu is known for its long-standing history within Indian martial arts. It is believed to be the oldest surviving martial art in India. It is also considered to be among the oldest martial arts still in existence, with its origin in the martial arts timeline dating back to at least the 3rd century BCE.
Kalaripayattu is mentioned in the Vadakkan Pattukal, a collection of ballads written about the Chekavar of the Malabar region of Kerala. Kalaripayattu is a martial art designed for the ancient battlefield (the word "Kalari" meaning "battlefield"), with weapons and combative techniques that are unique to India.
Why should you learn Kalaripayattu online?
Out of all the workout regimes, Kalari is one of the most needed yet underrated form with respect to today's scenario. Along with being a distinctive ancient martial art form it is actually a very fulfilling intense workout routine that can now be learnt online while staying at home.
Also, since the teachers of this ancient art are not many and limited to specific regions , it is a great opportunity to get to learn this unique art by our Master teacher, from any part of the world globally.
It is indisputably, the finest form of workout and a martial art with a rare blend of MEDITATION + MOVEMENT.
What will you learn in the course?
Syllabus-
-4 mudras
-Kicking
-Punching
-Power
-Speed
-Flexibility
What are the benefits of practicing Kalari?
Relaxation of mind and works against anxiety and stress issues
Astounding body weight loss
Increase in stamina, endurance, and flexibility of the body
Proper functioning of all the organs
Improved concentration
And most importantly, it promotes awareness about the connectedness of the body mind and soul.
The spiritual benefits are as prominent as physical.
REGISTER NOW!
Amit's Story of launching the first successful Online Kalarippayattu Cohort Based Course
Kalaripayattu - Indian Martial Art | Full Course
October 4 | 7AM - October 29 | 8PM
Enjoy this event from your home
Event Guide
For Age(s)
Family Friendly
Live Fitness
Workout with a pro
Invite your friends
and enjoy a shared experience