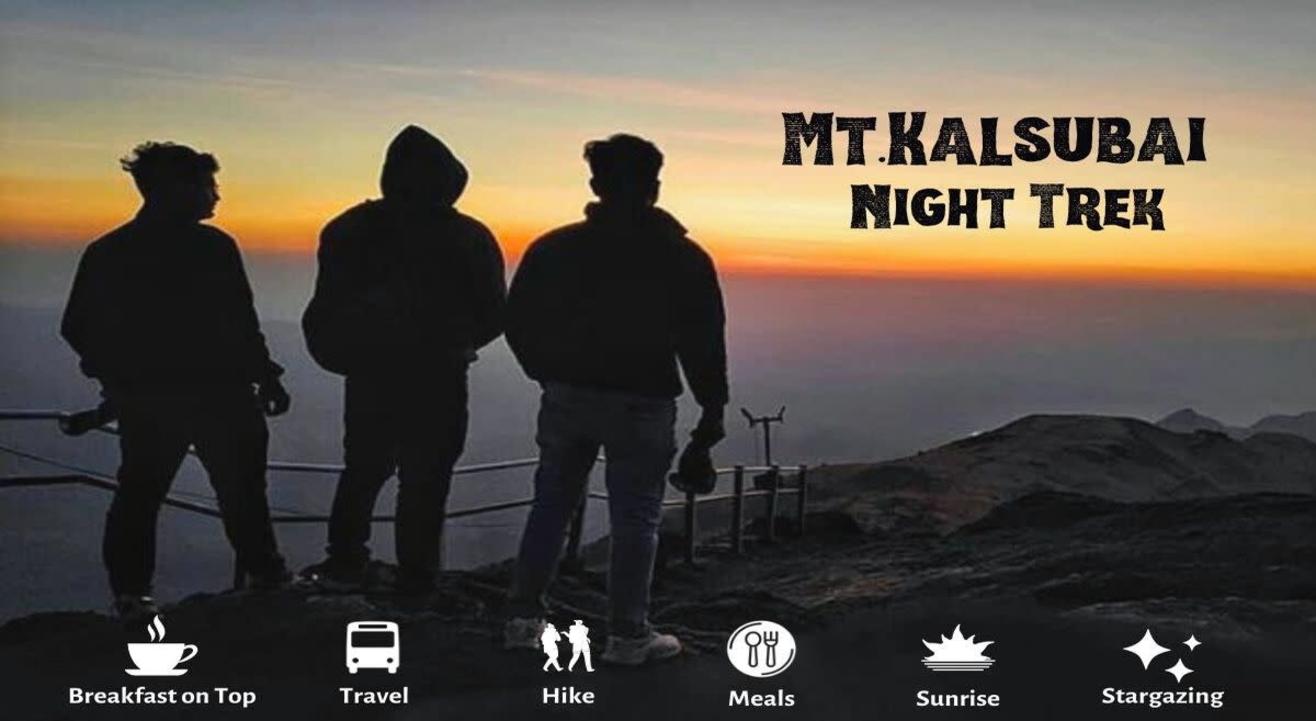 February 4 | 8:30PM - February 19 | 3:00PM
Kalsubai, Ahmednagar, Mumbai
Step out and enjoy this event
Invite your friends
and enjoy a shared experience
February 4 | 8:30PM - February 19 | 3:00PM
Kalsubai, Ahmednagar, Mumbai
Step out and enjoy this event
Invite your friends
and enjoy a shared experience
Invite your friends
and enjoy a shared experience
Overview
Go where you feel most alive.
It's time to upgrade the level of your adventure and feel the real thrill..!
Somewhere between the bottom of the climb and the summit is the answer to the mystery why we climb.
Trekking to the most beautiful peak & Say hello to Kalsubai, which is the highest peak in Maharashtra
Why Kalsubai should be your next trekking destination?
Surrounded by lush green forests and fields, the trekking route towards Maharashtra's Highest Peak is a surreal experience for all the nature lovers and trek enthusiasts. Challenging yet fun-filled, trek towards the highest summit will test your patience and offer an amazing panoramic view of several more mountain ranges like Alang, Madangad, Kulang, Ratangad (south west) and to the south Pabhargad, Ghanchakkar & Harishchandragad. Also, attempting to climb the most wish-listed mountain in the Sahyadri offers a great sense of achievement for most of the trekking enthusiasts
The story behind Kalsubai Unveiled
It is truly believed by the local villagers that a housemaid residing in a nearby village had disappeared near the mountain while trying to escape her employer's harsh suffering. This gives the mountain its present name as well as a reason for this temple to be built in her memory.
More about the climbing patches and Summit (Kalsubai Shikhar)
Nestled among several slopes, Kalsubai is a mix of easy to ascend slopes as well as rocky patches overlooking the valley below. To reach the Summit, Govt. has built many iron ladders along the vertical hill slopes.
Before the final lap, there comes a resting post where you can halt and enjoy having hot tea as well as crispy snacks. On the peak, there exists a temple devoted to Kalsubai Mata where local villagers offer prayers and perform Pujas during festivals.
HIGHLIGHTS
Highest Peak Of Maharashtra.
Night Trek
Sunrise
Stargazing
Breakfast on top of the mountain
Panoramic view of several mountains
Itinerary
Day 1- Saturday
08:30 pm Catch the Train for Kasara Station from CSMT or Other Stations as per your convenient
CST – Kasara Slow Local Time Table
08:44 pm - CSMT
08:51 pm - Byculla
08:58 pm - Dadar
09:07 pm - Kurla
09:11 pm – Ghatkopar
09:26 pm – Thane
09:42 pm – Dombivali
09:52 pm – Kalyan
11:04 pm - Kasara
11:20 pm - Reach Kasara and leave for Bari Gaon via local transport
Day 2 - Sunday
02:00 am: Reach Base Village & Get Refresh Yourself
02:30 am: Gear up, & pack your bags and get out! For adventure Trek It's gonna be a long climb to the top. We will make a few halts on the way where you can grab your snack or a drink.
05:30 am: We reach the Kalsubai temple in time for the sunrise. You get a beautiful view of Bhandardara's Arthur lake from the summit.
06:45 am: We start our descent. Finally, you get a view of the surroundings you climbed through in the night.
07:00 am: grab a quick breakfast with hot cup of tea on the mountain and start the descent.
12:30 pm: We reach back down at the base village.
01.30 pm: freshen up & grab a quick Lunch
03:00 pm: Time to head back to & say goodbey to everest of maharashtra.
05:00 pm: Adios! Back to the mundane city life. Until next time, Bhatakna!
INCLUSION
Travelling from Kasara to Kasara (only if you book with Transportation ticket).
Morning breakfast-tea.
Veg Lunch.(jain available)
First Aid kit.
Bhatakna Expertise Representative.
forest entry charges.
EXCLUSION
extra meals cold drinks.
Water bottles
anything not mentioned above in inclusion.
Things To Carry
Identity Proof.
mask & sanitizer.
Bottle of Water (at least 2 litres).
Ready to eat food like plum cakes, dry fruits etc.
Torch.
Jackets and woolens as it would get cold in the night.
and morning.
Cap, Camera.
Good Trekking shoes.
Personal care stuff, ORS, medicines which you require usually.
Haversack to put all the things in Please do not carry sling bags or jholas.


Note
• There is no freshen up / washroom facility at the top. There is the only a
toilet at the base village.
• Avoid carrying heavy weight for the trek.
• Floaters and Sandals are not allowed, please wear proper trekking
shoes. (Shoes with poor condition will not be allowed).
important
• Hiking / Trekking / Rock climbing is an adventurous activity and
accidents can happen in spite of taking utmost caution and care.
• The "Bhatakna" will not be responsible for injury/accident/death to
the participants.
• Participants with any medical issues /history are not allowed to opt for
this event. If he/she does so that it is done at the participant's risk. The management won't be responsible for any incident.
Rules and regulations
No drugs are allowed at the campsite. If you are seen handling, consuming or appear under the influence of any illegal substances we have the right to deny you entry and ask you to leave the premises
All the participants whether travelling by local train/bus or private vehicle must reach at the meeting point at the given time. The organizers will wait for you at the meeting point for not more than 15mins. Post which the organizers may go out of network range and will not be able to assist you to the base camp. In such situation the organizers shall not be liable for any inconvenience what so ever and the participants will be considered as "no show" for which no refund will be given. In any case the leader's decision will be final and no arguments or objection from the participants will be entertained. During the event if any participant does not follow safety instructions and indulges in acts that lead to physical harm, the organizers will not be held liable for it. If the weather conditions are unfavorable or that the time of a natural calamity on or before the trek, the event will be cancelled, and no refund will be given in this case. Stay options mentioned in the itinerary are subject to availability and natural conditions i.e. tents can't be pitched if it rains and/or rain storm is being predicted. In such cases an attempt will be made to provide shelter for the night. Food during the trekking and camping events will be basic as it will be sourced locally from villages and will be cooked by villagers. The Tickets can be cancelled 7 days prior to the event and 90% amount will be refunded.Participant is responsible for his own valuables as there are no luggage safety lockers in any of the base camps. Participation will be at your own risk and the organizers will not be held responsible for any accidents, loss of life or valuables.
Cancellation Policy
50 % refund if notified via phone conversation 3 days prior to the event date.
No refund if the cancellation requested is less than 3 days. No show No Refund.
Event Tickets cannot be transferred to another date against cancellation.
Event Tickets cannot be transferred to another person against cancellation.
February 4 | 8:30PM - February 19 | 3:00PM
Kalsubai, Ahmednagar, Mumbai
Step out and enjoy this event
Invite your friends
and enjoy a shared experience