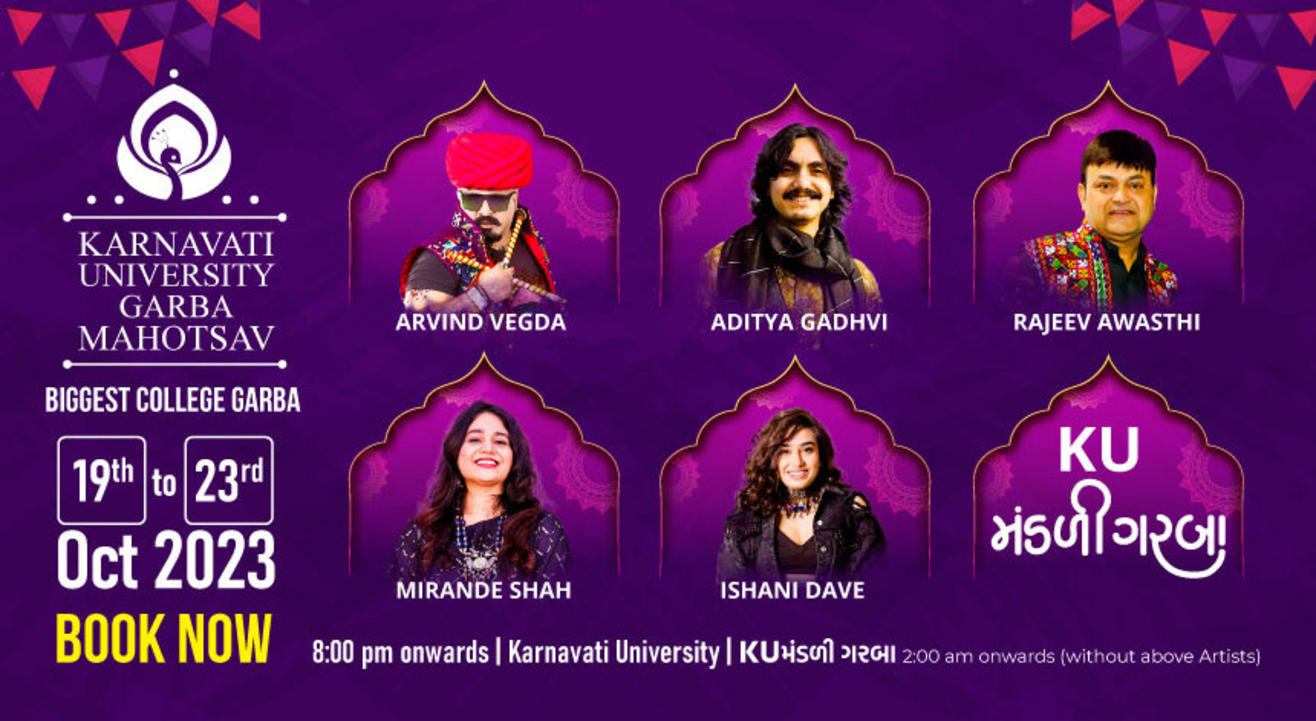 Karnavati University Garba Mahotsav | Navratri 2023
October 19 | 8PM - October 24 | 12AM
Karnavati University, Gandhinagar
Invite your friends
and enjoy a shared experience
Karnavati University Garba Mahotsav | Navratri 2023
October 19 | 8PM - October 24 | 12AM
Karnavati University, Gandhinagar
Invite your friends
and enjoy a shared experience
Invite your friends
and enjoy a shared experience
The biggest college garba in Ahmedabad-Gandhinagar. Book Now.
Celebrate Navratri garba with Aditya Gadhvi, Ishani Dave, Mirande Shah, Arvind Vegda and Rajeev Awasthi.
Immerse in an unforgettable cultural experience at Karnavati University Garba Mahotsav. Enjoy a vibrant cultural showcase. After the Garba with artists, exclusive traditional KUમંડળી Garba are also organised separately post midnight.
Artist line-up for Garba: (8pm to 12midnight)
19 Oct. - Arvind Vegda
20 Oct. - Aditya Gadhvi
21 Oct. - Rajeev Awasthi
22 Oct. - Mirande Shah
23 Oct. - Ishani Dave
પાંચમના ગરબા અરવિંદ વેગડા સાથે
છઠ્ઠા નોરતાના ગરબા 'કવિરાજ' આદિત્ય ગઢવી સાથે
સાતમના ગરબા રાજીવ અવસ્થી સાથે
આઠમના ગરબા મીરાંદે શાહ સાથે
નોમના ગરબા ઈશાની દવે સાથે
Traditional KUમંડળી Garba (2am onwards)
KUમંડળી Garba revives the traditional 'Sheri Garba' where the timeless essence of our culture is celebrated with the tunes of dhol and similar traditional musical instruments singing and dancing to the rhythm of garba dedicated to the Goddess.
KUમંડળી Garba - the traditional 'Sheri Garba' of Karnavati University - by the students.
The above artists are not part of KUમંડળી Garba.
*Entry inside the venue for Only Mandli Pass holders shall start at 2am only.
Venue: Karnavati University, Adalaj-Uvarsad Road, Uvarsad, Gandhinagar
For Assistance call: +91 6358913930
This is a non-refundable event.
T&Cs apply
KUમંડળી Garba will be performed without these above mentioned artists
KUGM is a non-refundable and non-transferable event
Tickets once booked cannot be exchanged or refunded
Unlawful resale (or attempted unlawful resale) of a ticket would lead to seizure or cancellation of that ticket without refund or other compensation
Rights of admission reserved
These terms and conditions are subject to change from time to time at the discretion of the organizer
These tickets provide one-time entry of one person per ticket and re-entry is not allowed
Karnavati University Garba Mahotsav (KUGM)
Karnavati University
A/907, Uvarsad-Vavol Rd, Uvarsad, Gujarat 382422, India
GET DIRECTIONS
Karnavati University Garba Mahotsav | Navratri 2023
October 19 | 8PM - October 24 | 12AM
Karnavati University, Gandhinagar
Invite your friends
and enjoy a shared experience