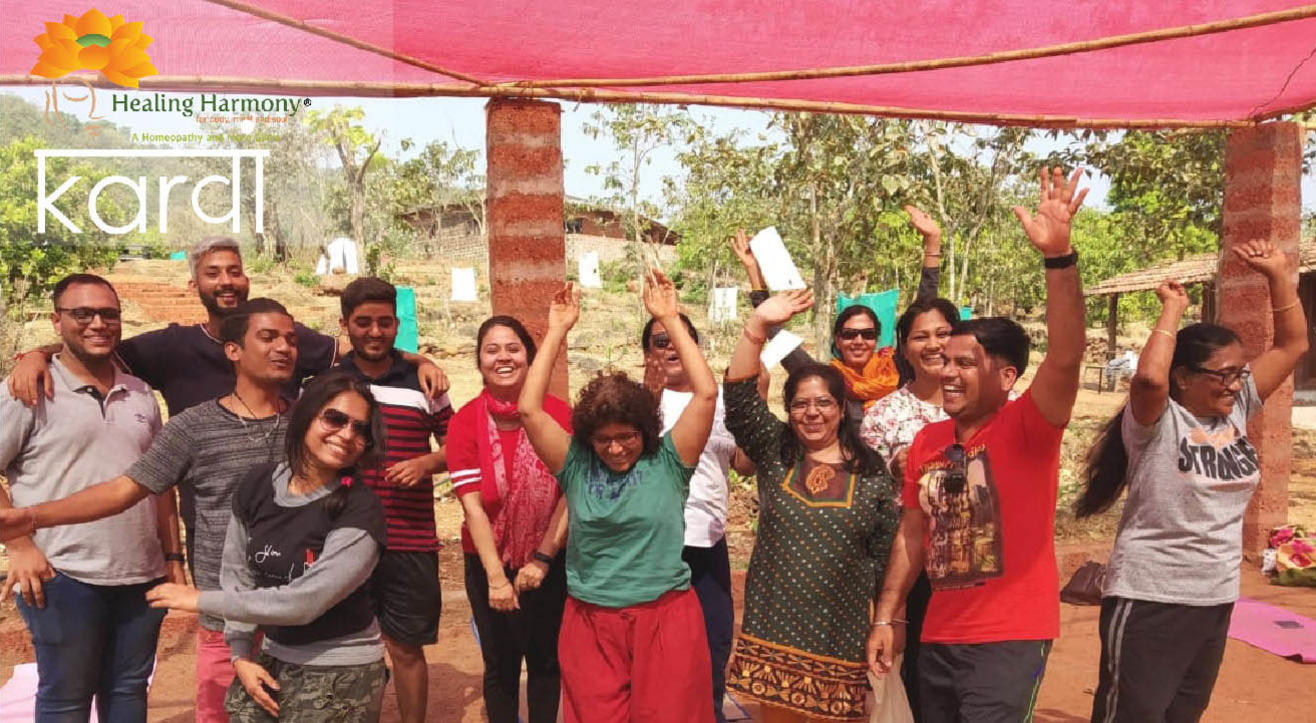 Experiences
Karvaan
Homeoathic Research Centre (HRC)
About
Karवा is a journey to bring you from fragments to whole. It is an initiative by Healing Harmony. You may call it a holiday, a workshop, a retreat, or an adventure, but at the center of it, it is an unwinding focused to lead you on a journey of self-discovery to help you enable wholeness within yourselves. It is a holistic amalgamation of various healing techniques both time tested and contemporary. The program's aim is to bring harmony & health on all levels-body, mind & soul in a colorful, playful & practical way.
• Travel from Mumbai – Lonavala, Aapti – Mumbai
• Room accommodation on twin sharing basis.
• 8 Vegetarian healthy meals (Breakfast, Lunch, Dinner on 26th and 28th July)
• Yoga, Meditation, Mental & Physical Detox, Group Activities, Hike
• Creative Outlet Workshop material and expertise.
• Coaching program post the program. So, you are equipped & able to implement the learning back home!
• Who can join this event?
People from all kinds of backgrounds can participate. The program is not suitable for minors and severely ill individuals.
You do not need to be an athlete, marathon runner or a meditator to participate in the program. Seekers & explores of every ilk are welcome!

• How do travel to the venue?
For residents of Mumbai, transport to & from to the event location will be arranged and is inclusive in the program fee. More details will be provided via email upon confirmation on your registration.

• Will the program be tiring?
The activities in the program involve mild to moderate physical activity (e.g. mild hike)but provides opportunities to rest. You will be back home on 28th July, late night on Sunday. We recommend to keep your Monday slow. Ideal to take the day off, if not atleast start work late, avoid super stressful situations or work from home.

• Why are you conducting the program out of a farm/rural location?
The concepts of holism can be truly understood when we are one with the nature. Not superior nor inferior, but part of the entire cosmic nature. Here's how the city hurts your brain, not to mention other parts of your body. Distanced from their daily preoccupations, we find participants to be better able to focus on their self-discovery, while also enjoying the idyllic life around.

• I don't have time. Can I come for part of a workshop?
The program is an integrated and immersive in nature, and missing part of the workshop is a sure way of missing out on the self-learning processes that the workshops seeks to trigger in participants.

• Can I bring my friend / partner / spouse to the workshop?
You may. However, we would like your undivided attention during the program, and in our experience we find that this is often unlikely if you come accompanied with a friend / partner.

• Will my cellphone/mobile work at the venue?
Some cellphones work, while others don't. In any case best to give your phone a little holiday while you attend the program. You will be required to keep your phones switched off during the program activities.

• Can I check my email/use internet while attending the workshop?
There is no wi-fi at the venue. Again, we recommend to give your social media presence and work e-mail a holiday from your constant need of it. 

• Do you give a certificate at the end of the workshop?
No we don't. We hope what you'll take back from the workshop will be much more valuable than any printed piece of paper.

• What amenities are available?
The program is designed to connect you with yourself and with nature. So be prepared to get dirty in the mud and give your sanitizer a break. You will share room/camp on twin. There is no T.V, air-conditioning or any other modern day luxury.

• What should I carry?
o Comfortable clothes- avoid sarees, shorts, skirts etc.
o Warm clothes
o Personal toiletries
o Torch & extra batteries
o Mosquito repellant
o Sunscreen/Hat/Sunglasses
o Any prescription medications you are taking.
o Yoga Mat

• What kind of food will be provided?
Simple, healthy Vegetarian meals will be provided.