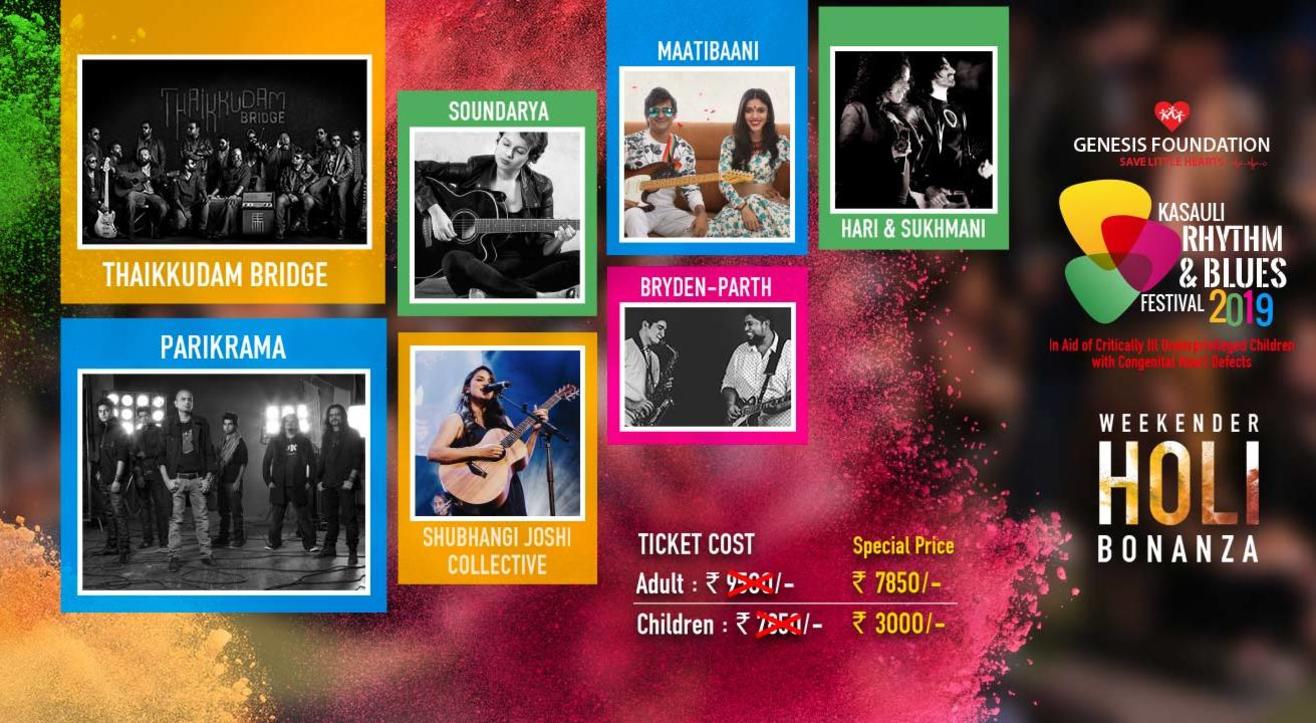 Music
Kasauli Rhythm and Blues Festival
Baikunth Resorts, Kasauli
3000 - 9500 (Includes 18% GST)
About
Kasauli Rhythm & Blues Festival (KRBF) is Genesis Foundation's flagship annual music festival now running in its 8th edition. Spread over the scenic mountains of Kasauli in Himachal Pradesh, the event is organised at Baikunth Resort. A mecca for music enthusiasts interested in listening to a diverse pool of well-established and upcoming talent. KRBF was conceived in 2012, Genesis Foundation (GF) has grown a community of music lovers who pledge with us to Save Little Hearts.
All funds raised at the festival are used towards the treatment of critically ill, under privileged children with Congenital Heart Defects.
Spread across a beautiful venue, join us from 19-20 April 2019 (this Easter weekend) for a promising and unforgettable line-up!
Day 1
Shubhangi Joshi Collective :
Having extensively performed across India and overseas, The Shubhangi Joshi Collective's rich music cuts across geography. With thought provoking lyrics and a fresh, contemporary Indie pop sound, the band has gained an ardent listener base, homegrown and beyond borders alike.
The year 2017 saw the Collective gaining international notice, with Shubhangi being selected from amongst thousands of applicants for a coveted mentorship program in Los Angeles with Grammy winning producers and musicians like Walter Afanasieff, Kenny G and more. The band traveled to Bhutan earlier this year to represent India on a four-city tour of the country. Their highly anticipated debut album – Babelfish, is slated for released in February 2019, for which Joshi played at festivals and venues across San Francisco, Utah and Los Angeles in 2018 for the pre-launch promotional toumaatibaani

Maatibaani:
A collaborative duo of Nirali Kartik and Kartik Shahi, Maatibaani is what happens when Folk meets Contemporary. The literal meaning is "the languages of the earth." From writing amazing songs featuring lyrics and verses of Kabir, Bulleh Shah, Mirabai and more, their songs speak to the Indian Diaspora of both India and beyond.
Their videos are equally compelling, featuring collaborations with some of the most unique and unknown talents from across the globe, making them some of the hottest talents who write original music and have a solid subscriber base on their digital channels.
They have performed across the globe – from the Netherlands, Greece, USA, to Singapore, Pune, Udaipur, Benaras and many more places.

Hari & Sukhmani:
A trained Hindustani classical vocalist from the Rampur Gharana (a classical music tradition of India), Sukhmani Malik has a voice dense with character, and doesn't fail to strike you as stirringly powerful. Hari Singh, a prolific singer, producer and audio engineer, has unique electronic skills that straight grab the listeners' heart.
The two-combine eclecticism with a curiously contemporary take on traditional folk songs from the land of Punjab. Their sound is ambitious and unique blend of folk music fused with ambient Electronica. Hari & Sukhmani's music resonates with their soulful sincere and cultured touch. Born of an inherently classical and folk contour it can touch the deepest cords of a crowd, traversing the enigmatic solemnity of all that makes India and its music closer to the outside world now than ever before. Spiraling from the city of Chandigarh in India, Hari & Sukhmani are a young and ambitious duo who plan to take Punjabi folk music from the yester-years into the future, from New Delhi to New York.

Parikrama:
Parikrama is a legendary rock band, playing basically Classic Rock based music fused with Indian instruments like the Tabla and the violin and has been around for 27 years. The band has done more than 3000 shows till date in India and worldwide. Including countries like USA, Russia, Canada, Vietnam, Ethiopia, Oman, Bhutan, Singapore and many more.
Parikrama had a very successful tour of the UK where they were promoted by none other than Iron Maiden and their legendary manager Mr Rod Smallwood. Iron Maide saw Parikrama at Bangalore, and you can hear what they thought of the band in the documentary shot on Parikrama by BBC "Desi DNA" in the UK.
Iron Maiden also invited Parikrama to seven shows in the UK including the mighty Download Festival and venues like Rio (Leeds), The Underground (Camden), The Peel (Kingston) etc.

Day 2 (Bollywood headliner will be announced soon)
Soundarya Jaychandran:
Soundarya Jayachandran's music is a blend of bluesy rock, pop and soul, with a touch of the Indian classics. She holds an eight-year training in Carnatic music, 6 grades in guitar and a professional certificate in vocal performance from A R Rahman's School of Music.
Having written her own music since the age of fifteen, she recorded her first EP "Shades of Revival" that released in May 2013 and is available for sale on iTunes and other online stores worldwide. Soundarya has been the youngest panelist on the International Entrepreneurial meet, Surge. She has performed across the country with accomplished musicians like Ehsaan Noraani & Loy Mendonsa.

Thaikkudam Bridge:
Thaikkudam Bridge is a rock band with a soundscape built upon elements of folk and classical sounds of India interspersed, at times, with layers of progressive, pop, ambient and electronic textures. With a 15-member ensemble cast that includes three sound engineers, the band's strength lies in its versatility and unpredictability thanks to six vocalists and six instrumentalists from the length and breadth of the country, each of whom brings on board, a wealth of diverse musical, linguistic and cultural influences thus creating a unique musical experience that is truly global in nature yet local in idea. Navarasam, their debut album was released in 2016 and it has ten songs in all. Navarasam is an assortment of songs that talks of dreary existentialism, socio-political commentaries, rebellion, freedom and of the human spirit of oneness!
The second album, Namah, a dream project in the making was released in 2018. Namah is a collaborative featuring legendary artists from around the globe! #bethebridge
Kasauli Rhythm and Blues Festival, 2018
Shubhangi Joshi collective
Venue
Baikunth Resorts, Kasauli
Village Chabbal, P.O. Garkhal, Tehsil Kasauli, Solan, Himachal Pradesh 173201