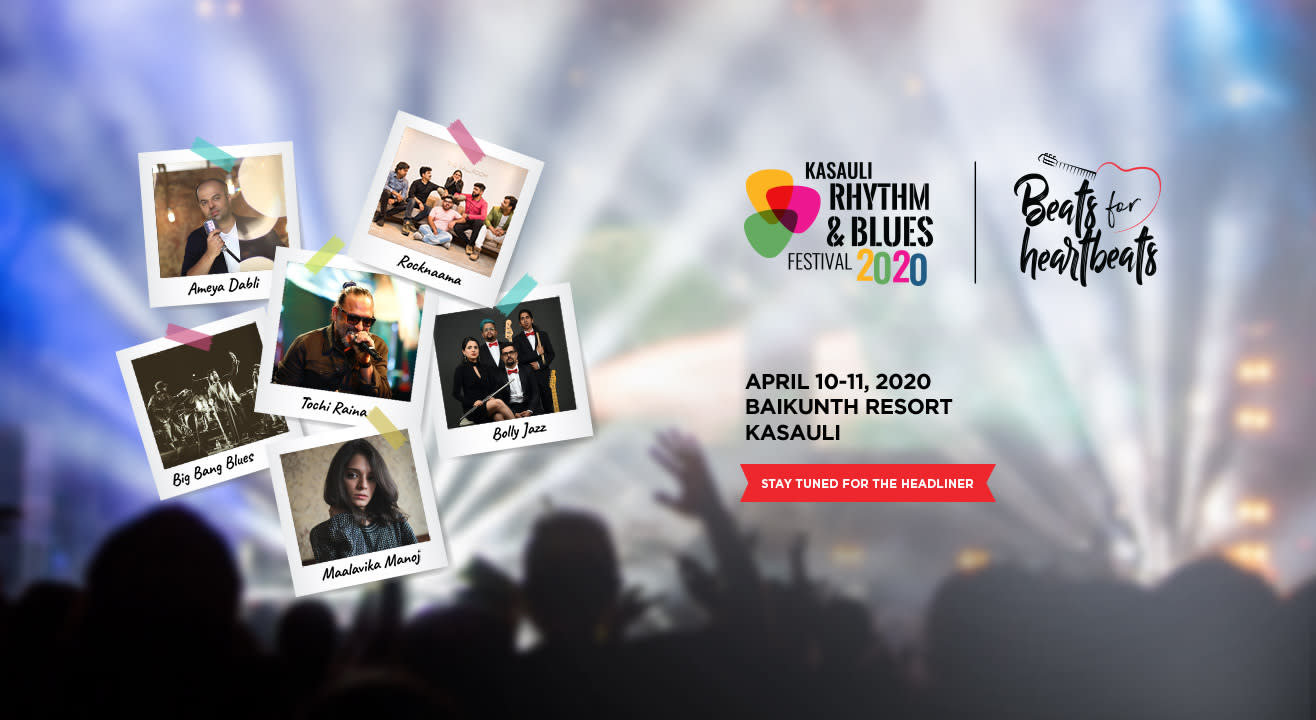 Music
Kasauli Rhythm & Blues Festival, 2020
Baikunth Resorts, Kasauli
About
Kasauli Rhythm & Blues Festival (KRBF) is Genesis Foundation's flagship annual music festival now running in its 9th edition. Spread over the scenic mountains of Kasauli, Himachal Pradesh, the festival is organised at Baikunth Resort. A mecca for music enthusiasts interested in listening to a diverse pool of established and upcoming talent.
Join us this Easter weekend of April 10-11, 2020! We are back with electrifying line-up yet again with best names from industry including Tochi Raina, Bolly Jazz, Rocknaama, Malavika Manoj, Big Bang Blues, Ameya Dabli and headliner name will be announced soon to sweep you off your feet.
All funds raised at the festival are used towards the treatment of critically ill, under-privileged children with Congenital Heart Defects.
Day 1
Maalavika Manoj
Maalavika Manoj (aka Mali) is a Mumbai-based singer/songwriter. Her music combines inspiration from iconic pop acts such as The Carpenters, The Eagles, and Fleetwood Mac, with the indie and electro-pop stylings of the 80's, 90's, and onwards. She uses this unique blend of pop sub-genres to tell her personal stories, resulting in a listening experience that is at once fresh, nostalgic, and relatable. From the release of her debut EP Rush (2017) to the singles Play (2018) and Mango Showers (2019), Mali's sound has evolved from a lighter, more organic sound to a darker more intricately produced one.

Rocknaama
ROCKNAAMA is a Delhi based Sufi-Rock Band known to set the stage on fire with their captivating on-stage presentation. Rising to the likes of media, this band has been featured in and has performed for Hindustan Times, Fever 104, Woman's Era, and many alike and has also shared the stage with Bollywood stars like Akshay Kumar. From performing at various famous live music venues in Delhi to storming prestigious festivals all over India, ROCKNAAMA has created a niche for itself.

Tochi Naima
Whether you've heard of Tochi Raina or not, you have definitely heard his music. Tochi Raina is the voice behind many iconic songs which gave a new definition to Sufi singing in Bollywood. He brings in his own twist to Hindustani Classical, Sufi, and 'Filmi' music. Band of Bandagi is a dream woven by Tochi Raina, his brother, and co-composer Neeru Rawal. They aim to bridge the gap between Sufi, Folk, Jazz, Rock, and other genres of music and deliver music to the youth of India. Some of his most memorable songs are Kabira, Saibo, and Iktara, to name a few.

Day 2
Big Bang Blues
Big Bang Blues are a six-piece blues band founded in 2009. Their music is heavily influenced by Blues Rock and 60's-70's Rock N' Roll. They have performed in various pubs across Delhi especially the Hauz Khas Village boom since the TLR days. In their long spanning career, they've performed over 100 shows and the most prestigious and memorable include Cotai Jazz and Blues Fest'13 (MACAU), Mahindra Blues Festival'13, and even the Kasauli Rhythm and Blues Festival'13. They have released four captivating singles across the last 2 years along with their EP "Bigger than Blues".

Bolly Jazz
Bollyjazz brings a refreshing approach to playing classic Hindi Film tunes through a format of Jazz harmony and rhythms.In a time where any experimentation with music, especially Hindi Film music, meant simply remixing popular tunes to club beats, Nikhil Mawkin envisioned an amalgamation of two seemingly different genres: Hindi Film music and Jazz. Since then, the band has developed a vast repertoire by selectively choosing melodies that suit the sensibility of a contemporary setting. Bollyjazz has performed in festivals and venues around India and Mexico like Rendezvous Festival Delhi, Jaipur Literature Festival, Kamani Auditorium, The Piano Man Jazz Club Delhi and Gurugram and Agora de la Ciudad in Xalapa, México to mention few.

Twin Strings
Twin Strings is a music-based start-up by the twin duo Sagar and Sahil. They manage various aspects related to music from creating melodies to producing videos and performing all around the world. They have come a long way in their journey, from engineering to music, transferring their passion into profession and everything in between. Over the last couple of years, they have taken YouTube by storm with their unique and tasteful renditions of popular songs. They have also collaborated with various prominent celebrity singers, YouTubers as well as the prestigious Indian Army. They got published by some noteworthy digital media platforms like HindustanTimes, Bombay Times (TOI), POPxo, Miss Malini etc.
Kasauli Rhythm and Blues Festival | 2019 | Main Film
Venue
Baikunth Resorts, Kasauli
Village Chabbal, P.O. Garkhal, Tehsil Kasauli, Solan, Himachal Pradesh 173201