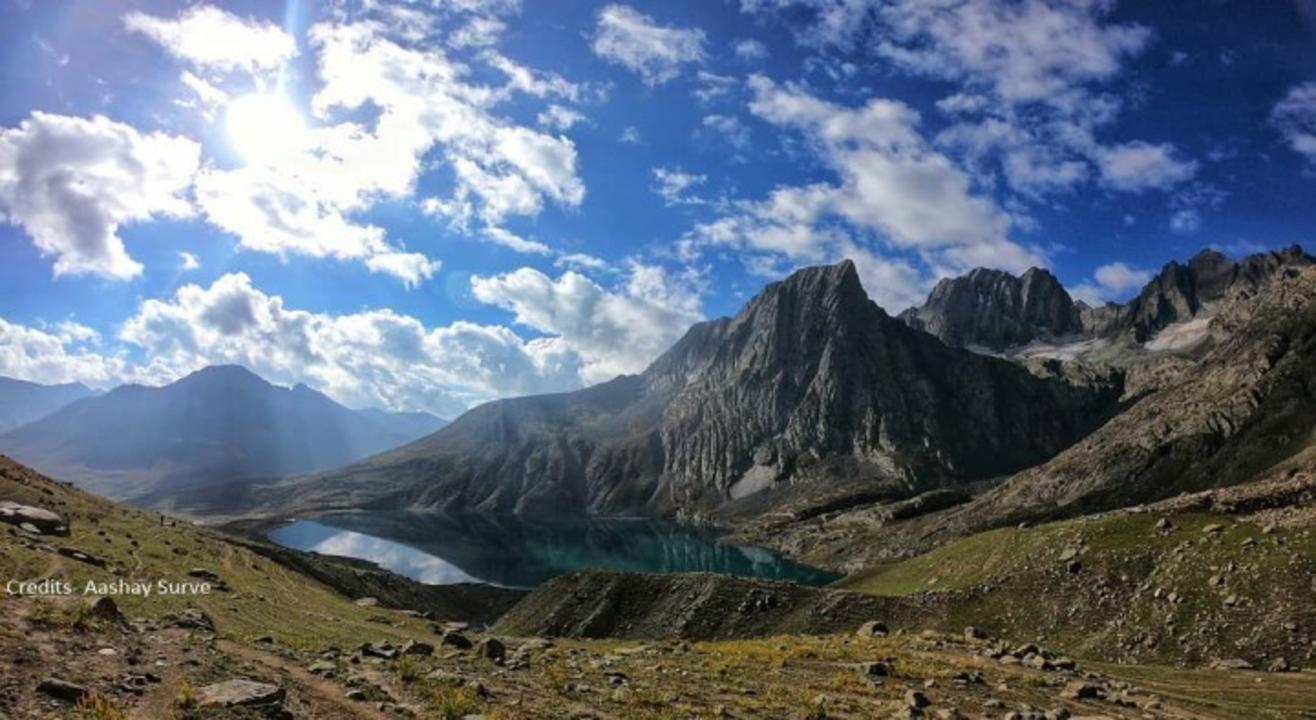 Trek
Kashmir Great Lakes Trek | Justwravel
About
The land of Kashmir is known for its incomparable beauty. The place doesn't need any introduction. Doing a trek in this region can amaze anyone by its spellbound beauty. There are various treks that one can opt, out of which the Great Lakes trek is the most popular. The trek offers great views of alpine lakes surrounded by vast meadows and snow-capped milky mountains.
The trek starts from Sonamarg which is a famous tourist spot and it takes around 8 days to complete the trek. The gradient of the trek comes under the band of moderate level. One has to trek around 63 km to complete the circular journey and the maximum altitude that can be attained while on the trek is around 13000 feet. The trek requires a good physical fitness so that one can accomplish it by enjoying it to the fullest and without any difficulty.
The actual starting point of the trek is 3 km ahead from Sonamarg on the Srinagar highway. Here one can buy some eatables (chocolates, juices, etc.) from the Dhabas which are available here. The trail starts from a green alpine meadow followed by a dense forest having Maple and Pine trees. The valley of Sonamarg looks magnificent from this point. Trekkers will always be walking on the meadows throughout the complete trek.
Best time to go on this trek is from June to September. During this time, the trek is full of greenery and blooming flowers and it offers the best views
Itinerary
Day 1
Getting to the base camp – Sonamarg
Altitude: 7,800 ft
Time taken: 4 hours, 80 km
Arrive at Srinagar and drive to Sonamarg, about 4 hours away. The trek begins at Sonamarg. The trek can be paced out more evenly if you make Sonamarg as your base. This gives you more trekking time on.
Day 2
Sonamarg to Nichnai via Shekdur.
Altitude: 7,800 ft to 11,500 ft
11 kms trek, approx 8 hours
After the breakfast we trek to Nichnai via Shekdur. The trail takes you through meadows, dense forests with Maple, Pine and Bhoj trees. After approx half an hour, we get an army check post where we have to submit our ID proofs. While you are at it, you can enjoy an awesome view of the Sonmarg Valley or the Thajiwas Glacier. The trek from Shitkadi to Shekdur is goes through thick forests of pine trees and will take approx 2 and half hours. At Shekdur, you can indulge in instant noodles and an omelette if you wish to. We follow the Nichnai Stream as we trek from Shekdur to Nichnai. We have lunch at the Nichnai stream, after Shekdur.
Day 3
Nichnai to Vishansar lake via Nachnai Pass
Altitude: 11,500 ft to 12,000 ft via 13100 ft
12 kms trek, approx 7 hours
Trek from Nichnai to Nichnai Pass is of approx 1 and half hours ascent. At the top of Nichnai Pass you can get B.S.N.L and Airtel network, which is the last point under mobile coverage area. From Nichnai pass to Vishansar there is a descent. At Vishansar campsite, lunch will be offered.
We can visit the Vishansar Lake which is just 15 minutes walk from the campsite. The first lake of the trek and one of the most beautiful ones.
If the trek is in July, the lake will be frozen. Otherwise, we can do fishing at the lake with permission from Srinagar Fishing Department. Vishansar is visited by hoards of sheep and their shepherds are known for interesting stories. The campsite is a unique place with an open ground and you can play volleyball, cricket etc. Beware of dogs at campsite.
Day 4
Acclimatization + Rest Day. (Condition Apply)
You may visit Kishansar lake, which is at approx 1 and half kms from our camp site.
If the weather is not good we will use acclimatization day at vishansar or else move towards next camp site, rest day can be use at Gangbal camp site.
Day 5
Vishansar lake to Gadsar via Gadsar Pass
Altitude: (12,000ft) to (12,000ft) via (13,750ft)
14 kms trek, approx 10 hours
We start the trek earlier than usual. The trail passes from Vishansar to Gadsar, via Gadsar pass the highest point of the trek. From Vishansar, the trail takes a steep ascent till Gadsar Pass. We can see the Kishansar Lake on the way. From the Gadsar pass till the camp site, we descend gradually. We can spot the Gadsar lake en route. You might also spot the Glacier of Gadsar Lake. After the Gadsar lake, we will reach the campsite in 2 hours. Just a few minutes before our campsite, we will have another army checkpoint and we will have to share our ID proofs with them. Pack lunch will be provided
Day 6
Gadsar to Satsar
Altitude: 12,000 ft to 12,000 ft
9 kms trek, approx 6 hours trek
Mid July to mid August, the trail is laden in vibrant flowers. We need to share our IDs at another army check post en route. Moving on, we see two small lakes which are often mistaken as Satsar Lakes. We will visit the Satsar twin lakes, in the afternoon, which are approx 1.3 h. Satsar twin lakes are also known as mengen top. Those twin lakes are between the middle of the mountain.
Day 7
Satsar to Gangabal twin lakes via Zaj Pass
Altitude: 12,000 ft to 11,500 ft 13000
11 kms trek, approx 6 hours
We walk on rocky paths for approx an hour and ascend till Jazz Pass. At the pass, you can enjoy views of the 4 lakes, Mt. Harmukh and its glacier. From the pass we descend till the Gangbal lake and camp at Nandkol lake. We visit the Gangbal Lake, which is one of the largest lakes in the trek. Post dinner, a team of Kashmiri staff will perform their traditional songs and dance.
Day 8
Gangabal to Naranag. Drive to Srinagar
Altitude: 11,500 ft to 7,450 ft
15 kms trek, approx 7 hours
The trail is a descent till the last point of the trek – Naranag, so take care of your knees and ankles. The trail will pass through pine tree forests. On advance booking, GHE can arrange transport to Srinagar at a charge. After the 70 kms drive, you will reach Srinagar by 6:30 pm.
Inclusions
Accommodation. (Camping)
Meals while on trek (Veg & Egg) - Bed tea, Breakfast, Lunch, and dinner.
Trek equipments like Sleeping bag, mattress, tent, kitchen tent, toilet tent
Trekking Permits
First aid medical kits
Qualified & experienced trek Leader, Guide Support staff and Mules.
Exclusions
Transport from (TRC) Srinagar to Sonamarg and return Naranag to Srinagar. Cost 5000 per cab
Mules or porter to carry personal luggage.
Hotel Stay in Srinagar.
Food during the transit.
Insurance.
Anything not specifically mentioned under the head.
Cancellation Policy:
No refund of booking amount to be provided if customer cancels the booking 10 days prior to departure date.
50% refund if done between 11-20 days prior to schedule departure.
90% refund if done between 21-90 days prior to schedule departure.
100% refund if cancelled 90+ days prior to schedule departure date.