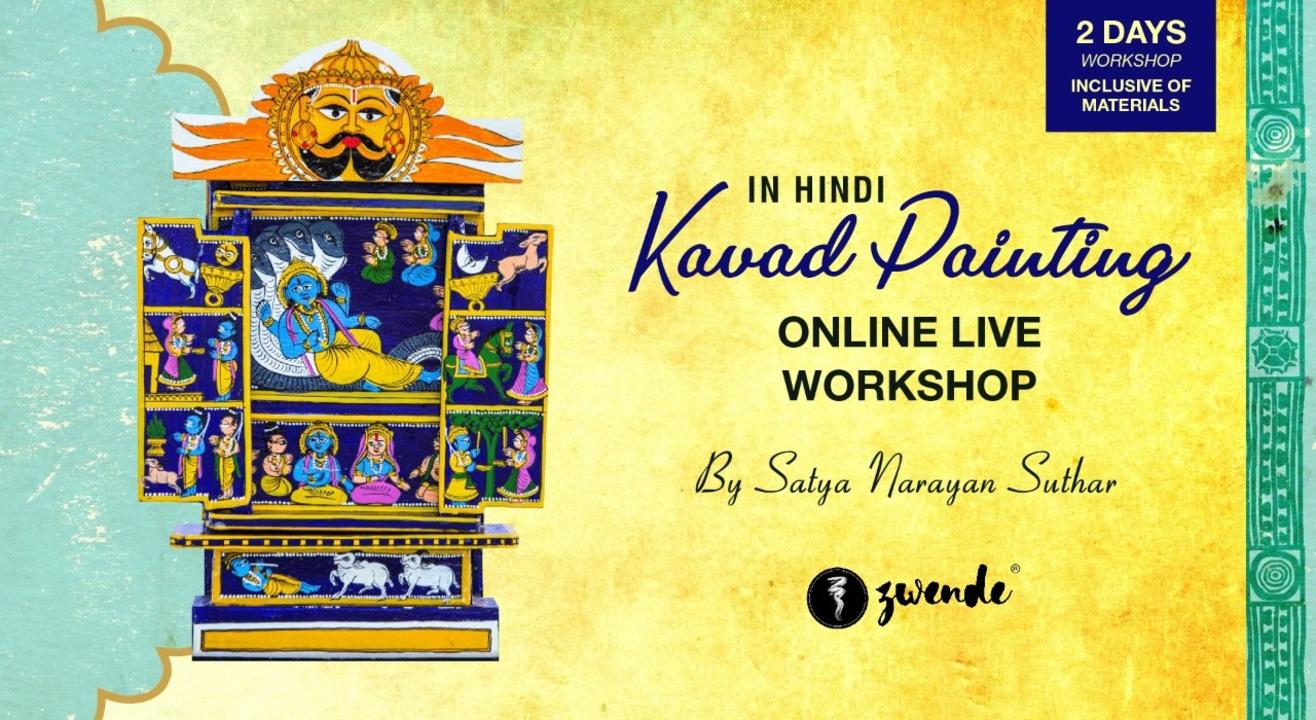 Kavad Painting [Online Live Workshop - Inclusive of Materials]
Enjoy this event from your home
Event Guide
Masterclass
Learn from an expert
Invite your friends
and enjoy a shared experience
Event Guide
Masterclass
Learn from an expert
Invite your friends
and enjoy a shared experience
About the Event
About the Artform
Kavad is a three-dimensional form of traditional Indian storytelling art, originating from Rajasthan. A box unfolds to reveal pictures of episodes in a particular story, or more frequently in a series of stories about a particular character. Traditional Indian Kavads tell stories of the Gods.
Kavad art is created by combining the skills of carpentry, painting and narration. As separate professions, the carpenter is called a suthar, an artist is a chitrakar, and a story teller is a bhat.
About the workshop
The Canvas
Overall Details
In this two days workshop, you will be guided by Satyanarayanji while making the basic drawing and the other intricacies of Kavad art. At the end of the workshop you get images of other complicated artworks which you can practice on your own.
The stories unfold like small pieces of a jigsaw puzzle which don't seem to connect and will keep you puzzled, mesmerized, curious, excited and anxious, all at the same time. It is only in the end you will realize how beautifully the stories are woven together with grace, profoundness, and intricacy!
Please note : This workshop will happen in Hindi.
Flow of the Workshop
Once the mineral colors are prepared and the wooden structure is given its base color, you will learn to make the outline of the figures using a fine brush. The colors will be applied one by one in layers, each layer adding the next stage of depth and detailing. The original Kavad was always on a red background.
Nowadays Kavads are made to suit a variety of tastes and functions, and are made in a range of colors. For smaller Kavads the colorful figures are painted directly on the wooden surface. Satyanarayanji does not use a design guide and has the plan for the painting in his head.
Who is this workshop "just right" for?
This workshop is for anyone who wishes to learn and explore an authentic, heritage artform
It is a beginner friendly workshop (Age: 15+)
Anyone who is a beginner and wishes to learn a new artform, then this workshop is for you!


What your Material kit will contain
Materials at your doorstep
Handmade Kavad of wood
Set of 6 colors
6, 4 & 0 sizes brushes
Other Materials Required:
Water and palette for mixing
A4 Size plain paper (a couple of extra sheets to practice sketching)
Pencil and eraser
The scope of creativity
Further prospects and application of what you will be learning
With the skills bagged, you can make beautiful kavad art. The techniques learned in this workshop can be used for creating a beautiful Kavad painting of your own which you can use to decorate your homes or gift to someone!