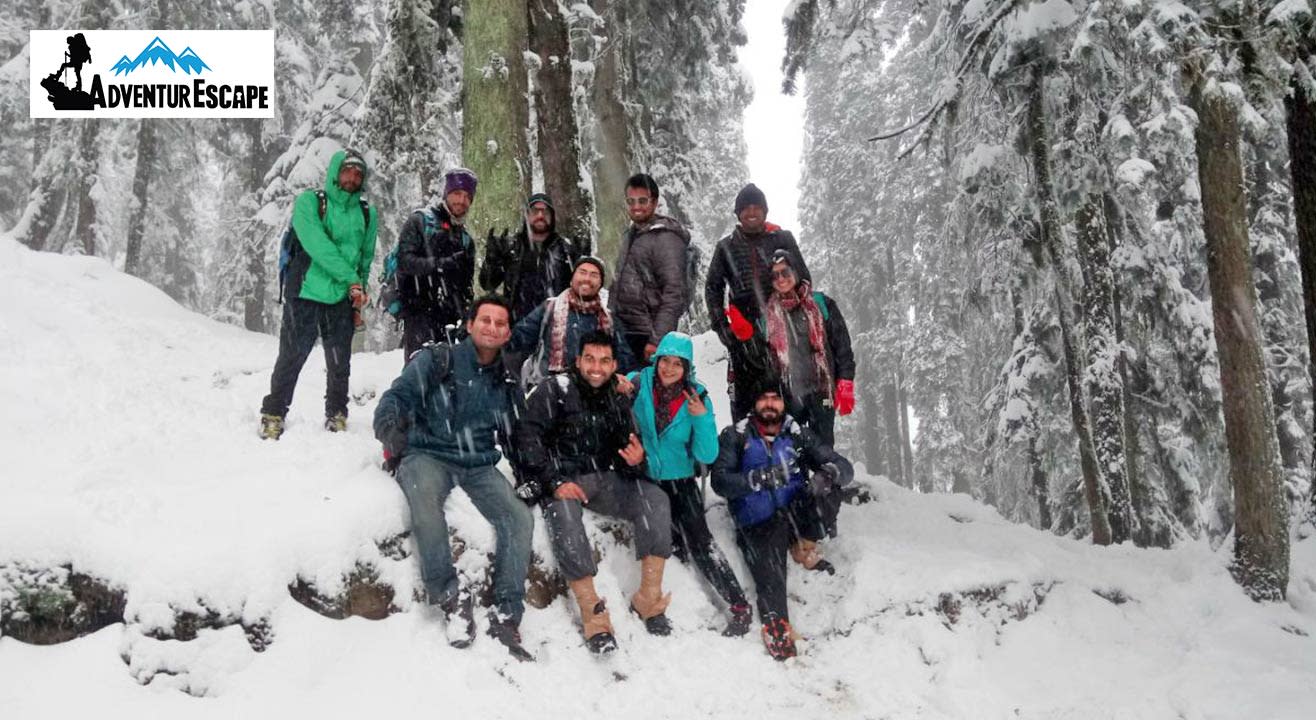 Step out and enjoy this event
Invite your friends
and enjoy a shared experience
Invite your friends
and enjoy a shared experience
About the Event
Kedarkantha trek is a winter trek through the remote forests covered with pine, maple, and rhododendron trees in the state of Uttarakhand.


It starts at Sankri, a remote village around 200 kms from Dehradun. It is most sought after winter treks because of the landscape and majorly for snow which makes it a delight for trekkers. At 12000 ft, the Kedarkantha trek offers you the best setting for a winter trek with some amazing view of the mountain peaks and pine and maple trees in the surrounding and walking on snow-covered trails. This five-day trek is a perfect trek for all especially for beginners who love the winters and snow.


With a little bit of fitness and positive spirit, jump in with Adventurescape for the trek of your lifetime!
Day1: Dehradun – Sankri (Drive 200km approx. 8hours)
Start your journey from Dehradun Railway Station early morning at 7 AM and the journey will be through Mussoorie, all the way to Sankri, the start point of the trek. The drive is an amazing one as it will take you through Kempty Falls in Mussoorie, Barkot, Purola, Mori along the Tons River and finally you will arrive at Sankri. Transport will be arranged and you can check in a guest house in Sankri. Dinner and early retirement for the day as you must get up early for the trek next day.

Day2: Sankri – Juda Ka Talab
Start your trek from Sankri after breakfast to Juda ka Talab which is 4 km at an altitude of around 9000 ft. You will be camping near a pond and the surroundings are covered with oak and pine trees which make it an amazing location for camping. The trek will take 4 to 5 hours to reach. Camp and enjoy the day with nature and the beautiful view of the mountains.

Day3: Juda ka Talab – Kedarkantha base
After breakfast, move steadily towards Kedarkantha base camp which is at 11000 ft and will take around 3 to 4 hours to reach. Today, the trek will be mostly through pine and oak trees. On the way, you can also find shepherd huts.

Day4: Kedarkantha base camp – Kedarkantha peak - Kedarkantha base
Trek to Kedarkantha Summit peak after an early breakfast which will take around 4 hours. The peak will give you a view of all the snow-clad mountain ranges of the state of Uttarakhand. Enjoy the view and rest for a while and have lunch before you trek back to base camp by evening.

Day5: Kedarkantha base camp – Sankri– Dehradun (Drive back)
Trek back to Sankri, 6000 ft from Kedarkantha base camp 9000 ft which will take around 6 hours. The trail is covered with pine and oak trees with the snow-clad mountains. Reach Sankri which will commence the trek. Take home the beautiful and amazing memories of the trek. Drive back from Sankri to Dehradun will take around 10 hours which is around 200 km.


Accommodation costs (camping) sleeping bags, with roll-on mattresses and the pantry/kitchen and toilet facilities.
Qualified and experienced trek leaders, guide, support staff
First aid treatment/facilities
All meals during the trek (veg and egg)
Any of the permit charges, forest entry fee and camping charges.
Trekking equipment (tents, sleeping bags, ropes, etc.)

The trek cost does not include any train fare or air fare charges
Meals during transit
Porters or mules for personal luggage

Necessities
Trekking shoes: Trekking shoes with good grip and ankle support is compulsory for the trek. Please ensure that the trekking shoes are not new and used by the trekker prior to the trek. The trail is slippery and requires you to walk through rocks and boulders so a good grip on water resistant shoes is necessary. Do keep an extra floater in case of rain and for use in camps.
Backpack (50-70 litres): A backpack with comfortable straps and a supporting frame is very important as you have to carry it on your own during the trek. Invest in a good backpack that is lightweight and comfortable to carry on long treks.
Daypack (20 litres): Keep a daypack in case you offload your backpack during the trek for your essential day items.
Torch or headlamp: Please bring a torch or headlamp for all treks.
Cutlery: Carry a spoon, mug and a lunch box. Adventurescape insist on trekkers getting their own cutlery for hygiene reasons and for packed lunch.
Sunglasses: Invest in a good pair of sunglasses as you are going to be out in the sun for most of the day. If you are trekking in snow, it will be mandatory as it protects you from snow blindness.
Two water bottles: 1 litre each for water during the trek.

Clothes and other accessories
Warm jacket and sweater (couple of them if you feel more susceptible to cold)
Thermals: Carry thermals to keep yourself warm in the camp.Trek pants (2) for daily use during the trek which are light and comfortable.
Collared shirts (3-4) full sleeves and quick dry so that it prevents sunburn on the arms and neck area.
Poncho: Poncho is very important when you are trekking in monsoon season to protect you from the rain. You can rent one from the organizer at INR 50 per day.
Cap: To protect your hair and face from the scorching sun carry a cap.
Synthetic gloves for your hands as it will protect your hands from water, snow and keep you dry and warm.
Socks (2 pairs) + Wollen socks(2 pairs) for keeping you warm in the camps.
Trekking pole: You should carry your own trekking poles for the steep uphills and downhills. You can carry them or rent one from the organizer at INR 50 per day
Toiletries: Sunscreen, moisturizer, lip balm, toilet paper, toothbrush, toothpaste, hand sanitizer, wet wipes and tissues.
Plastic covers: While packing, use plastic bags to compartmentalize things and carry few extra plastic bags for wet clothes and to bring back your non-biodegradable material back. Mountains are the source of water and life on this planet. Please try and keep it clean and healthy.

Mandatory Personal Medical Kit
Diamox – 5 tablets (to prevent AMS)
Hyoscine (3 tablets)
Amlodipine 5mg (5 tablet) with doctor's prescription only
Avomine – 2 tablets (motion sickness)
Crocin – 3 tablets (fever)
Avil 25mg – 2 tablets (allergies)
Disprin – 3 tablets (a headache)
Norflox TZ & Lomofen – 3 tablets each (diarrhea)
Digene – 5 tablets (acidity)
Crepe bandage – 3 to 5 meters
Gauze – 1 small roll
Band-aid – 5 strips
Cotton – 1 small roll
ORS – 105 packets
Betadine or any antiseptic cream
Moov spray (aches, & sprains)

BY AIR
Dehradun's airport is the Jolly Grant Airport, which is located 20 km away from the city centre. Air India, Jet Airways, Jet Connect and Spice Jet have regular flights to Dehradun. Taxis and buses are available to Sankri, the starting point of the trek.
BY TRAIN
Dehradun is connected by train services to cities Delhi, Lucknow, Allahabad, Mumbai, Kolkata, Ujjain, Chennai, and Varanasi. Dehradun is connected to the rest of the country by trains such as the Shatabdi Express, Jan Shatabdi Express, Dehradun AC Express, Doon Express, Bandra Express and the Amritsar-Dehradun Express among others. Take an overnight train to Dehradun to reach Dehradun Railway station where there is a pick to Sankri at 7 AM which will drop you at Sankri by evening.
BY BUS
You will find plenty of buses from Delhi Kashmere Gate ISBT to Dehradun ISBT daily.

1. What is the style of accommodation in this trek and are they comfortable?
You will be staying in a guest house when you reach Sankri, the room will be shared by other trekkers. During the trek, the accommodation will be in tents on triple sharing basis. You will be given individual sleeping bags which are comfortable and warm and can withstand cold weather of -10 degrees.
2. What will the temperatures be like during this trek?
Daytime temperatures will range from 13-20ºC and night time temperature will range from 0-7ºC in summer.
In winter, temperatures will range from 8-14ºC during the day and can drop down to -7ºC at night.
3. Will there be snow on this trek?
Yes, there will be snow on this trek from December to April.
5. What will we do if it rains?
Carry a poncho with you and during rains, you continue as scheduled using the poncho and backpack cover to protect you from the rain. The tents that you will be staying in, the dining tent, kitchen and toilet tents are all waterproof, so you will stay dry inside.
6. How do we reach Sankri?
Adventurescape will arrange pick–up vehicles/shared cabs from Dehradun Railway Station and to Sankri, the base camp. This transport cost is to be included in the trek cost. The drive to Sankri will take 8-9 hours. Pick up from Dehradun will be at 06:30 AM.

Cancellations prior to 30 days from the start of the trek:
You can either transfer the same trek to any of your friends/family or get a voucher for the same amount and register for any of our treks in future (validity 1 year) Or Get a refund of 90 % (If the trek amount varies, the balance needs to be paid by the trekker)

Cancellation between 30 days and 15 days to the start of the trek:
You can either choose to go for any other trek or other batches for the same trek depending on availability Or Get a refund of 75%

Cancellation between 15 days and 10 days to the start of the trek:
You can choose to go on the same trek with other batches in the same season Or Get a refund of 50%

Cancellation less than 10 days to the start of the trek:
You can transfer your trek to your friend/family (same trek) No cash refund.


Adventurescape India is an adventure travel community for trekking in India. They strive to give you the best trekking experience with our focus on expertise and experienced staff, safety and individual attention.
Dehradun Railway Station
Lakkhi Bagh, Dehradun, Uttarakhand 248001
GET DIRECTIONS