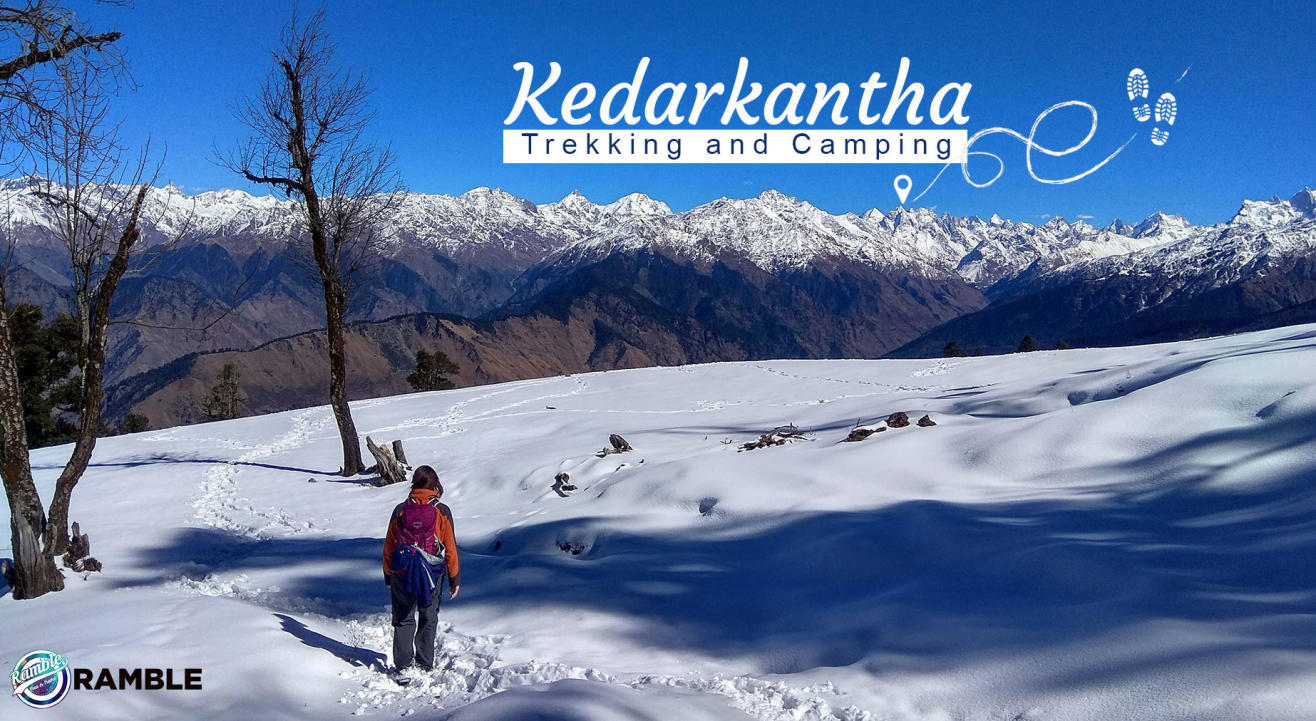 February 27 | 7:12PM - March 4 | 7:12PM
Step out and enjoy this event
Invite your friends
and enjoy a shared experience
Invite your friends
and enjoy a shared experience
About the Event
Kedarkantha is one of the most popular and beautiful treks in Uttarakhand, India. Kedarkantha is located in Singtur Range in Uttarakhand Himalayas. The beauty which attracts trekkers to Kedarkantha Trek is a classic winter trek. The trek offers a great opportunity for trekkers to explore the scenic beauty and experience the life of remote villages of Garhwal Himalayas.
Kedarkantha trek starts from a small beautiful village – Sankri which is located in the Govind Wildlife Sanctuary National Park. You can not resist yourself visiting Sankri as it is reached with Natural Beauty. Nature is the most attractive thing to explore in this place. Certainly, many of the trekkers feel like Sankri is their second home.
One trekker can explore the beauty of the Himalayas on this trek. The elevation of the Kedarkantha trek is 3800 meters (12467 ft). Kedarkantha is a triangle-shaped mountain, which makes this trek more beautiful and attractive. The local people worship Lord Shiva here on July 15 every year. Here Lord Shiva and Lord Ganesha are worshiped, in the local language Lord Shiva and Lord Ganesha called "Meru Bagwan"!
Day 01
Dehradun Railway Station to Sankri (by Car)
Total distance: – 210 km – 8/9 Hours journey
Altitude: 1920 Meters (6299 ft)
pickup from Dehradun Railway Station in the morning after the meet and greet ceremony we will leave for Sankri around 6:00 am to 7:00 am by a suitable car.
Dehradun is the capital city of Uttarakhand and one of the most beautiful and visited places in India. The main attraction of this place is the Rajpur road, we will drive through it and get a glimpse of Dehradun's beauty. We will Reach at Mussoorie after an hour which is also known as "Queen of Hills". A large number of travelers visit Mussoorie during vacations with their family and friends.
We will stop at kempty fall, ahead you can see the peaks are visible and further we will come close to holy Yamuna River. If you want, then we can take a short break of 15 minutes and enjoy being around it.
After some time we will come across a check post, here you have to show your Aadhar cards and some other details. after a couple of hours, we will reach Sankri, enjoy the drive and the wait is soon going to be over. we will reach trekkers paradise and the main market of Sankri.
Check in to the hotel, freshen up and enjoy evening snacks in the open terrace with great views. You will be provided some introduction to your co-trekkers and about the Kedar Kantha Trek after which you can go for an evening walk but be at the hotel for dinner.
Enjoy delicious dinner in the open Terrace surrounded by Mountains and spend a comfortable night in the mountains.
Stay at Hotel/Guest House
Trip time: 7am - 6.30pm
Day 02
Sankri to Juda Ka Talab Trek
Altitude: 6,800 feet to 9,400 feet (2700 Meters)
Time taken: 5 Km – 4/5 Hours Trek
Trek gradient: Easy - moderate
Water sources: Carry sufficient water
Wake up with a hot cup of coffee/tea at 6:00 am and get ready, your breakfast will be served at 7:30 am. We have to leave for our adventure at 8:30 am after the instructions of your guide.
Today we will trek from Sankri to Juda ka Talab which is 5 km away. After a little walk from the main market, you can see Swargarohini peaks (I, II, III) which will mesmerize you.
After 20 minutes of the hike, we will reach the beautiful Saur village, all the houses here are made of wood, here you can enjoy some delicious organic local food.
As we continue hiking, the forests turn more beautiful and attractive. you can Spot some Himalayan birds and don't miss the sight of cascading waterfalls. The grassy field and these forests are enough to mesmerize anybody.
Juda Ka Talab is our today's destination which is the most favorite of many trekkers. It is100 meters long and the width is 36 m. The water is clear and reflects the surroundings, it remains frozen in the winter season. Camp among pine trees and enjoy a cozy night there.
After a delicious evening tea/coffee, snacks, and hot soup, you can explore the area. Dinner will be served in a dinner tent at around 8pm. after which you can rest for the night.
Stay at Tent
8.30am - 1.30pm
Day 03
Trek from Juda Ka talab to Kedarkantha Base
Altitude: 9,573 feet to 10,124 feet (3200 Meters)
Time taken: 3.5 Km – 2/3 Hours Trek
Trek gradient: Easy
Water sources: Carry 2 litres of water
Like other days wake up with a cup of tea/ coffee. After a delicious breakfast at 7:30 am we will leave at 8:30 – 9:00 am. Today, we will be hike towards the Kedarkantha base from where you can clearly locate the Kedarkantha Peak.
Juda ka Talab to Kedarkantha base is 3.5 km trek which can be easily reached in 2 to 3 hours. Today's trek is short and comfortable.
After 40 minutes of the trek, cross an ascent, hike through the dense forest, and suddenly a beautiful meadow will welcome you. We will stay and enjoy great views of the Himalayas here.
From your campsite, the Kedarkantha peak shines tall and relish the great views! Afterward, enjoy a hot lunch. The rest of the day is free.
Stay at Tent
Trip time: 8am - 11.30am
Day 04
Kedarkantha Base camp to Kedarkantha Summit and descent to Hargaon
Altitude: 9,573 feet to 12467 feet to 8677 feet (2645 Meters)
Time taken: 9 Km – 6/7 Hours Trek
Trek gradient: Moderate – difficult
Water sources: Carry sufficient water
Today is the most waiting and most exciting day of your trek, so be ready at 4:30 am in the morning to witness the sunrise from the Kedarkantha summit. Nothing can be more beautiful than watching the rising sun from the summit because the views are jaw-dropping. Whoever witnesses the Sunrise from the summit, gets mesmerized.
After a light breakfast at around 4:30 am we will start our trek to the summit. It is important to carry a headlamp or a torch. Trekking in dark is really admiring but only with professional guides. Soon we will reach just below the Kedarkantha summit.
The hiking to the top is 1.5 km long but the efforts will be worth it. Ascent slowly with everyone and the soft sun rays will fill your heart with joy. When the sun is about to rise, we will be at the top (3800 m) and capture some of the best moments of your life.
There is the small temple of Lord Shiva and Ganesha, pray for their blessings, and get awestruck by the panorama views of stunning Himalayan peaks. Enjoy a good time with your group and take some photos, after an hour we will start descending.
The descent is going to be fun and enjoyable, slide down with the help of your guides. The sliding point is 2 km long, this is going to be your best experience.
Have a hot and delicious lunch at the base camp, rest for some time, and move towards the Hargaon campsite for today. Hargaon is a beautiful wide meadow, spend your time here with your trek-mates. Overnight stay at Hargaon.
Stay at Tent
Trip time: 4.30am - 10.30am - 3.30pm
Day 05
Hargaon thach to Sankri Trek
Altitude: 8,677 feet to 6,800 feet
5.5 Km – 4/5 Hours Trek
Trek gradient: Easy descent
Water sources: Carry sufficient water
Today morning, enjoy the breakfast at your last camp of this memorable trek. Start trekking and while descending from Hargaon to Sankri we will stop at many viewpoints and we will also visit some apple orchards.
After we reach our base camp Sankri, today your stay will be at the hotel. You can also enjoy some local food from here and make countless memories. Enjoy a beautiful stay surrounding mountains here.
Stay at Hotel
Trip time: 8am - 4.30pm
Day 06
Return from Sankri to Dehradun by taxi
Today – enjoy your delicious breakfast. The certificates will be given and after some beautiful photos, we will bid you all a goodbye from Sankri.