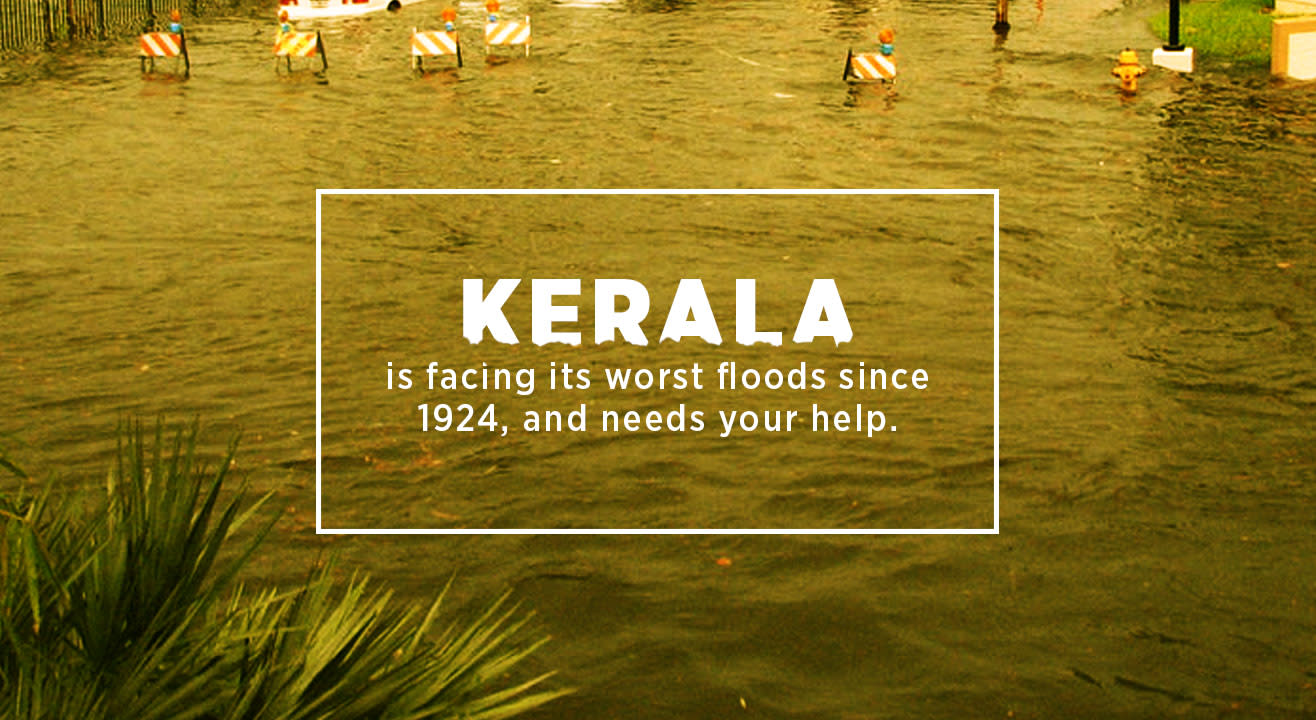 Other
Kerala Needs Your Help: Helpline Numbers, Donation Centres, Fundraiser Events and More Information
Kerala is facing its worst floods since 1924, and needs your help. No amount or donation is too small. All details you need, below.
If you'd like to donate towards the relief efforts:

Through the official Chief Minister's Distress Relief Fund website:

http://donation.cmdrf.kerala.gov.in/
Through NEFT / IMPS bank transfer:
Bank: State Bank of India
Account Number: 67319948232
Branch: City Branch, Thiruvananthapuram,
IFSC: SBIN0070028

Through UPI:
keralacmdrf@sbi
Items most needed:
Ladies & gents' undergarments

Baby diapers
Baby foods
Sleeping mats
Cotton blankets
Bed sheets & pillows
Sanitary napkins
Cleaning items
Nighties, shorts
T-shirts and churidars
Sarees



You can also donate:
Ready-to-eat foods, Oats, Bread & Jam, Energy bars/Protein bars/Cereal bars, 2-Minute Noodles (Maggi, Top Ramen, Waiwai), Milk tetra-packs, Milk powders, Tea powders, Sugar, Salt, Canned Food, Cerelac, Pediasure, Kerosene stoves, Sleeping mats (paya), Blankets and bedsheets, Candles and matchboxes, Odomos.
You can donate through several e-comm companies and apps
Collection centers in various cities
If you're struck by the floods, please reach out to these emergency helpline numbers:
Please call these numbers for emergency aid and rescue. Please call only one number and share your situation. The rescuers and volunteers will be contacted and followed up with till you're safely evacuated.
+91-4712737811

+91-4712737822

+91-4712737833

+91-4714124199

+91-4762805050

+91-9148156184

+91-7349744047

+91-9900096119

+91-9789066078

+91-9544664896

+91-9846492491

+91-8606302787

Kerala Floods District Control Room Numbers:
Idukki : 0486 2233111, 9061566111, 9383463036

Ernakulam : 0484 2423513, 7902200300, 7902200400

Thrissur : 0487 2362424, 9447074424

Palakkad : 0491 2505309, 2505209, 2505566

Malappuram : 0483 2736320, 0483 2736326

Kozhikode : 0495 2371002

Kannur : 0497 2713266, 0497 2700645, 8547616034

Wayanad : 04936 204151,9207985027

Thiruvananthpuram: 0474 2794002

Kottayam : 0481 2562201

Alappuzha : 0477 2239630

And importantly, be aware of news sources: There's a lot of panic, fake information and rumours doing the rounds at this time. The Chief Minister's Office and Anbodu Kochi (who is on-ground, handling relief operations) are legitimate sources for information: Along with what is now needed for donations, new centers, etc.
Fundraiser Events
There are several events happening across India to help raise funds for Kerala. Keep watching this page as new events get added regularly.
Subscribe to receive our newsletter!
Find the best experiences happening out there in your city or enjoy handpicked content while sitting comfortably at home. Insider is your go-to place to figure out what to do today!