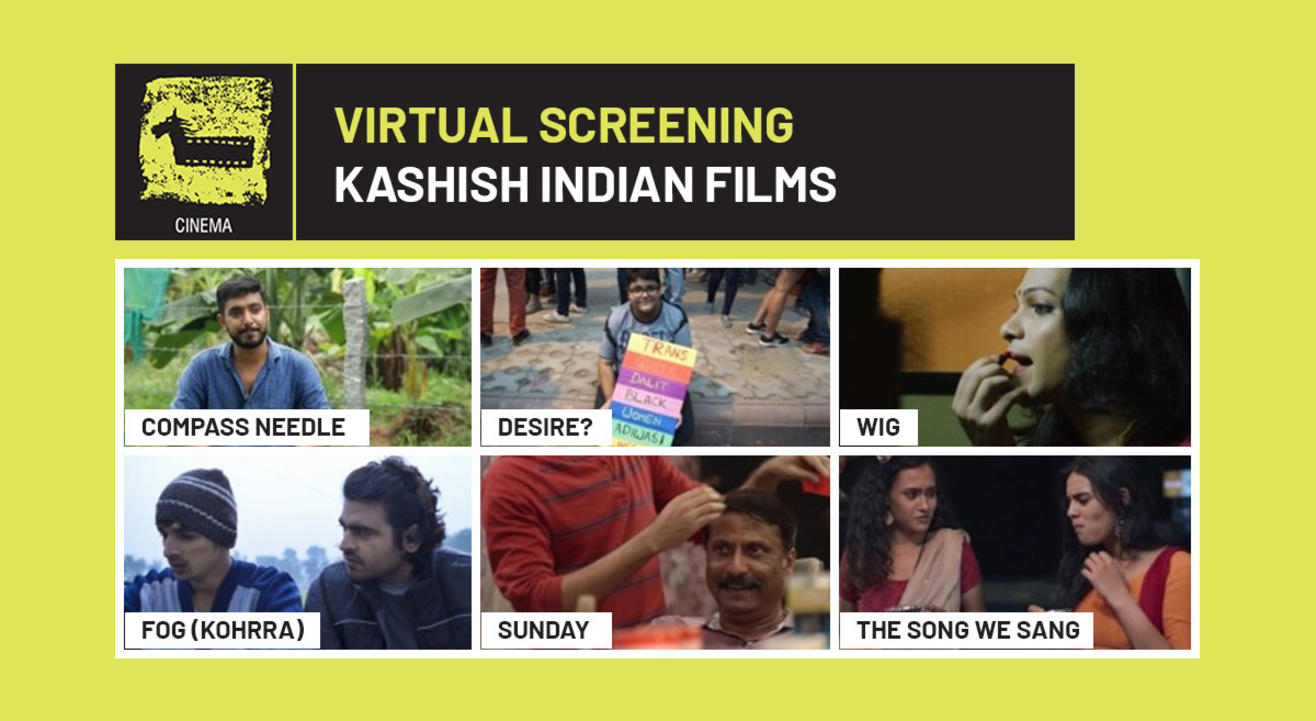 KGAF 2021: Indian Selection | Kashish Mumbai International Queer Film Festival
Enjoy this event from your home
Invite your friends
and enjoy a shared experience
KGAF 2021: Indian Selection | Kashish Mumbai International Queer Film Festival
Enjoy this event from your home
Invite your friends
and enjoy a shared experience
Invite your friends
and enjoy a shared experience
Best of KASHISH – Indian Mumbai International Queer Film Festival
KASHISH Mumbai International Queer Film Festival is delighted to present a program of six indian short films that won awards or were appreciated by audiences at KASHISH 2020 Virtual, showcasing the spectrum of LGBTQ experiences and offer us a better understanding of genders and sexualities.
COMPASS NEEDLE
Directors: Prithvi Konanur, Rashid Sheikh
13 min / 2019 / India / Malayalam / Documentary Short
A video portrait that tries to retrace the coming out of a gay Muslim man in Southern India, whose conservative family has largely accepted him.
DESIRE?
Director: Garima Kaul
28 min / 2019 / India / English, Hindi / Documentary Short
Through a collage of intimate stories, 'Desire?' opens up a dialogue about Asexual relationships that do not stand on the edifice of Sex and Sexuality, existing as a minority community within an already persecuted LGBTQIA minority community. The parallel narratives take you through each characters' world as they navigate through life creating small ruptures within a culture of universal hypersexuality.
WIG
Director: Atanu Mukherjee
26 min / 2019 / India / Hindi / Narrative Short
Artika believes herself to be modern, liberal and most importantly, independent. An unprecedented encounter with a transgender sex worker opposite her house, questions her beliefs. Will she now fall into the same societal prejudices that she has been fighting against?
SUNDAY
Director: Arun Fulara
10 min / 2020 / India / Hindi / Narrative Short
When the middle-aged Kamble makes his weekly visit to the neighbourhood barber shop, it's not just for a shave.
Winner: Riyad Wadia Award for Best Indian Emerging
Filmmaker at KASHISH 2020 Virtual
FOG (Kohrra)
Director: Ribhu Ghosh
20 min / 2020 / India / Hindi / Narrative Short
16 year old boy, Ronnie lives in a hamlet in rural Haryana, struggling to find his sexual identity within an extremely rigid, patriarchal society; finds solace in the arms of his childhood friend only to see it get snatched away.
THE SONG WE SANG
Director: Aarti Neharsh
20 min / 2019 / India / English, Hindi / Narrative Short
Krishna, an economist questioning certain choices she's made in her life, meets Alia, a friend's cousin from Delhi. A plate of sweet golgappas and a Hindi film's song leads to
more. The two strangers decide to ditch the loud Navratri event and walk the city of Ahmedabad, carrying conversations about love, home, religion, fears and falling for each other as the night grows. Every choice made is another choice forgone, leading to a different reality- a reality where this night might not have happened.
Winner: Best Indian Narrative Short at KASHISH 2020 Virtual
ABOUT KASHISH MUMBAI INTENTIONAL QUEER FILM FESTIVAL
KASHISH Mumbai Intentional Queer Film Festival is South Asia's biggest queer film festival and the only LGBT film festival in India to be held in a mainstream theatre. It has been voted as one of the Top 5 coolest LGBT Film Festivals in the World and has been listed as one of the Top 5 film festivals in India.
Founded in 2010, KASHISH has grown from strength to strength over the last 11 years. Held usually across five days simultaneously at two venues, the festival programs around 160-180 films from 40- 50 countries and attracts close to 10000 footfalls each year. It is the first Indian LGBTQ festival to receive approval by the Information & Broadcasting Ministry, Government of India, and the first ever mainstream LGBTQIA+ film festival in India.
STAY IN TOUCH
KASHISH Mumbai International Queer Film Festival
Festival Website: /mumbaiqueerfest.com
Facebook: /KASHISHmiqff
Twitter: /KASHISHmiqff
YouTube: /KASHISHfilmfest
KGAF 2021: Indian Selection | Kashish Mumbai International Queer Film Festival
Enjoy this event from your home
Invite your friends
and enjoy a shared experience