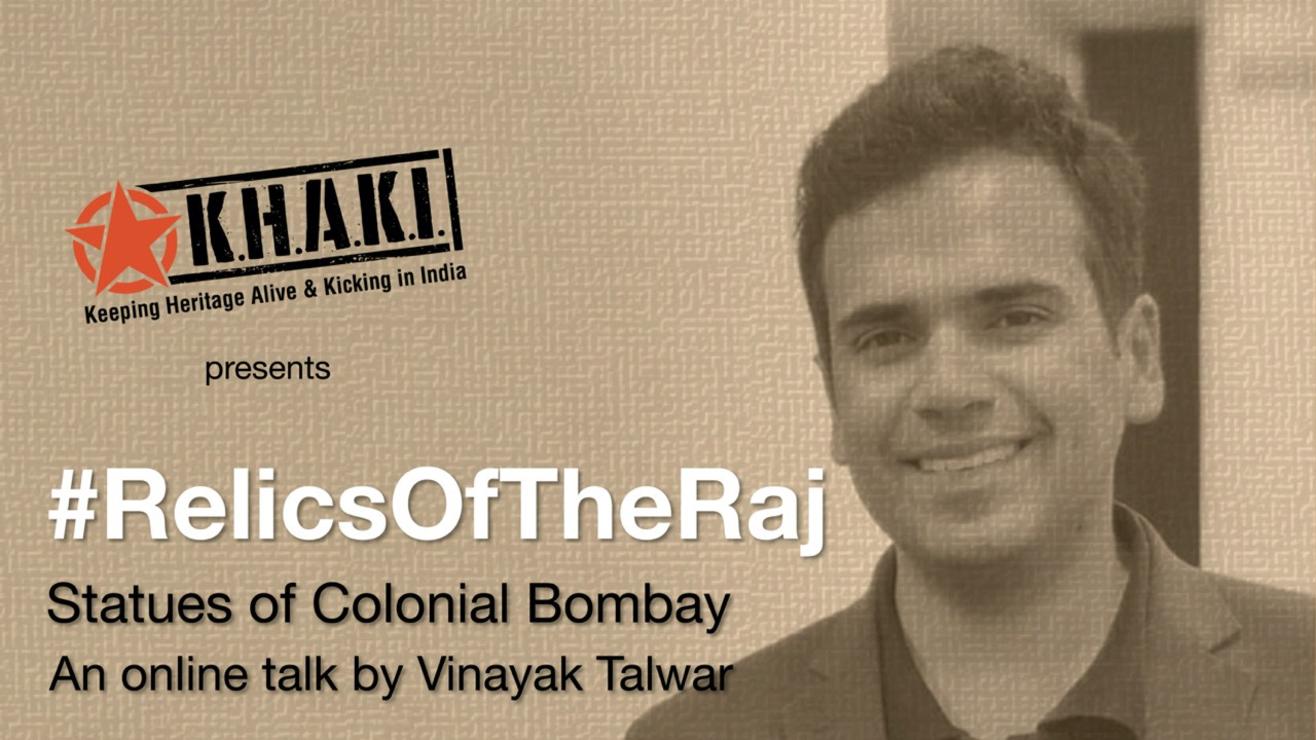 KHAKI Talk 22: #RelicsOfTheRaj - Fort's Colonial Statues by Vinayak Talwar
Invite your friends
and enjoy a shared experience
Invite your friends
and enjoy a shared experience
About the Event
#RelicsOfTheRaj - Fort's Colonial Statues by Vinayak Talwar
Today, in a renewed anger against colonialism and slavery, the world is seeing the toppling of colonial-era statues in Europe and USA. Mumbai witnessed a similar anger 55 years ago when many colonial-era statues were vandalized to erase independent India's colonial past. Some statues were hidden away and some even went missing, their place being taken by newer statues. But the clues of a past not too long back still linger around. In our Online Talk #RelicsOfTheRaj, history enthusiast Vinayak Talwar, a member of Team Khaki, takes us on a walk around the Fort area to look back at the colonial statues that stood in the city centre and tells us their locations, who they memorialised, what befell them and other stories around them.
About the speaker:
Vinayak Talwar is a Dilliwalla who gets a kick out of showing Mumbaikars their own city. Living and working in Mumbai since the last 5 years, the city has enchanted him into exploring its nooks and crannies whenever he gets the chance. When he is not tramping down the streets of Fort and other Mumbai localities, Vinayak works as an HR professional with an Indian conglomerate.
Charges for participation Rs. 199/-
Date: 4th July 2020
Time: 7.00 pm
Duration: 1 hour + Q&A
What You Need To Get Started:
- An internet connected computer, laptop, or mobile.
- Zoom app downloaded on your computer, laptop, or mobile. You can download the zoom app from https://zoom.us/download.
- A webcam (optional)
- Zoom link / ID and Password to join the online talk. The Zoom link will be sent to registered attendees on email 45 minutes before the start of the online talk.
Accessing Zoom:
- To join the online talk, click the link in the email received from KHAKI Lab.
- You will be directed to the Zoom website and from here you will need to click 'Open URL:Zoom Launcher'.
- If you are new to Zoom, a pop up box will open asking you to complete your registration. Please enter your details in this box and ensure you use your full name so that the online talk host can identify who has joined the online talk.
- If you already have a Zoom account, you can just sign in to Zoom to join the online talk.
- If you are asked to sign in to your existing Zoom account and you have forgotten your password, select the "Forgot?" link and follow the instructions on the screen.
- If the online talk window isn't loading, close your browser and try to join the online talk again. Be sure to accept or approve any alerts requiring your approval to install the Zoom online talk application, and turn off any pop-up blocker that could be preventing the Zoom online talk window from opening.
- In case you may have any bandwidth issues, it is advised that you keep your video off
After joining online talk on Zoom:
Audio
- When you have joined the online talk, please ensure you have a working speaker so that you can hear the presentation.
- Please ensure that your microphone is on mute. If not so then the host of the meeting will be allowed to do so on your behalf.
- You can check and manage your audio in the audio section of Settings (Windows) or Preferences (Mac).
Q&A
- Q&A will take place after the talk.
- All questions to be typed on chat.
- You can type your question in the chat section (To Everyone) so that the speaker and all attendees can see who has asked it.
- Once you have sent your question, the speaker has the option to either answer your question live or by text.
Other Instructions:
- We recommend that before you sign in to the online talk on time, please spend at least 15 minutes checking that you have the correct system requirements.
- You will waste time if you do not do this in advance of the online talk as we will start promptly at 7 pm IST. Since this is a paid online talk, we will not be able to make refunds due to system access (All details about system requirements for zoom can be found https://support.zoom.us/hc/en-us/articles/201362023-System-Requirements-for-PC-Mac-and-Linux).
- One ticket gives access to one person, please do not share the meeting link, ID and Password with other people. If an unregistered person is found attending the online talk, he/she will be removed from the online talk.
- Event starts at 7.00 pm IST sharp. Late entrants will not be admitted.