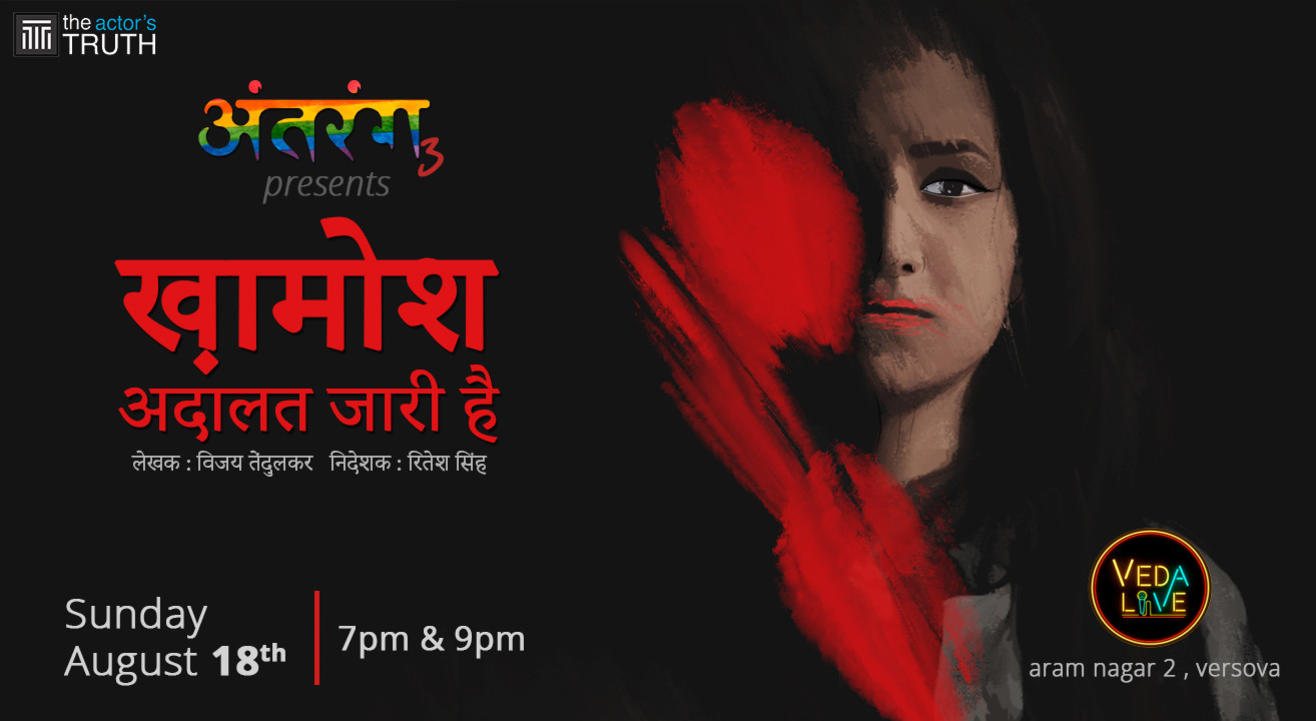 Drama
Khamosh! Adalat jaari hai
About
We brag about the amount of freedom given to women these days but who are we to give them that freedom? Why should it be given? Isn't freedom an inherent birth-right? Many such questions - on a woman's right to choose - are raised when a fun, mock trial during the rehearsal of a play turns into a tragic persecution.
Khamosh Adalat Jaari Hai (Shantata! Court Chalu Aahe), was originally written in Marathi by playwright Vijay Tendulkar in 1963.
Writer: Vijay Tendulkar
Director: Ritesh singh
Cast:
Anamika Singh as Sandhya Bauri
Akshaya Naik as Mrs Dubey
Riddhi Gotey as Saba Bakshi
Ronit Saha as Nimish Salgaonkar
Avinash Chandra as Mr Shrivastav
Vivek Dutta as Mr Dubey
Yash Dani as Sonu Balu
Rohan Pherwani as Khatri
Support:
Light & Sound: Ryan D'cruz
Credits:
Show Curator: Saurabh Sachdeva
Creative Head: Amit Verma
Illustration: Prachi Mehta @prachidrewthis
ANTARANG
Season 3
An initiative by The Actor's Truth
'Antarang' is a theatre festival, where we encourage actors to push the boundaries of convention and explore the most basic instincts of acting, by producing something new and provocative. Our goal is to provide an environment for our actors to develop and showcase new plays, where there is so much more to experience and achieve. We look forward to introducing new and creative work to our community.
The plays showcased in Antarang season 3 are mirrors to those aspects of our society that we choose to be oblivious to. We aim to address issues like female foeticide, child abuse, sexual molestation, marital rape, homophobia or even commonalities like mental illnesses that are often shoved under the carpet.
Venue
Veda Live
Bungalow No. 121, Aram Nagar Part 2, Versova, Andheri West, Mumbai, Maharashtra 400061