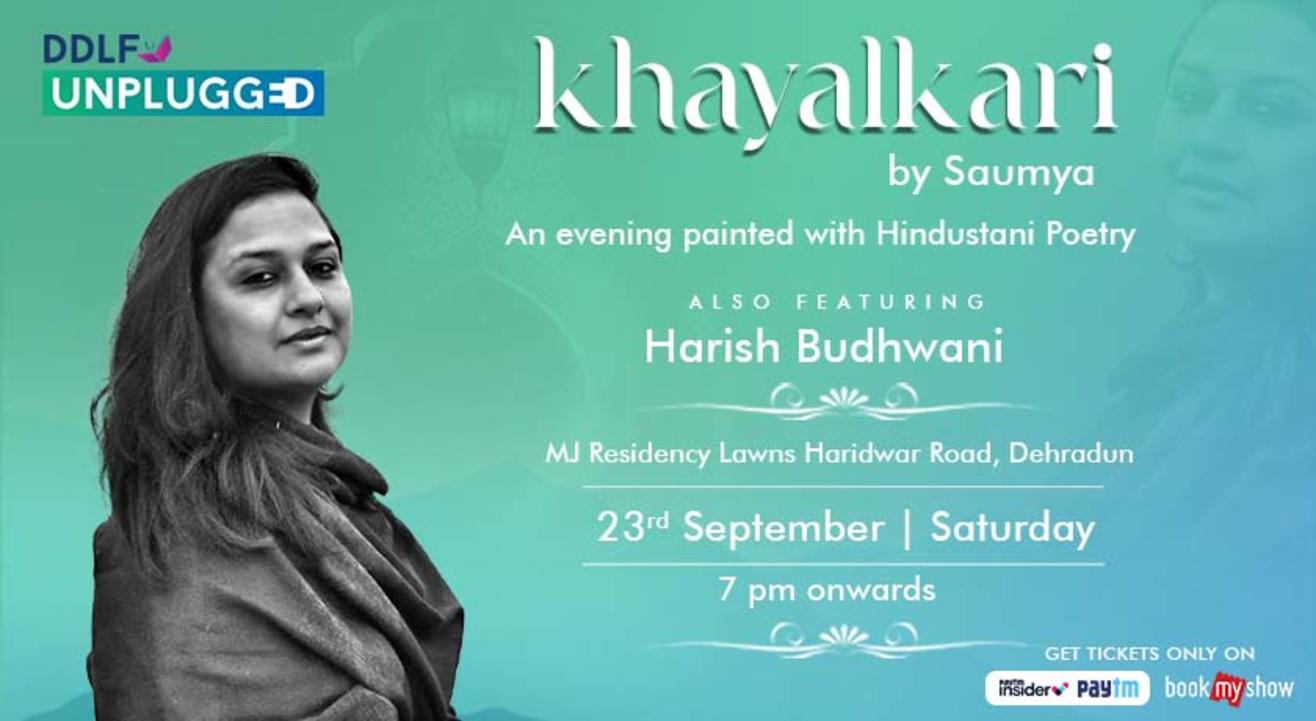 Khayalkari by Saumya - An evening painted with Hindustani Poetry
MJ Residency | Family Hotel | Conference rooms | Affordable Hotel in Dehradun, Dehradun
Event Guide
Live Performance
Enjoy a unique experience
Invite your friends
and enjoy a shared experience
Khayalkari by Saumya - An evening painted with Hindustani Poetry
MJ Residency | Family Hotel | Conference rooms | Affordable Hotel in Dehradun, Dehradun
Event Guide
Live Performance
Enjoy a unique experience
Invite your friends
and enjoy a shared experience
Event Guide
Live Performance
Enjoy a unique experience
Invite your friends
and enjoy a shared experience
DDLF UNPLUGGED brings you an evening dedicated to the recitation of ghazals and nazms that belong to the masters of yesteryears. This mehfil will be a walk along Ghalib, Faiz, Faraz, and many others through their eternally shining words and verses.


Saumya is an engaging performer and facilitator, who also narrates interesting anecdotes surrounding the Urdu masters and stories which led to the creation of certain classic poems. She will weave narratives of love, romance, humor, history, and revolution, recreating the magic that was experienced in mushairas! Playing alongside her is the talented musician Harish Budhwani.


If you're ready to immerse yourself in the magic that was created in mushairas, this is your chance to listen, recite along, and bask in poetry which can literally heal an aching heart.
MJ Residency | Family Hotel | Conference rooms | Affordable Hotel in Dehradun
Chowk, East Rest Camp, Guru Nanak Vihar, Race Course, Dehradun, Uttarakhand 248001, India
GET DIRECTIONS
Khayalkari by Saumya - An evening painted with Hindustani Poetry
MJ Residency | Family Hotel | Conference rooms | Affordable Hotel in Dehradun, Dehradun
Event Guide
Live Performance
Enjoy a unique experience
Invite your friends
and enjoy a shared experience