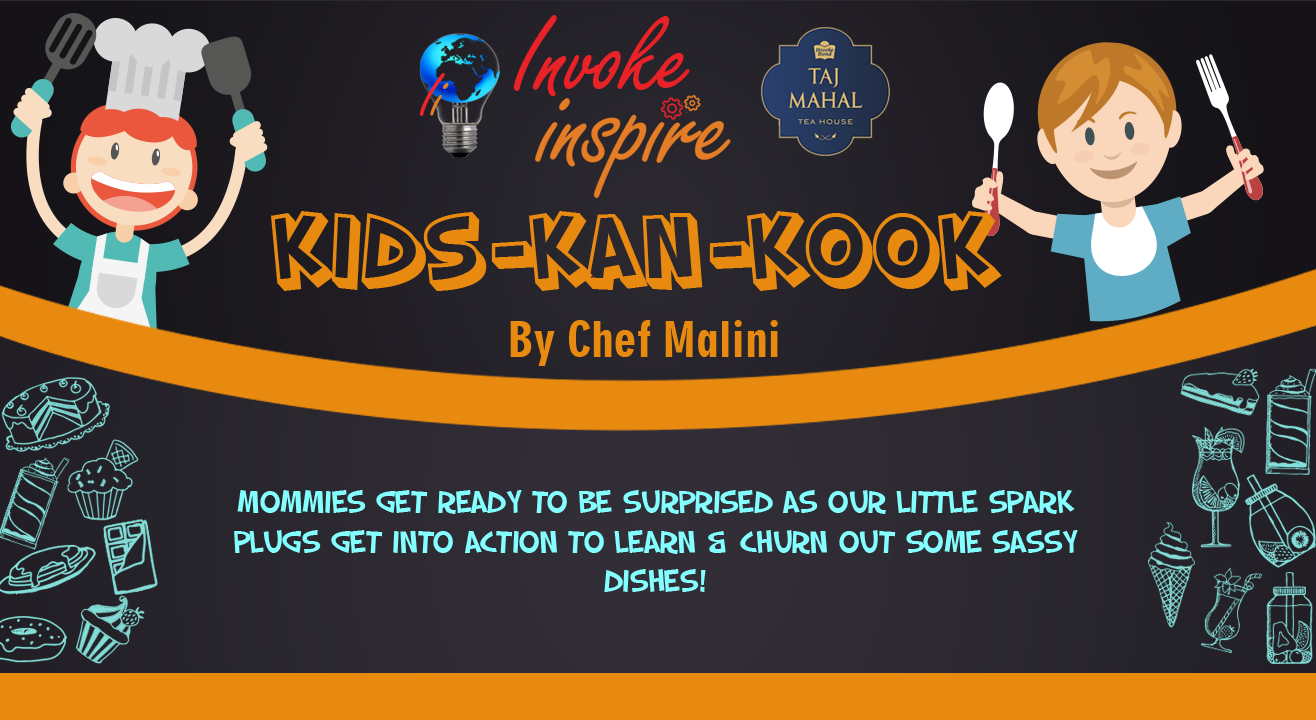 Food
About
It's time to get the aprons out and kick up a storm with pots and pans as Invoke Inspire brings the much awaited Kids-Kan-Kook Workshop on Sunday, 9th Dec 2018 at Taj Mahal Tea House, Bandra, from 10 AM to 1:30 PM.
Mommies get ready to share your cooking duties as your little spark plugs get into action to learn and churn out some sassy dishes. From scrumptious fruit pops to layered, healthy parfaits and some truly delightful munchies, kids will not only craft some mouthwatering dishes but also develop their palate as they try new ingredients and unusual recipes.
Under the expert tutelage of Chef Malini, who has been tantalizing taste buds for over 30 years, these little novices could become big experts and might even learn to serve you any old dish with a new and zingy twist.
So don't miss this chance and book now to expand your child's horizon because it doesn't matter if they have never cooked before - children are natural born cooks and Invoke Inspire believe that Kids-Kan-Kook!
Cooking is a crucial life skill and every child today must know how to cook so that he/she may not be dependent on family members, cooks or restaurants to cater to their basic needs. Invoke Inspire encourages children to stand on their own two sturdy feet and master the art of fending for themselves!
Cooking is also considered to be a stress buster and helps in fostering family bonding. When parents and kids cook together and eat the food, they have lovingly curated for themselves, it's one of the most satisfying feelings in the world!
Completely safe and hassle free. Kids need to just carry a clean napkin, an apron and their cheery self. All materials will be provided by Invoke Inspire and care will be taken to ensure that all safety measures are followed. No direct fire will be used and all ingredients will be cleaned and washed thoroughly where applicable as Invoke Inspire will be providing all food and materials for this event. Where there are kids you need to be cautious and so Invoke Inspire always carry a complete first aid kit as well.
It's time to entice your kids to pick up the tools they will need to provide for themselves as they grow up in this competitive world and Invoke Inspire assure you of providing loving care needed at every step.
While kids learn to share and work as a team, they will also enjoy eating the snacks that they have created themselves. So forget all your worries and leave the cooking struggles behind as your children discover the passion that cooking can be. Get ready to relax for a while!
Venue
Taj Mahal Tea House
36/A, Sanatan Pereira Bungalow, St John Baptist Rd, General A.K. Vaidya Marg, Bandra (West), Mumbai, Maharashtra 400050