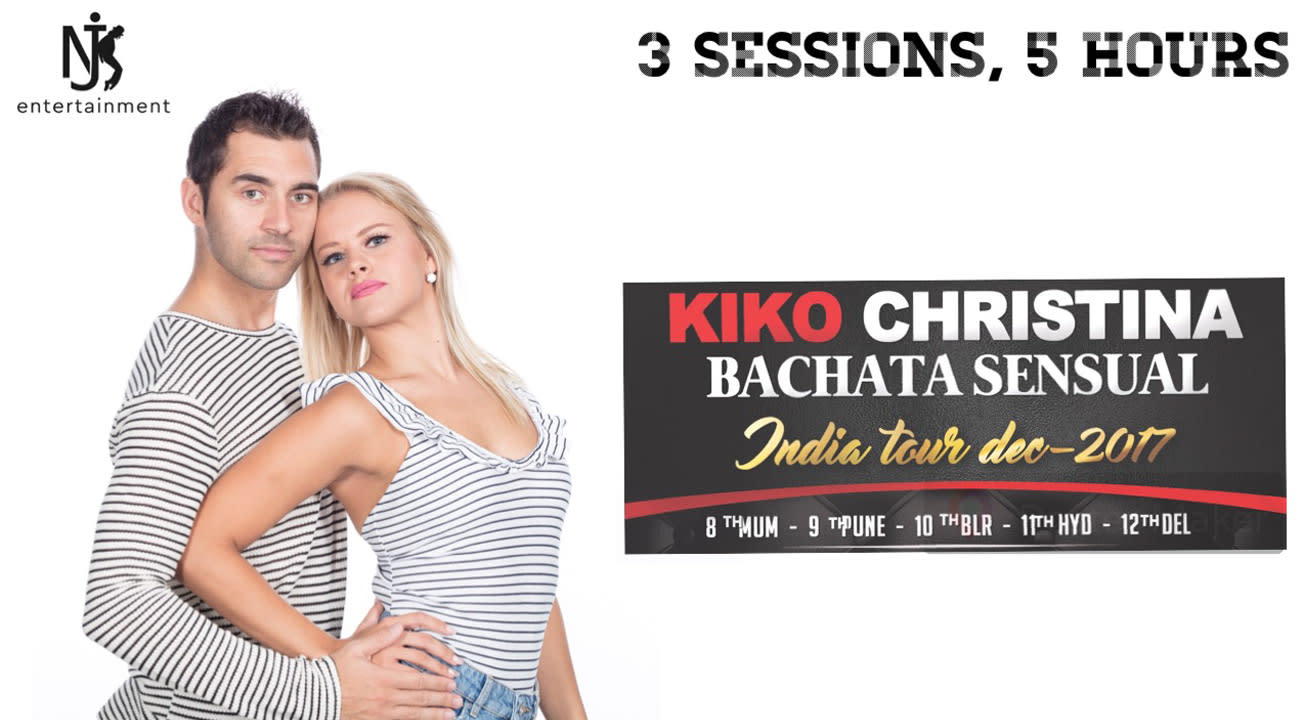 Dance
Kiko Christina's Bachata Sensual India Tour, Pune
About
NJ Entertainment Presents,
KikoChirstina's Bachata Sensual India Tour
KiKo & Christina are one of the very few artists who has taken Bachata Sensual to the next level. The focus of this boot camp will be more on the right techniques for isolations, partner work and styling to make each one comprehend the sensual moves and combinations.
Complimentary Sensual Bachata by Rocky at 1PM
Why Kiko & Christina are the best?
Kiko and Christina are internationally recognized Bachata dance couple and teaching dance for last 10 years. They are known for their Bachata sensual dance style, teaching it worldwide for dance schools, festivals and congresses. Kiko and Christina are known for their strong techniques, ability able to explain movements, body control and techniques with essential details.
Why Bachata Sensual Moves are difficult?
Why Bachata Sensual Moves are difficult to perform in the socials?
Lack of technique knowledge on basics of body movements like Waves, Rolls, Dips and Isolations
Highly depends on partners' capability of following and leading waves, isolations, and head movement.
Most importantly, no universal language or no ground rules for body movements basics steps

Who should start with Bachata Sensual?
Who should start with Bachata Sensual beginners/Improvers session?
You may be a very senior, or intermediate or just started to dance in multiple Latin dance forms, but if you are new to body movements like waves & Isolations
Basic knowledge on the techniques to perform body moves with your partner.
Basic knowledge on lead and follow to perform body moves
On top of this foundation you may go for the intermediate/ Advance session to learn variations and advance combinations by playing with musicality.
What will you learn in this boot camp?
This Boot camp is not a choreography boot camp; Focus would be more on techniques and to become good Bachata Sensual dancer. After careful analysis of Bachata Sensual dancers in India, This boot camp divided into 2 sessions for:

Bachata Sensual beginners/Improvers

Essentials of Bachata Sensual body-movement & connection
How to do isolations in your own body
Isolations lead & follow

Basic Foundations and ground rules for
Connection, posture, embrace
Principles of waves and energy
Body Isolations
Neck & Head Rolls
Dips

Sensual combinations & Partner work
Partner work : Sociable combinations

Bachata Sensual Intermediate/Advance

Expression of Bachata Sensual
More advanced moves, waves, isolations
Leading & Following techniques to heat up your Dance

Musicality
Logic of transitions & patterns in songs
Dance with musicality & steps creativity

Sensual combinations & partner work
Advance Partner work : Sociable combinations