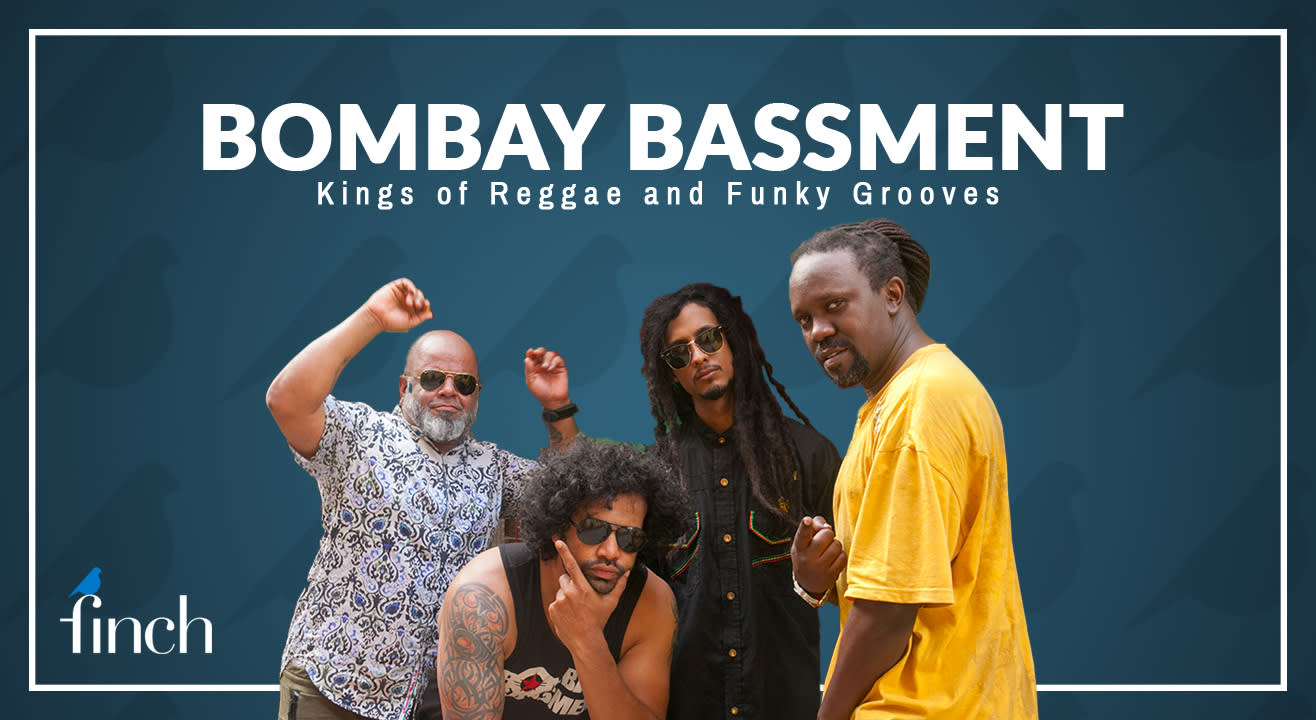 Music
Kings of Reggae and Funky Grooves - Bombay Bassment
About
With fun at the centre of everything they do, Bombay Bassment's music-making philosophy has seen few changes since 2010.
The Mumbai-based urban music act, which has two albums under its belt – 'Bombay Bassment' and 'Bombay Bassment X FUNC VIP', as well as the 'OK, Dance EP' has earned a reputation for its uninhibited live performances and playful energy that makes hip-shaking compelling.

The line-up today consists of Bobkat (Robert Omulo, MC), BassBarrett (Ruell Barretto, bass), Major C (Chandrashekhar Kunder, samples/percussion) and Jeremy D'Souza on Drums.
With billings at major festivals in India like the Bacardi NH7 Weekender, VH1 Supersonic, SulaFest, Ziro Music Festival, and Jaipur Literature Festival, Bombay Bassment became the 1st Indian Hip Hop act to play at the Glastonbury Festival in the UK in June 2016.
They won 'Converse: Original Band Hunt', as well as 'GOLD for Best Hip-Hop Group', 'SILVER for Best Hip-Hop Song', and 'BRONZE for Genre Bending Act', at the South Asian IndioGo Music Awards.

HIP-HOP | REGGAE
FUNK | DRUM & BASS
"This is a band that's sure-footed and ready to, as clichéd as it may sound, Bombay Bassment is redefining the sound of Indian Hip-Hop." - Mumbai Boss
Artist Line-up & Description
MC Bobkat: He is a reggae singer, a dancehall DJ, a rapper or a poser? Bobkat is all the above and more, which is why he prefers to call himself simply an artist. His multifaceted repertoire means many keep guessing until he drops the first tune at his gigs.

Major C: 'MAJOR C', your friendly-rotund DJ has been "around" spinning the hottest tunes on the coolest decks before kids began exchanging music on cassettes. One of Mumbai's premier DJ's and the main man behind the acclaimed Hip-Hop act "Bombay Bassment", 'MAJOR C' has been conceived by the system way before anyone even knew the 'scene'.

Ruell Barretto: A Fender endorsed artist, Ruell is a professional Bass Guitarist playing and recording music since 2004 with exposure in various international music festivals and club shows.

Jeremy D'Souza: Jeremy has been playing for over a decade and plays for various outfits from the city like Bombay Bassment, The Lightyears Explode, Goddess Gagged, and many more.