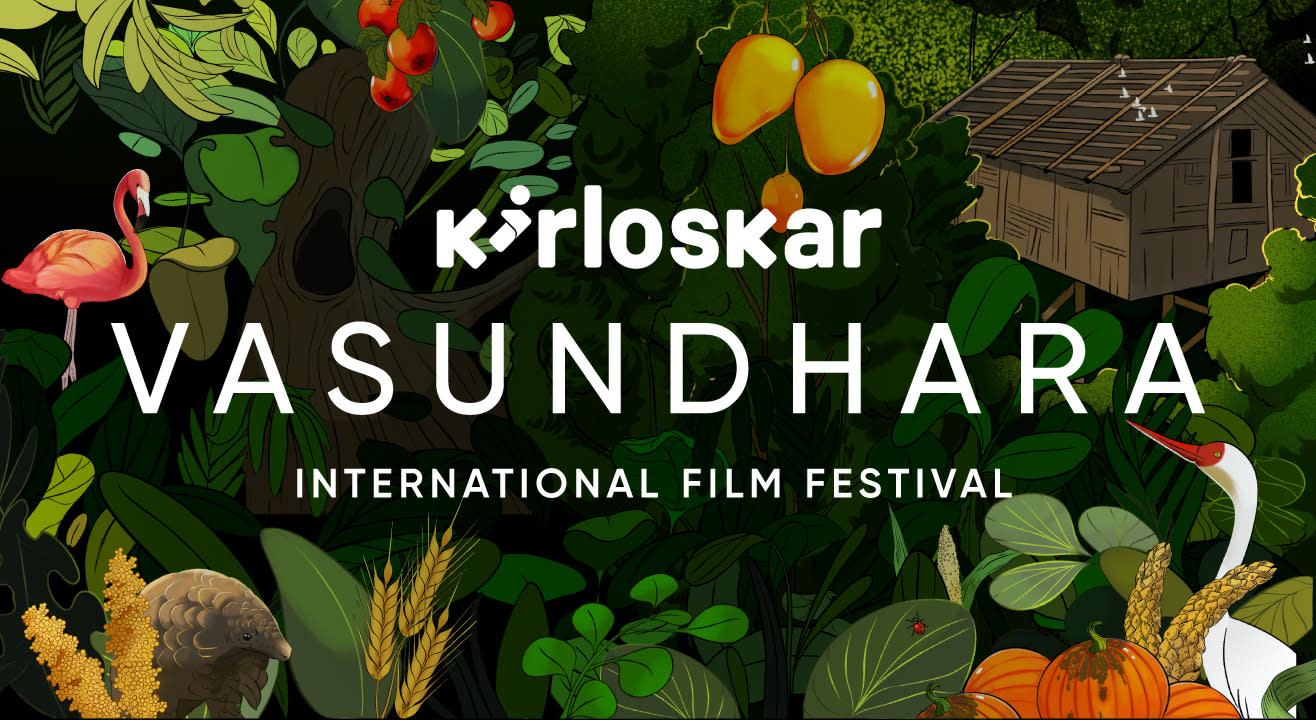 Kirloskar Vasundhara International Film Festival (KVIFF)
December 17 | 6PM onwards
Enjoy this event from your home
Event Guide
Digital Event
Watch on Insider
For Age(s)
Family Friendly
Interactive show
Be a part of the show
Invite your friends
and enjoy a shared experience
Kirloskar Vasundhara International Film Festival (KVIFF)
December 17 | 6PM onwards
Enjoy this event from your home
Event Guide
Digital Event
Watch on Insider
For Age(s)
Family Friendly
Interactive show
Be a part of the show
Invite your friends
and enjoy a shared experience
Event Guide
Digital Event
Watch on Insider
For Age(s)
Family Friendly
Interactive show
Be a part of the show
Invite your friends
and enjoy a shared experience
The Kirloskar Vasundhara International Film Festival showcases thought-provoking films about flourishing nature, nutritious food and a healthy society.
Our Earth is our only home. Our only hope. We need it to survive. Not the other way around. But today, our planet is hurting, which in turn is hurting us and all other living beings.
The Kirloskar Vasundhara International Film Festival showcases how our modern way of living is affecting our planet, our food and our lives while causing irreparable damage to the future generations. The films have therefore been carefully curated to create a sense of urgency, evoke conversations and inspire action.
Because no effort is too little, no action too small. After all, it only takes the flutter of a butterfly to transform stormy skies. So, come join us and be a part of the change. Together, let's create a harmonious co-existence between nature and mankind.
FAQs
WHAT ARE THE THEMES OF THIS YEAR'S FILM FESTIVAL?
The themes of this year's festival are flourishing nature, nutritious food, and healthy society
WHERE CAN I SEE THE FULL SCHEDULE?
Kirloskarvasundharafest.in and the Kirloskar Vasundhara International Film Festival Facebook page & Paytm insider.
IF I MISS THE SLOT, CAN I WATCH THE FILMS LATER?
No. The films will be aired as per the schedule and can only be viewed then.
There are two slots. 11am to 3:30pm IST and 6pm to 10:30pm IST.
WHAT IS THE LAST DATE TO REGISTER?
Up to 17th December 2021
HOW DO I GET AN E-CERTIFICATE?
E-certificates will be shared on your registered email id towards the end of the event
CAN I STREAM THE FESTIVAL FROM MULTIPLE DEVICES AT ONCE?
No. You can use only 1 device at a time.
HOW DO I ACCESS THE FESTIVAL?
By registering for free on Paytm insider.
CAN I TRANSFER MY TICKET TO SOMEONE ELSE?
No. A fresh registration is required.
THE FAQS HAVEN'T ANSWERED MY QUESTION. HOW DO I GET IN TOUCH WITH YOU?
Contact Vasundhara Club on vasundharaclubpune@gmail.com
WHAT ARE THE OFFICIAL HASHTAGS?
#kirloskarvasundhara #kirloskarvasundharainternationalfilmfestival #KVIFF
Kirloskar Vasundhara International Film Festival (KVIFF)
December 17 | 6PM onwards
Enjoy this event from your home
Event Guide
Digital Event
Watch on Insider
For Age(s)
Family Friendly
Interactive show
Be a part of the show
Invite your friends
and enjoy a shared experience