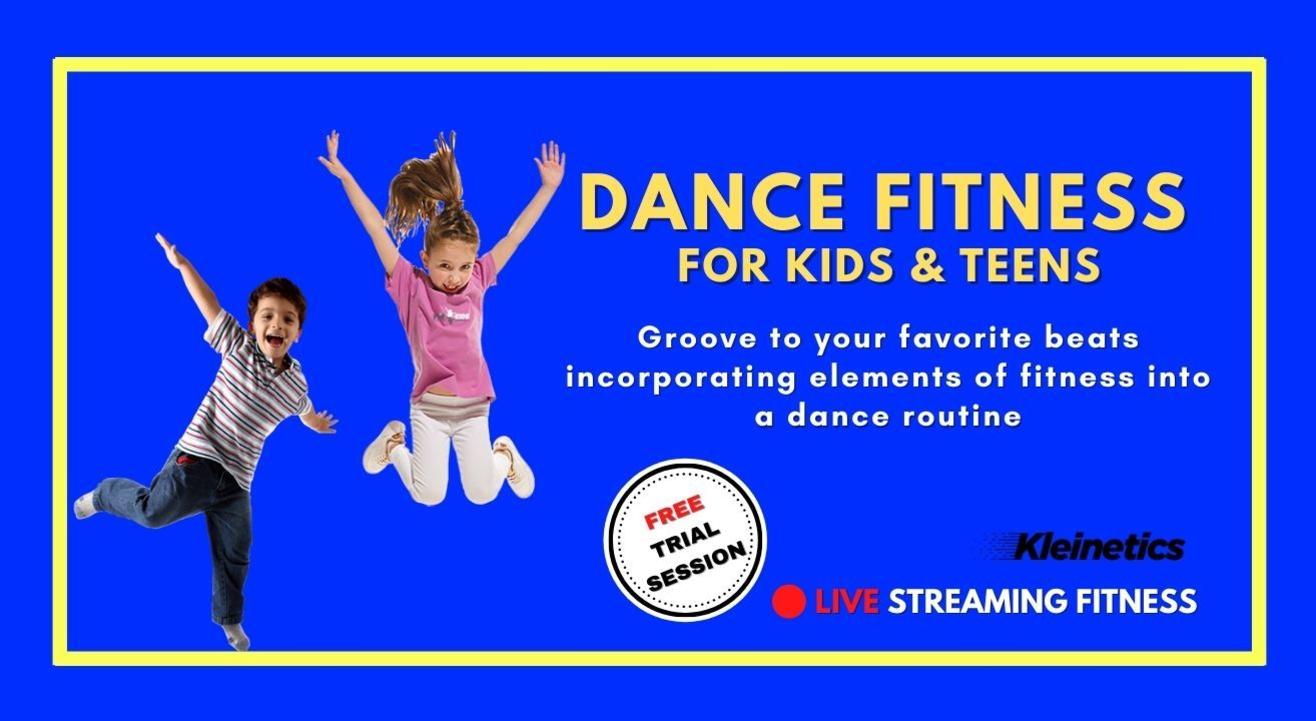 Kleinetics Dance Fitness for Kids & Teens
December 31 | 4PM - October 29 | 4PM
Enjoy this event from your home
Invite your friends
and enjoy a shared experience
Invite your friends
and enjoy a shared experience
About the Event
Kleinetics Dance Fitness for Kids & Teens
Groove to your favorite beats as our expert dance fitness instructors incorporate certain elements of fitness into the dance routine. You'll be exercising while dancing, and you won't even know it!
Our curriculum is built around gamified workouts featuring:
Hip Hop
Zumba
Tabata
Modern & Contemporary Dance
Days: Tuesday & Thursday
Time: 5.00-5.45PM
Age Group: Above 5years
Duration: 45 minutes
Batch: Max of 15 students per session, with two senior coaches
We believe in keeping our students fit and healthy in all aspects of life - social, physical, mental and educational by incorporating the element of structural play to our drills.
BOOK YOUR FREE VIRTUAL TRIAL SLOT NOW AND LEAD YOUR KID TO A HEALTHY LIFE WITH KLEINETICS KLASS
[Once the booking is done, we'll connect you via zoom link on WhatsApp]
ABOUT KLEINETICS
Kleinetics is India's leading kids fitness program, chosen by top schools, clubs and residential complexes. Kids love the gamified group-plays, parents and educators appreciate the measurable gains.
A team of doctors and fitness experts have developed a robust international age, grade and skill specific curriculum.
Currently training thousands of kids (online) in 60/45/30 mins sessions from global cities in healthy active workouts, which are more 'PLAY' than 'work' and the kids want to come back for the next session. Regular physical activity further boosts immunity and is an aid in better academic performance. The energy of the group session also provides vital social interaction in both online and offline sessions.
PRAISES & TESTIMONIALS
AWARD:
The program was Awarded The Best Physical Education and Sports Education Program by Indian Education Awards 2020
Mumbai Mirror
"...(Kleinetics Streaming Fitness) is a great idea to keep kids physically active in their own homes."
PARENT TESTIMONIAL:
Priya Tanna, mother of Aahaan. Dhirubhai Ambani Int'l School
"My son... has ended up loving it so much that he looks forward to it and loves working up a sweat. The team is lovely even though they handle so many kids. It's been such a valuable class for him."
Kiaan Suba parent - Nahar International school
Kiaan is having great fun and is always excited for his class - a perfect blend of fun and fitness. His fitness levels have improved a lot with excellent coaches and team! - Nahar School