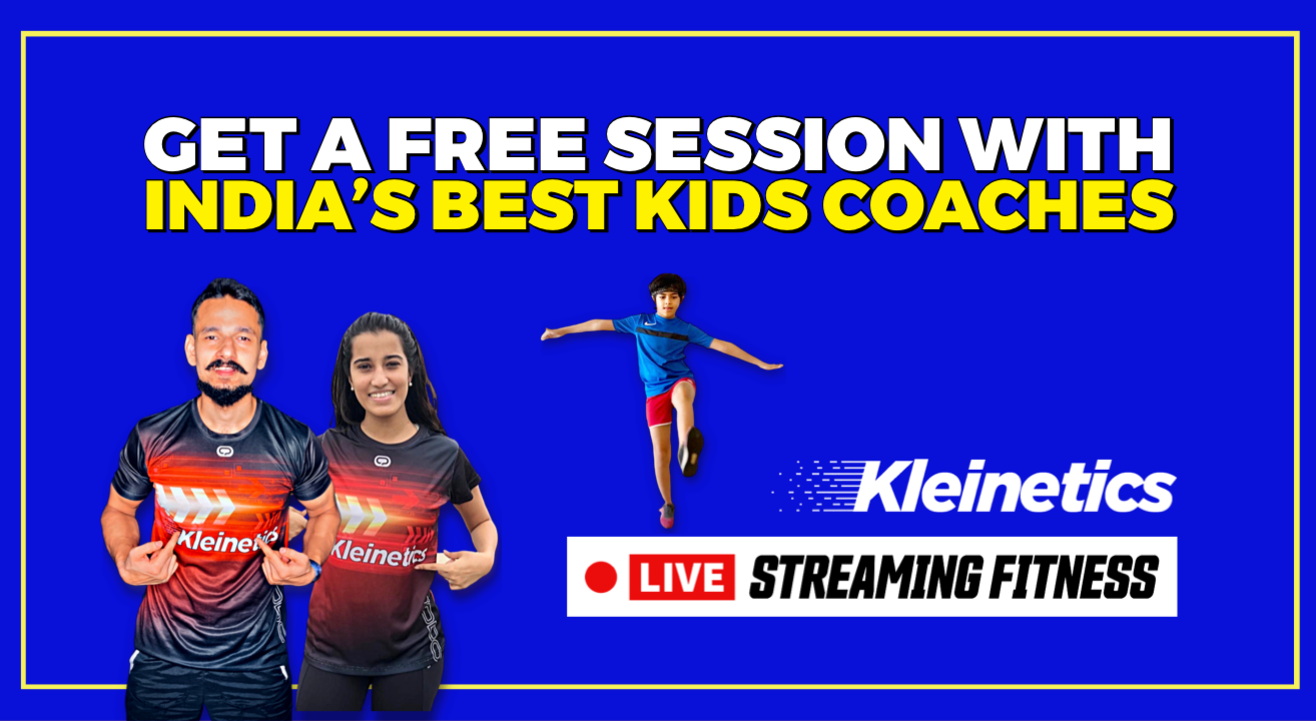 KLEINETICS KIDS' FITNESS AT HOME [FREE TRIAL]
Multiple Dates | Evenings 5PM Onward
Enjoy this event from your home
Invite your friends
and enjoy a shared experience
Invite your friends
and enjoy a shared experience
About the Event
GET YOUR CHILD ACTIVE RIGHT NOW
Kleinetics is India's best kids' fitness program. It is built around group-play, challenges, fusion yoga and more to keep kids entertained and happy, while making them healthier.
Our Healthy+Active Screen Time makes sure that the kid is completely engaged in the session. We make sure that workouts are more 'PLAY' than 'work' and the kids would want to come back for the next session. Regular physical activity further boosts immunity, and is an aid in better academic performance. The energy of the group session also provides vital social interaction.
Please do look at the video below to get an idea of what sessions feel like.
Program Details
Content: Gamified workouts featuring home obstacle courses, dance fitness, fusion yoga, HIIT, animal crawls, football drills, cardio, kickboxing fitness, with a healthy dose of LOLs.
Time: Afternoon and evening batches
Duration: 45 minutes
Batch: Max of 20 students per session, with two senior coaches
Equipment: A PC/Mac laptop or mobile phone running the Zoom app
If the session is satisfactory, you can sign up for a convenient batch time/day as available. These will be listed here on Insider
Praise & Testimonials
The best physical education and sports education program in the nation at the Indian Education Awards 2020
Mumbai Mirror
"...(Kleinetics Streaming Fitness) is a great idea to keep kids physically active in their own homes."
WhatsHot Mumbai
"These online classes will help in keeping kids' agility top-notch and also make them productive..."
Priya Tanna, mother of Aahaan. Dhirubhai Ambani Int'l School
"My son... has ended up loving it so much that he looks forward to it and loves working up a sweat. The team is lovely even though they handle so many kids. It's been such a valuable class for him."
Usha Bairagi, mother of Ishan. Dhirubhai Ambani Int'l School
"Superb session for kids who are homebound and desperately in need of exercise"
Varun Mundra, father of Tavish. Oberoi Int'l School
"My child (5 years of age) looks forward to every session... Highly recommended for children of all ages."
ABOUT KLEINETICS
Kleinetics was founded by a surgeon and mom to help power the physical literacy movement in the country, and help take on the lifestyle disease epidemic. Themes of gamification and group play are engineered into the content to ensure that kids love coming to a session, and make sure they come back the next time.
Kleinetics is already Mumbai's top kids' fitness system, with in-school and after school programs in 70 of Mumbai's top educational institutions and residential complexes, with launches in Ahmedabad and Hyderabad in progress. The system is designed to be customised across age-groups from pre-KG to high-schoolers. Kleinetics specialised programs help condition student sports-stars in football, golf, chess and more. The program is also used as play-therapy for special need kids.
Educators and parents have appreciated the program for its low drop-out rate (less than 5%), high repeat (more than 85% students choose to renew). Kleinetics was awarded the Best Physical Education Program at the Indian Education Awards 2020.
Snippets from Kleinetics Live Fitness Class