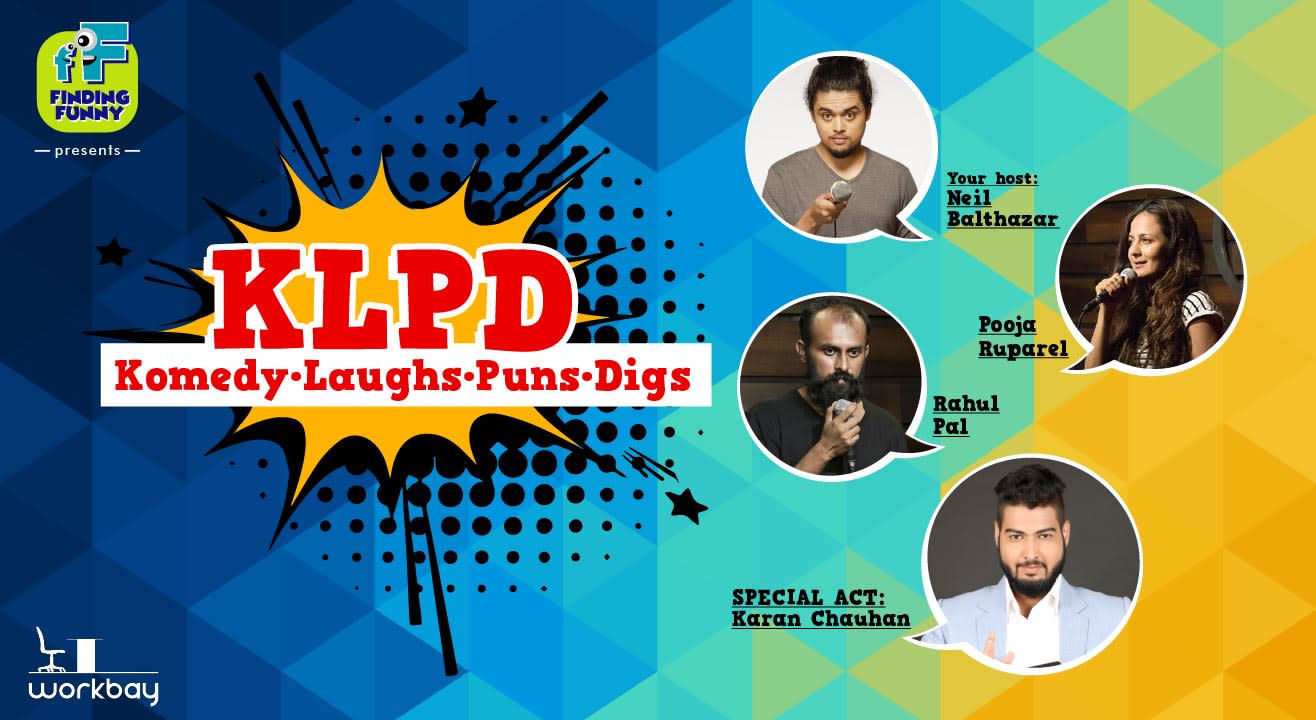 Comedy
KLPD by Finding Funny #16
About
Stand-up Comedy Open Mic
Special Act: Karan Chauhan
India's first and only comedian-illusionist Karan Chauhan. In a unique combination of comedy, illusion and some very cool magic, Karan leaves his audience in wonder and in splits. Two-time winner of 'Medal of Merlin' for stage magic from the States, Karan is a veteran of many national and international events for top corporates and major brands. But there is nothing he likes more than an interactive public show.


Host: Neil Balthazar

Neil Balthazar is a stand-up comedian and the senior writer for East India Comedy. When he isn't annoyed with something trivial that the rest of the world deals with quite easily, you can usually find him searching for new things to be pissed off about. That's healthy, right?
Featured Acts
Pooja Ruparel
Rahul Pal
Q: What is stand-up comedy?
A: 'Stand-up comedy' is usually a one-person performance where the performer, through the recitation of jokes, one-liners, puns or couplets attempts to create humour and elicit laughter from the audience.
A single performance may comprise of one or more 'sets' which the 'comedian' or 'comic' delivers within a pre-determined time frame. Sets may contain humorous material belonging to various genres including but not limited to irony, satire, slap-stick, etc. Some comedians may be satirical and/or critical of the issues and topics they evoke, while others may engage in dark humour. Neither 'Finding Funny' nor 'Workbay' claim any ownership or bias towards any material in general or any topic, issue, or comic in particular.

Q: What is an open mic?
A: An open mic is a performance where new performers can get a chance to take the stage and face an audience. Experienced performers attend stand-up comedy open mics to test and perform new jokes for the first time, or to fine-tune comparatively newer material in anticipation of a longer performance.

Q: Will there only be new or relatively inexperienced performers on the line-up?
A: No. The evening will invariably feature performances by a few experienced performers. That being said, the audience is encouraged to be supportive of the newer performers as they count on the audience to hone their craft and get better at it with each performance. Remember, even the most popular and loved stand-up comedians in the world today started off as a new and green act at an open mic, just like this one.

Venue
WorkBay, Mumbai
1st Floor, Deepjyot Bungalow, Church Avenue,Off SV Road, Santacruz W, Mumbai, India 400054
GET DIRECTIONS