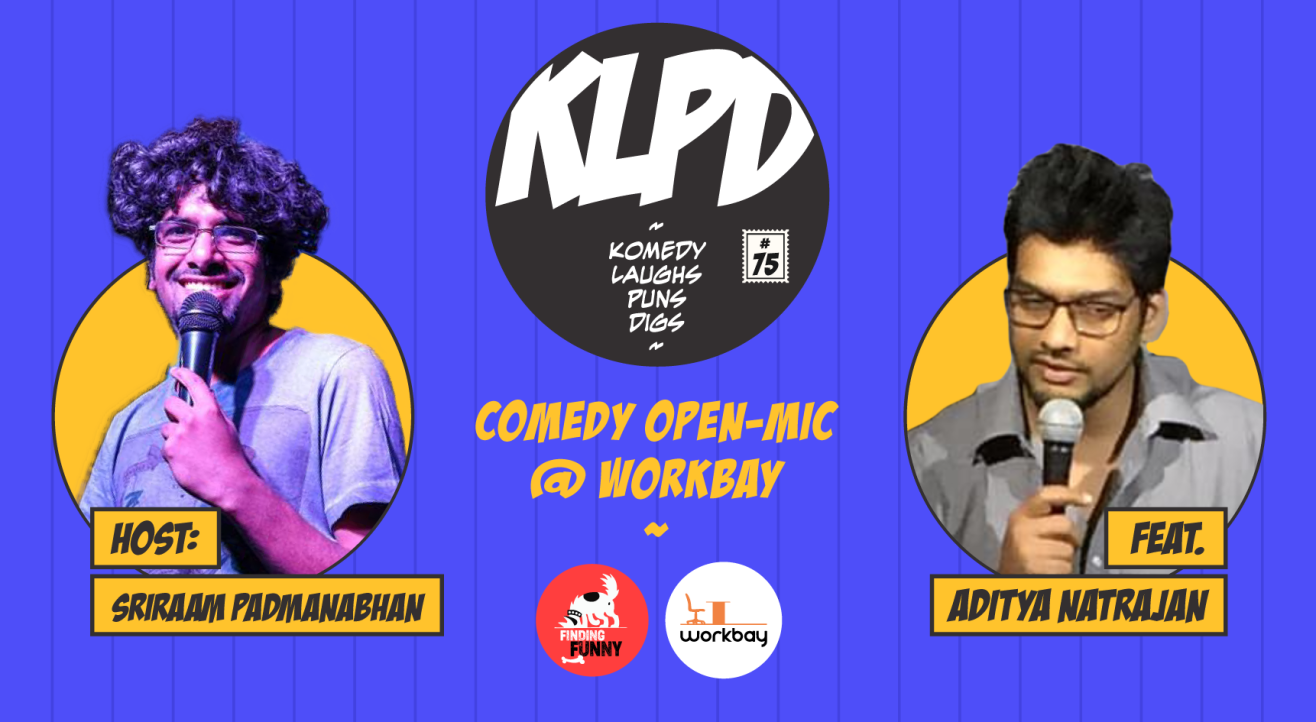 KLPD - Komedy, Laughs, Puns, Digs #75
Invite your friends
and enjoy a shared experience
Invite your friends
and enjoy a shared experience
About the Event
Stand-up Comedy Open Mic with Sriraam Padmanabhan, featuring Aditya Natrajan.
A line-up of new stand-up comics with a few old ones too, trying out both new and old jokes, all to make you laugh till your sides hurt.
About the artists:
Sriraam Padmanabhan
Currently attempting his third sabbatical, his second graduation and his first coming of age, Sriraam Padnamaban often finds it difficult to distinguish between plain wisdom and outright BS. He has a thing for long sentences, short stories and English Breakfast Tea. Most of this is understandable when you consider that he was born and brought up in the Mecca of creativity, Chedda Nagar.
Sriraam pulls off the homeless guy look gracefully and his stand-up is known for erring on the side of wit. Ever the humble character, Siraam claims he does stand-up because he is too lazy to pursue anything else. The truth is he could easily cut it as a newsreader or an insurance salesman. But he refuses such work on principle.
4 things he likes the most in life are: 1. Incomplete Lists.
Aditya Natrajan
Ardent curd rice enthusiast. Holds great expertise in a field no one cares about, being the 'underdog that never wins'. If you want mediocre, he is the best in the business. Knowing that he won't be funny, makes watching his act unsuspenseful and weirdly....comforting!!!
WorkBay, Mumbai
1st Floor, Deepjyot Bungalow, Church Avenue,Off SV Road, Santacruz W, Mumbai, India 400054
GET DIRECTIONS