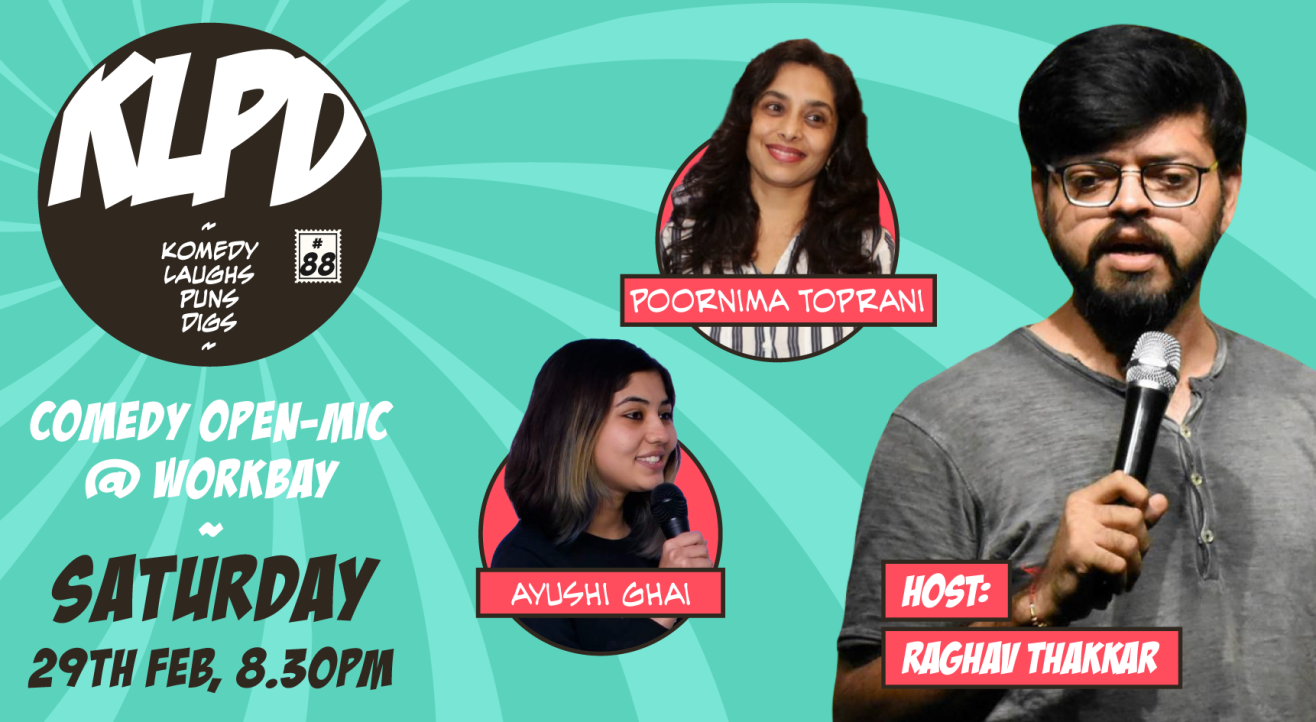 Comedy
KLPD - Komedy, Laughs, Puns, Digs #88
About
Stand-up Comedy Open Mic with Raghav Thakkar, featuring Ayushi Ghai and Poornima Toprani.
A line-up of new stand-up comics with a few old ones too, trying out both new and old jokes, all to make you laugh till your sides hurt.
About the Artists:
Raghav Thakkar
Raghav Thakkar is a 24 year old Gujarati who left his IT job to become a journalist (unemployed). According to his friends, he is spreading this lie so that he can talk about his manager. When he isn't studying, he tries to make people laugh or to find ways to lose weight. His routine covers topics like superstitions, politics and his IT career.
Ayushi Ghai
Ayushi hails from Jaipur and is an Investment banker by profession. She does a lot of things but is only good at looking good. She has done over 273 shows in a parallel universe. She is single, desperate and talks about her failed dating life. She wants to be the next big thing with a height of 5'3".
Poornima Datta Toprani
A Law and Mass Communication graduate and a Creative Director of films, she moonlights as a stand up comedian, highlighting midlife humour - including the challenges of being a millennial wife and mom.
Humour scarred, after 25 years of marriage, she still thinks she is the Big Boss of the reality show called Marital Madness!
Venue
Workbay Co-Working Space
1st Floor, Deep Jyot Bungalow, off S.V. Road, 39, Church Avenue, opposite Sacred Heart Church, Santacruz (W), Willingdon, Santacruz West, Mumbai, Maharashtra 400054
GET DIRECTIONS