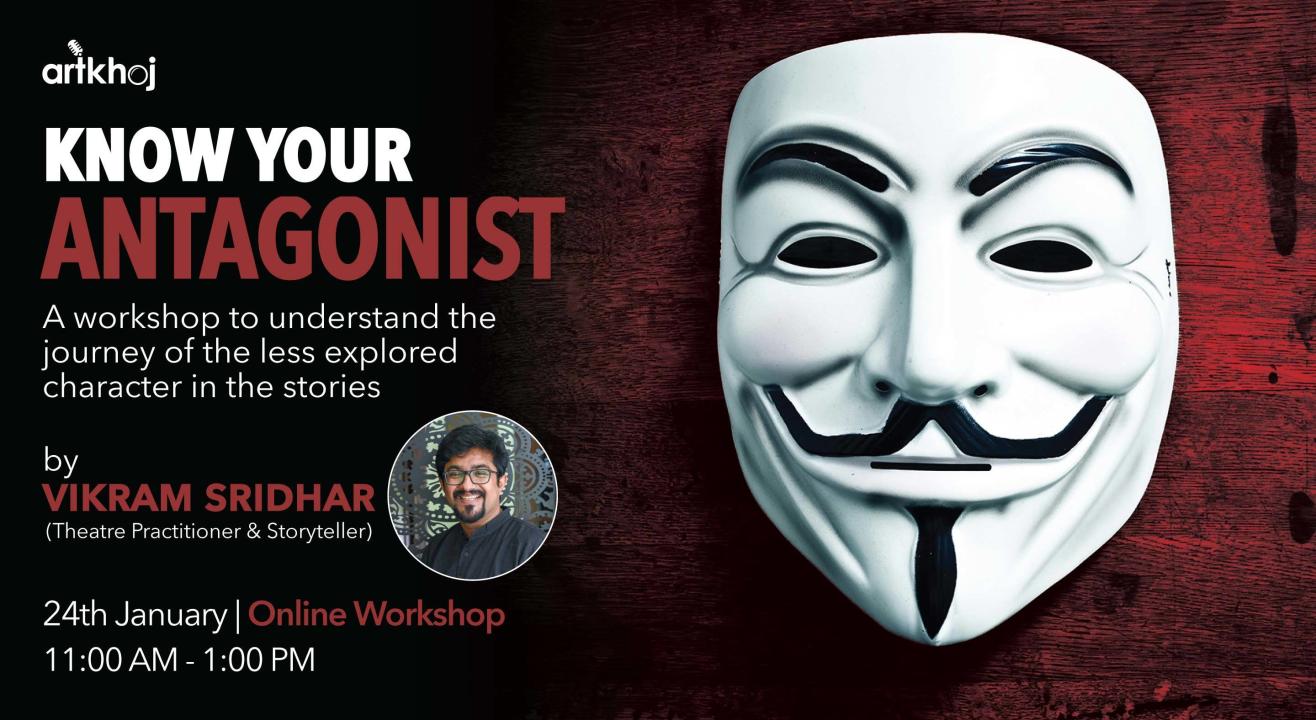 Know your Antagonist - An Online Workshop
Enjoy this event from your home
Invite your friends
and enjoy a shared experience
Invite your friends
and enjoy a shared experience
About the Event
An engaging workshop to learn and understand the journey of an Antagonist to create interesting stories.
While it's the Protagonist who gets all the credit and the character arc what happens to the Antagonist? Every successful movie, book, or story works if we can create a strong antagonist.
The workshop explores the journey of an Antagonist to make the story, screenplay or even the protagonist and the characters in a story relevant.
What will you learn through the workshop:
Antagonist psyche
360 degree view of the character
Strengthening your story as a creator
Adding life to the least heard character
Moving the story at every juncture
Creating a memorable Antagonist
The workshop is suitable for
Writers
Storytellers
Script Writers
Theatre Artists
Anyone who works through a story and anyone willing to learn something new.
About the Workshop:
The workshop will be conducted online through Zoom platform.
The link to join the workshop will be shared on the day of the workshop
Anyone over the age of 16 is welcome
No prior experience is required.
About the artist:
Vikram Sridhar is a Bangalore/Chennai Performance Storyteller, Theatre Practitioner, and a Story Researcher especially folktales and Myths. Sitting behind temple elephants, nursing wounded puppies, working with various theatre groups, Vikram today combines his various interests and work over the years in his storytelling journey working with children teens and adults using Storytelling and Theatre. Through folklore and his extensive travels, he is trying to research and explore our rich heritage of oral literature through the various forms of art. He believes in storytelling as a strong medium of conservation, from nature to human relationships.
He is the co-founder of one of Bangalore's esteemed theatre group, Tahatto and the founder of India's first Storytelling collective, The Bangalore Storytelling Society. He is part of the organizing team of various literature based festivals like the Bangalore Literature Festival, Bengaluru Poetry Festival, Dum Dama Dum: Children theatre and Reading Festival, The BeSt ( Bengaluru Storytelling ) Festival, Kovai Bookalatta, among others.
About Artkhoj:
Artkhoj is an aggregator of artists, hosts, vendors, and art institutes across the country. Artkhoj provides opportunities to artists from all genres thus helping them pursue their passion.
Artkhoj also helps hosts (corporate, colleges, apartments etc) find the right talent/artists for their requirements thus making the event experience smooth and fun.
Feel free to reach out to us if you also want to book an artist or conduct a workshop.
In case of any queries, contact us on +918971492903
Tickets once sold will not be refunded.