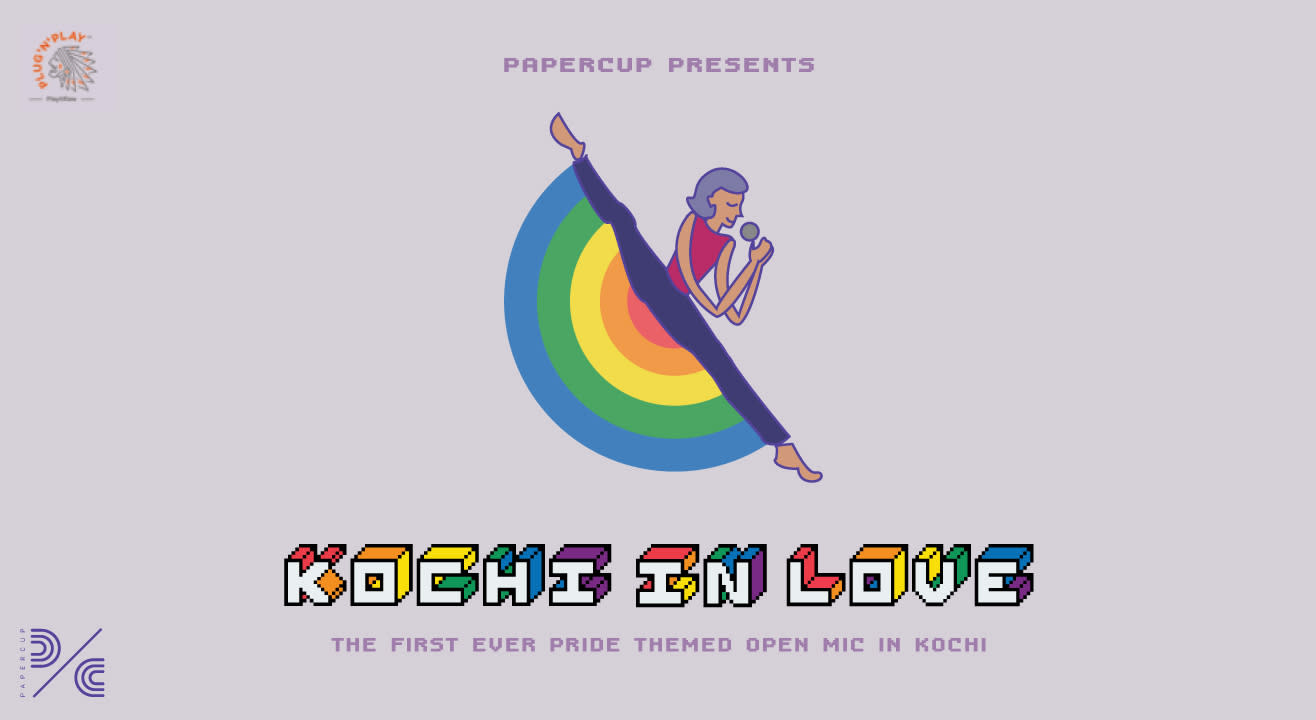 Open Mic
About
Papercup's second event hits Kochi on September 21 waving the pride flag! Get ready to witness Kerala's very first Pride themed Open Mic! Here's an open space for diverse artists to perform in support of the LGBTQIA+ community of Kochi. This is a safe space for queer identities, and some quality networking. We're open to everyone out there, now and always. Let's celebrate Kochi In Love on September 21, 4 30 pm at Plug N Play, Edapally.
Artists are encouraged to bring in their contribution through performances such as music, dance, poetry, art and what not! This is your chance to interact with allies and queer folks, for we intend to provide an inclusive platform for artists of diverse backgrounds, incorporating Allies & Lgbtq individuals.
What you could do to shine like a rainbow:
• Be Original: While the overarching theme is about queer identities, artists are encouraged to have performances that have queer overtones, but that isn't a compulsion! Be the original you!
• Dress up! In the most colourful costume you can find, come as vibrant as you want your act to be!
• Share your story! Whether it's a song, a poem or a story, come along and share it when an inclusive audience that'll lend their ears!
• Show your Solidarity! Whether your act is a tribute for the LGBTQ community, a personal story or an emotional art piece, we would love to have it on display!
Kochi In Love seeks to be a platform that celebrates queer culture, commemorates our heritage, educate against homophobia and empower our diverse LGBTQ+ population that goes underrepresented across mainstream media. By supporting local artists, teaming up with local support groups and hosting such an event, we seek to make a mark that would leave Kochi on the map of Indian progressiveness. And YOU get to be a part of that!
Change starts from within and Kochi In Love strives to foster widespread support and turn it into acceptance and love while sorting through the public presence of queer identities through social events such as this for we all want to turn our beloved Kochi into a welcoming place for people of various sexualities, genders and identities to call home and be proud of who they are!
About Papercup : PaperCup events is a socially responsible event management venture that aims at uplifting artists and social events based in Kochi. We bring to the table unique events managed by a well knit team of professionals.
Venue
Plug N Play
2nd Floor Kurikkal Building, Metro pillar No 398, Nethaji Nagar, Edappally Next to Lulu Mall, Above Monqo and Body Art Studio, Nethaji Nagar, Edappally, Ernakulam, Kerala 682024
GET DIRECTIONS