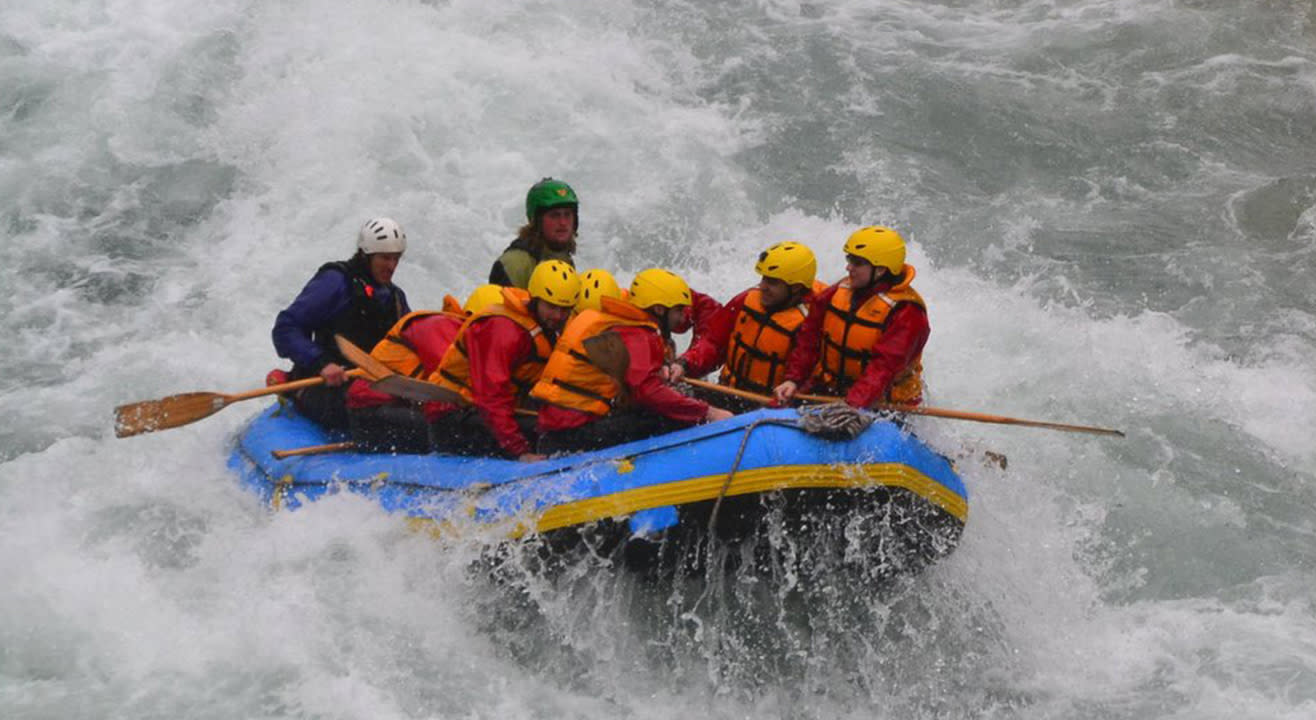 Adventure
Kolad Overnight Stay and  River Rafting
September | October | 3PM
About
Rafting is a high adrenaline sport of navigating a river in an inflatable raft. If you ever get into a mood for some good river rafting adventure, head straight for river kundalika in western Maharashtra which is open for the sport throughout the year. River kundalika is fed by the excess waters from the hydroelectric projects and dams, which makes river kundalika ideally suited for white water rafting, and other water-based adventure and leisure activities.
River Rafting Distance: 12 km on the water
Rapids: Grade 2 to Grade 3
Duration: Approx 2 hours
Age Criteria:
Minimum age: 14 years
Maximum age: There is no maximum age limit. You need to be reasonably fit to participate and paddle throughout the rafting duration.
Weight Criteria:
Minimum weight: There is no minimum weight limit for rafting, however, you must be reasonably fit and must be able to paddle during the 2-hour rafting experience.
Maximum weight: 120 kg.
The Kundalika rafting camp is the perfect choice for anyone looking to indulge in adventure in the green escapes of nature! Located at just a couple of hours drive from Mumbai, it is the preferred hotspot for all those eager to escape the mad rush of the city.
The Kundalika rafting camp gives you a rare opportunity to engage yourself in a multitude of adventure activities in the engaging company of nature. As you take a quiet drive down to the campsite, you can check-in and indulge in the beauty of nature while munching on some yummy snacks and refreshing tea.Get your tired but excited selves back to the campsite and relish a delicious dinner before calling it a night. Next day indulge in rafting and other activities post breakfast.

Timings: Check-in: 3:00 PM (Day 01) ; Check-out: 5:00 PM (Day 02)
Day 1 -
Check in at 3.00 pm
3.00 pm to 5.00 pm : Kayaking, Zipline, River Crossing,Banana Ride, Jet Ski
5.30 pm: Evening Tea & Snacks
9.00 pm: Dinner.
Day 2 -
7.30 am : Breakfast
8.30 am : Reach at Rafting Point
9.30 am : Rafting (12 km)
1.30 pm : Lunch : Veg Food/Non Veg food/Jain Food.
Check out at 5.00 pm
Kayaking , Ziplining & River crossing @ Rs.400 per activity .
Thrilling Banana Ride @ Rs.250 per activity.
Bumper ride @ Rs.350 per activity.
Jet-Ski @ Rs.400 per activity.
Tea and Evening Snacks,Dinner,Breakfast,Lunch.
River Rafting.
Expertise Fees.
Any other personal expense.
Comfortable clothes like T-shirt and shorts. (Avoid Jeans)
Floaters / Sandals
What to bring:
Carry a single rucksack with the following things:
Minimum 2 liters of water.
Extra set of clothes, towel.
toiletry kit.
Waterproof sealed tiny pouch to carry petty cash for snacks after rafting event.
If you wear spectacles, carry a strap for the same.
Don't wear jewelry items and expensive accessories.
Strictly no littering, carry extra bag for non biodegradable(plastic) wastage.
Personal medicines if any.
ID Proof is mandatory.
optimistic mind and be a good team player :)
1) Is rafting risky and dangerous?
Rafting is an adventurous activity full of thrill and fun. Thus, it involves some level of risk. Hence, it is essential that proper safety measures are taken. One should definitely enjoy the experience of white water rafting and also abide by the rules and regulations mentioned, to avoid any kind of accident.
2) Is it safe to go rafting, when one doesnt know how to swim?
It is safe for non-swimmers to go for white water rafting. Since, thorough safety measures are taken. One has to mandatorily wear a life vest or personal flotation device (PFD).The guides who accompany you are well-trained for any necessary rescue missions, to handle any kind of mishap.
3) How fit do I have to be, to be eligible for rafting?
While rafting one has to go up or down the river in a raft, especially paddle rafts. This means moving the boat requires physical power; one has to be reasonably healthy to do that. Feel free to consult a doctor, if your mind is filled with doubts and queries regarding the same.
4) What should be my attire while rafting?
A swim suit is a preferable option, a t-shirt and shorts is also acceptable. It is suggested that you avoid wearing cotton. Wear sturdy shoes and not wear flip-flops; one can choose wear old tennis shoes, river shoes or water shoes. Do not forget to carry an extra pair of clothes and a towel.
5) What are my chances of falling out of the boat? What should I do, in this case?
There are very few incidences, where one has fallen out of the boat. If you can swim it is one of the exhilarating experiences to swim in the river. But, avoid getting off the boat, because no matter how exciting it seems, it leads to disorientation. Do not fear, if you fall of the boat accidentally, just follow your guides instructions.
6) Can I bring my camera or video camera?
One can surely bring a camera or video camera along, but at their risk. There is a possibility that there will be a professional photographer who would accompany your group. This depends on the package offered. In case, you dont wish to carry your personal cameras, feel free to purchase these photographs.
7) What is the ideal time to enjoy the sport?
The perfect time to enjoy rafting is anytime between the months of September to June. January and February are exceptionally awesome. Rafting is closed during the rainy season. Hence, one can enjoy rafting with family and friends anytime, but during rains.
8) Is rafting safe for children and the elderly?
The answer, to this question varies depending on the trip chosen and the rules and regulations of each package. The factors considered are depending upon the risk factors involved. If there is no particular age limit specified, then children and elderly should feel free to go for rafting.
If cancellations are made 10 days before the start date of the trip, 50% of total tour cost will be charged as cancellation fees.

If cancellations are made within 0-10 days before the start date of the trip, 100% of total tour cost will be charged as cancellation fees.

In case of unforeseen weather conditions or government restrictions, certain activities may be cancelled and in such cases the operator will try his best to provide an alternate feasible activity. However no refund will be provided for the same.
Refund Policy
The applicable refund amount will be processed within 10 business days
Venue
Kundalika River, Kolad
Kundalika River, Kolad, Raigad
GET DIRECTIONS