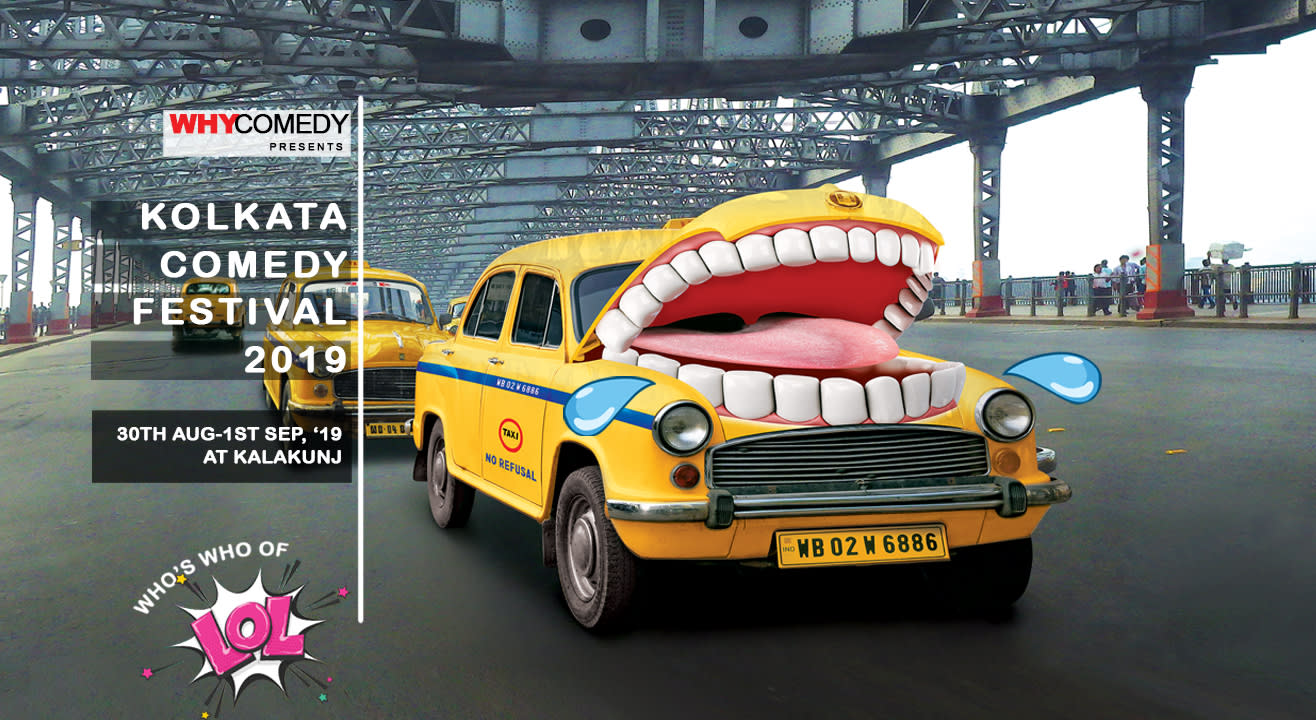 Comedy
The city's biggest comedy festival is back!
After an amazing run last year, Kolkata Comedy Festival returns to the city with more of the country's favourite comics.

Last year, the audience couldn't stop chuckling, and it wasn't because of laughing gas. What would you expect, with comics like Abhishek Upamanyu, Kunal Kamra and Anirban Dasgupta in the same place? The performers vibed really well with everyone - Anirban called the night magical. Kolkata Comedy Festival chose an epic lineup last time, and you can see their taste for fine comedy in this year's lineup too!

Get tickets to Kolkata Comedy Festival right here.

It's a well-rounded lineup spread over several shows, you pretty much get a glimpse of India's entire comedy scene. You can also catch a solo show from Sorabh Pant or watch Rahul Subramanian work the crowd solo! Details of the lineup for each show are below.

A closer look at this year's lineup

Check out what each comedian's standup is like - you can also click on their names to watch one of their videos! Click on the respective show to get tickets.

Sumaira Shaikh, Nishant Tanwar, Samay Raina, Gaurav Gupta
There's Sumaira Shaikh with her jokes about everyday life in her deadpan style, mixed with some bits dark humour. Then there's Nishant Tanwar who is your standard Delhi guy (but likes making fun of it). His Amazon special 'Dilli Se Hoon B*@!&#%D' put him in the spotlight. You can also catch 21-year-old comic Samay Raina who has a fresh, thought-provoking set. Gaurav Gupta, who does standups about being a Baniya, will be performing too!
Aakash Gupta, Aakash Metha, Azeem Banatwalla, Sonali Thakker

There's Aakash Gupta who's good at everything improv, sketch, standup and observational comedy. Kuchi bhi humour you'll get from Aakash Metha, who makes hilarious jokes about pretty much everything. It's hard to miss Azeem Banatwalla, given how popular his solo shows and sketches with EIC are. There's also the slight height difference. Sonali Thakker's known for a charming comedy style, almost like your girl-next-door types - until that massive punchline you didn't see coming.

Surbhi Bagga, Aishwarya Mohanraj, Rahul Dua, Rahul Subramanian

Surbhi Bagga has a sarcasm that really bites, as you might have seen from her sketches on Queens of Comedy. We don't need to explain why Aishwarya Mohanraj is a great comic - she has a PPT that can do that for you (if her Comicstaan fame isn't evidence enough). You can also watch Dua Saab with his jokes that take a twist on normal life. Rahul Subramanian, the comic behind 'Kal Mein Udega', has a trademark delivery style with his material that make you go 'Wait, whaa...'

Vaibhav Sethia, Anirban Dasgupta, Sourav Ghosh, Jaspreet Singh

You can check out Vaibhav Sethia for his fresh self-deprecating jokes - his timing is spot-on too! Take it easy with Anirban Dasgupta, the cool casual Bengali comic. His material generally tends to get you laughing about the good ol' days. Sourav Ghosh's got a wicked sense of humour that you can't help but cackle at. Then there's Jaspreet Singh's enthusiastic desi humour that'll leave you in good spirits.

Subscribe to receive our newsletter!
Find the best experiences happening out there in your city or enjoy handpicked content while sitting comfortably at home. Paytm Insider is your go-to place to figure out what to do today!