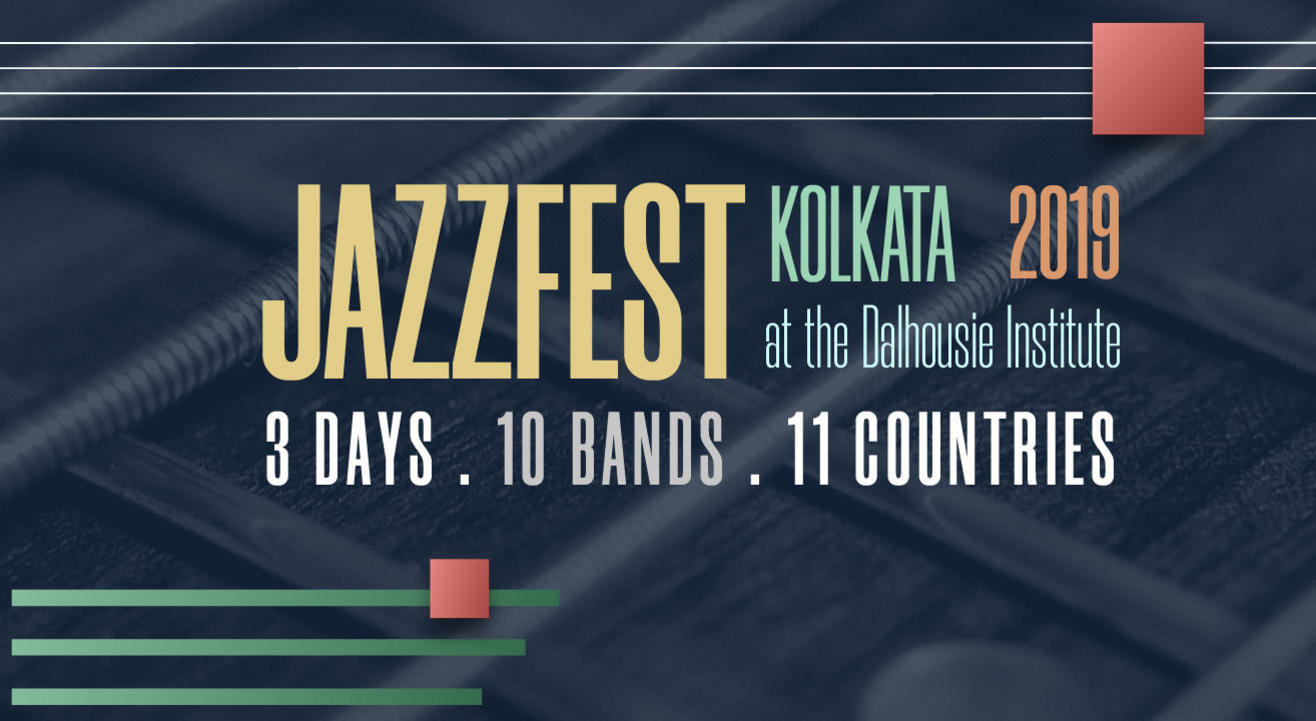 Music
Kolkata's Annual International Jazz Festival
November 29 | 6PM - December 1 | 10PM
About
Jazzfest is one of the oldest and the most important music festivals of Kolkata with a dedicated audience, international lineup and top of the line music production.
The previous stars that have performed at the Jazzfest have been Grammy Hall Of Famers: Herbie Hancock & Wayne Shorter, Joe Williams, L. Shankar, Kenny Garrett, Dafnis Preieto and the late great Shawn Lane. There have been many others greats like Dizzy Gillespie and John McLaughlin who have also graced the stage at the venue: The Dalhousie Institute.
Jazzfest 2019 brings 10 leading bands and musicians to the city for the first time from Germany, France, Norway, Sweden, Lithuania, Armenia, Luxembourg, Réunion, Zimbabwe, Mozambique and India.
Festival Lineup:
DAY 1 | FRIDAY | 29 NOVEMBER 2019
THIEFS (France)
LISBETH QUARTETT (Germany)
MACHA GHARIBIAN TRIO (France / Armenia)
MONOSWEZI (Norway / Sweden / Mozambique / Zimbabwe)
DAY 2 | SATURDAY | 30 NOVEMBER 2019
THE BODHISATTWA TRIO (India)
DAINIUS PULAUSKAS GROUP (Lithuania)
THE GREAT HARRY HILLMAN (Switzerland)
DAY 3 | SUNDAY | 1 DECEMBER 2019
DOCK IN ABSOLUTE (Luxembourg)
MEDDY GERVILLE TRIO (France / Réunion)
WOLFGANG HAFFNER BAND (Germany)
About the bands:
THIEFS (France)
THIEFS released their second album GRAFT (La GREFFE) in 2018. This album has been acclaimed in Europe and in the United States as a powerful album in the avant-garde scene mixing acoustic and electronic music, vocals and instrumentals, Jazz and Hip-Hop. On their current Indian tour they will collaborate with Sushin Shyam, a musician and music composer in the Malayalam film industry and Neha Nair, a leading female singer from the rock band Avial.
LISBETH QUARTETT (Germany)
Lisbeth Quartett, founded in 2009, is an internationally acclaimed Jazz band consisting of four German musicians. It is led by the Brooklyn- based saxophonist and composer Charlotte Greve. The award-winning musicians have released five albums so far, their latest album from 2017 is called 'There Is Only Make'. It is known for its multi-faceted pieces that oscillate between quiet passages and vigorous intensification. The members of the Quartett have been described as virtuosi who demonstrate highly mature Jazz.
MACHA GHARIBIAN TRIO (France / Armenia)
Singer, pianist, songwriter and composer, raised on the road with her musician father, her music is an elegant blend of jazz folk pop mysteriously born between Paris, Erevan & New York.
Following on from her first record Mars (2013), which grabbed the attention of both music lovers and critics, Macha Gharibian's album Trans Extended places her music in the unclassifiable category, given her very personal style combining elements of oriental jazz with neo-classical and adventurous pop music. A bold composer, she carves out heavenly melodies. An ethereal pianist and vigorous singer, she turns them into intense, spell-binding pieces.
MONOSWEZI (Norway)
Monoswezi are a collective of musicians from Mozambique, Norway, Sweden and Zimbabwe based in Norway. With a common passion for African music in general, and music from Zimbabwe and Mozambique in particular. Monoswezi seeks a musical expression, where respect for tradition is combined with different references and experiences from pop, and jazz. Monoswezi performs both traditional music, and compositions by the band members.
THE BODHISATTWA TRIO (India)
Defying genres, conventions and stereotypes, "The Bodhisattwa Trio" is an Experimental Jazz Fusion/Avant Garde outfit from Kolkata/Delhi (India), which believes in expressionism, social reflection and spontaneous creation. Drawing influences from life, the universe and everything, the trio, with Bodhisattwa Ghosh on Guitars, Premjit Dutta on Drums and Shonai on Keyboards & Synth Bass delivers a mix of original instrumental compositions with special emphasis on harmonic and rhythmic expansion, theme and variation, virtuosity and spontaneous improvisation.
DAINIUS PULAUSKAS GROUP (Lithuania)
Dainius Pulauskas Group rapidly entered the area of Lithuanian jazz and over a very short period of time it became one of the most significant Lithuanian jazz groups. Soon the group was acknowledged internationally. Over the years of its activities, the Group has performed in a number of European countries as well as in jazz festivals in China, India, Indonesia and USA.
Currently Dainius Pulauskas Group is well known not only for Lithuanian but also for foreign audience. Currently the group performs more abroad than in Lithuania. Its performances are usually well received by audience and critics. The Finnish jazz critic R.Haapsamo called their music "a powerful pulse of the modern jazz". The Swedish critic Bo Levender states that "Pulauskas, together with his colleagues creates the best fusion as it can be. The variety of their musical expression is 'giddy'. These are the somersaults of tearaway swinging and rhythms, and… the most genuine, pure and unembellished jazz."
Dainius Pulauskas Group is distinguished by its stylistics as the group using electronic and acoustic instruments creates a very eloquent music space, a very peculiar version of fusion. Also the Group is very unique because of its extreme ensemble and mastership of all the members. All the members are professional musicians, who very frequently appear on Lithuanian jazz stage and who are excellent when performing together with different groups.
THE GREAT HARRY HILLMAN (Switzerland)
The Great Harry Hillman is a Swiss post-jazz quartet, which has been playing together for ten years. You're correct to assume that a band named in tribute to an American athlete of the early 20th century is not your 'normal' jazz band adhering to staid standards. Their music combines jazz, rock, and improv into a subdued, layered, yet thrilling sound – quiet but powerful, played by four thoughtful musicians who are more than capable of rocking out when they feel like it. More often than not rather they wrap the listener in delicately constructed sonic webs of indefinable beauty. After Livingston (2013) and Veer Off Course (2015) The Great Harry Hillman now presents their 3rd album TILT (2017), released on Cuneiform Records.
DOCK IN ABSOLUTE (Luxembourg)
Dock In Absolute is a stellar trio from Luxembourg comprised of Jean-Philippe Koch on piano, David Kintziger on bass and Nathan Wong on drums, young musicians who breathed new life into the music scene. With a shared love of jazz, they combine different styles of progressive Jazz, classical and rock. Its music is sparkling, varying, forceful, pressing, rich in twists and turns in mood: from lyrical to unrestrainable, from wild to graceful, from virtuosic and crystalline to assertive and dramatic, from subdued to airy and demonstrative. The trio has already been touring the world with its music including many prestigious festivals and venues. This 3 year old band has been growing at an impressive speed and has been named the export artist of the year in Luxembourg in 2017 in result to be the most internationally active band with over 60 concerts a year.
MEDDY GERVILLE TRIO (France / Réunion)
Born in 1974 in St-Pierre on Réunion Island, Meddy Gerville recorded his first album in 1997 called "Réunion Island" which included some prestigious artists from Paris: Louis Winsberg, Nicolas Folmer, Philippe Sellam and various local Réunionese musicians.
In 2000 Meddy won the Pian'Austral Award for the best pianist in the Indian Ocean (with the acclaimed Alain Jean-Marie as one of the judges). Following that, Meddy released his second album "Jazz'Oya" with guest musicians from the Paris and Réunion: Olivier Louvel (The Barbès National Orchestra), Stéphane Guillaume, (Didier Lockwood and Stéphane Huchard, The National Orchestra of Jazz), Linley Marthe (Joe Zawinul).
WOLFGANG HAFFNER BAND (Germany)
Wolfgang Haffner's career started at a young age. When he was only 18 Albert Mangelsdorff made him a member of his band. Since then, Haffner has been working with many well-known musicians like Helge Schneider and Xavier Naidoo. He has recorded more than 400 albums and is playing at the most important Jazz Festivals worldwide. Apart from playing the drums, he has also started composing and producing music. In the course of his career, he has received numerous awards like the ECHO Jazz Award for example.
The band includes the 21-year-old pianist Simon Oslender, one of the shooting stars of the German jazz scene. Simon is also playing with the saxophone legend Bill Evans in his new project. The 23-year-old singer Alma Naidu from Munich who impresses the audience in many different expressions with her unique voice, and has been in the band of Wolfgang Haffner since the summer of 2019. On the bass is Thomas Stieger who is a musician playing with many well-known names of the German music scene. Stieger is considered one of the most accomplished bassists in Germany.
In the program "Haffner plays Haffner" pieces from the illustrious career of the bandleader are newly reinterpreted, as are some of his classics like "Kind of Cool" & "Kind of Spain".
Venue
Dalhousie Institute
42, Fazlul Haque Sarani, Park Circus, Ballygunge, Kolkata, West Bengal 700019
GET DIRECTIONS