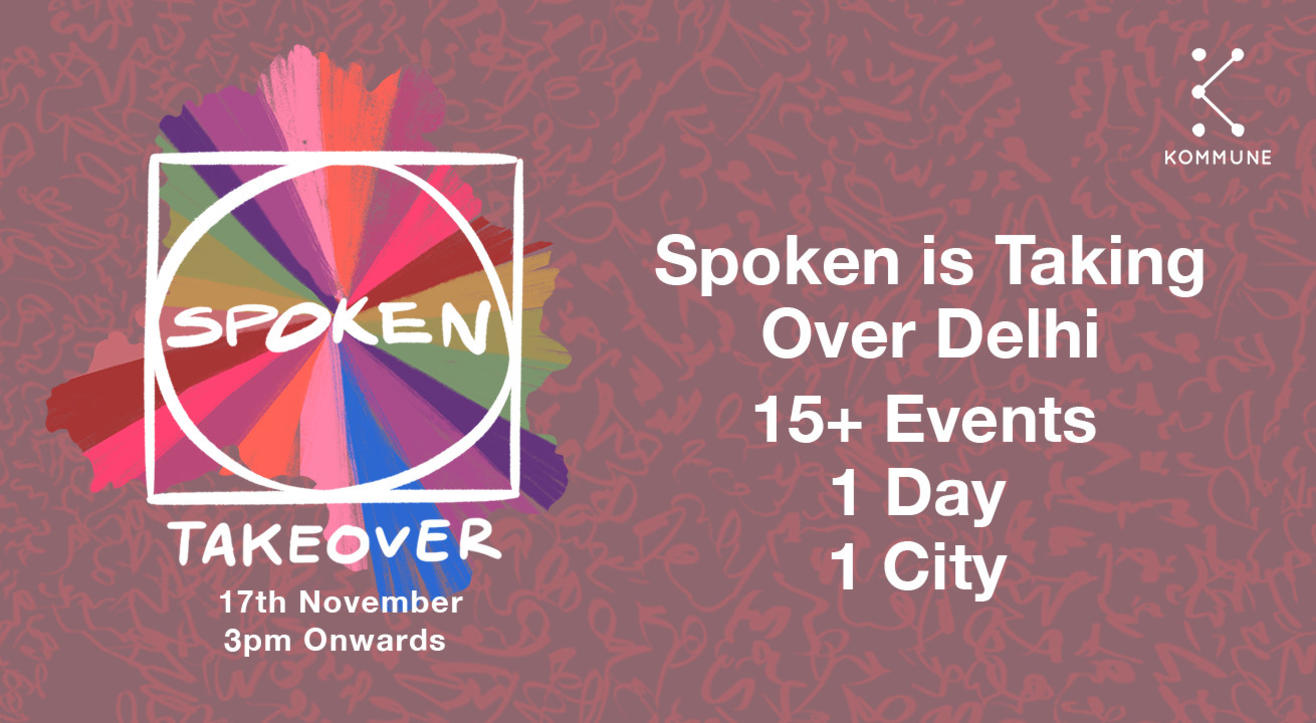 Kommune Presents: Spoken Takeover (Delhi)
Invite your friends
and enjoy a shared experience
Invite your friends
and enjoy a shared experience
About the Event
15+ events. 15+ different venues. 1 day. 1 city. A massive celebration of the performance arts.
Delhi, are you ready?
A few weeks ago, we had a crazy idea - what if we turned of Delhi & Gurgaon into a large celebration of the performance arts?
And on 17th November, that's exactly what we're going to do, by putting up 15+ events on the same day.
We have partnered with some of Delhi and Gurgaon's finest performance arts platforms in the fields of poetry, storytelling, theatre, and music. And together, all of us will put up a variety of events - workshops, showcases, open mics, and slams!
Buying the Spoken Takeover pass gives you access to all events, however entry to each event will be on first-come-first-served basis. So you can choose whichever two events you want to attend, and make sure you reach there early!
We promise you an unforgettable celebration of words, voices, stories and memories to last a lifetime.
15+ events. 1 day. 1 magical city. A massive celebration of the performance arts.
Do you want to be a part of it?
The Spoken Takeover is happening at
1. Best of Kalakaksh Talent House at Innov8 Saket
Time - 5 pm onwards
Performances by some of Delhi's finest artists, curated specially by Kalakaksh - the line-up includes Nidhi Narwal, Pallavi Mahajan, Prince Preet Singh, and more!


2. An Evening Of Music At People Places Arts
Time - 3 pm to 5 pm
A line-up of fantastic musicians at People Places Arts - a beautiful venue for artists of all kinds!


3. Kommune X Kalakaksh Delhi Story Slam at Central Club
Time - 5 pm to 8 pm
Kommune Delhi brings you a poetry slam - which will feature performances by some of the best performers who have performed at Kommune Delhi slams!


4. DU Spoken Poetry Slam at Coho Kamla Nagar
Time - 5 pm to 8 pm
A poetry slam that is exclusively for students of Delhi University - featuring a very, very special prize for the winner. You will find DU's best poetry talent here.


5. Kalakaksh All-Stars Special Coho Siris Road Gurgaon
Time - 6 pm to 8 pm
An evening of stalwarts in Storytelling, Stand Up, Poetry, and Music - featuring performances by Ahmad Faraz, Rohil Bhatia, Vishwas Chauhan, and Roopam Sharma.


6. Forbidden Verses Presents An Almost Open Mic at Helter Skelter SDA Market
Time - 6 pm to 8 pm
An open mic by Forbidden Verses, a wonderful platform that promotes art and expression.


7. Theatre and Rhythm Workshop at Foxtrot Gurgaon
Time - 3 pm to 5 pm
A theatre workshop by Pandies' Theatre followed by a rhythm workshop by Sawai Khan from the Manganiyar Seduction.





8. Poetry Dialogue Presents A Writing & Publishing Workshop at Remember Me Cafe
Time - 3 pm to 5 pm
A workshop in writing and, more importantly, publishing your work, conducted by one of the most respected platforms around!


9. The Befriending Circle Meetup at Cafe Foresta
Time - 4 pm to 6 pm
Get together with strangers, write letters for each other, and meet new people!


10. Kalakaksh Music & Poetry Open Mic at Coho Lajpat Nagar
Time - 5 pm onwards
Here's your chance to get discovered by Kalakaksh Talent House - one of the city's best curation platforms, who have organised shows in various cities across the country as well as internationally!