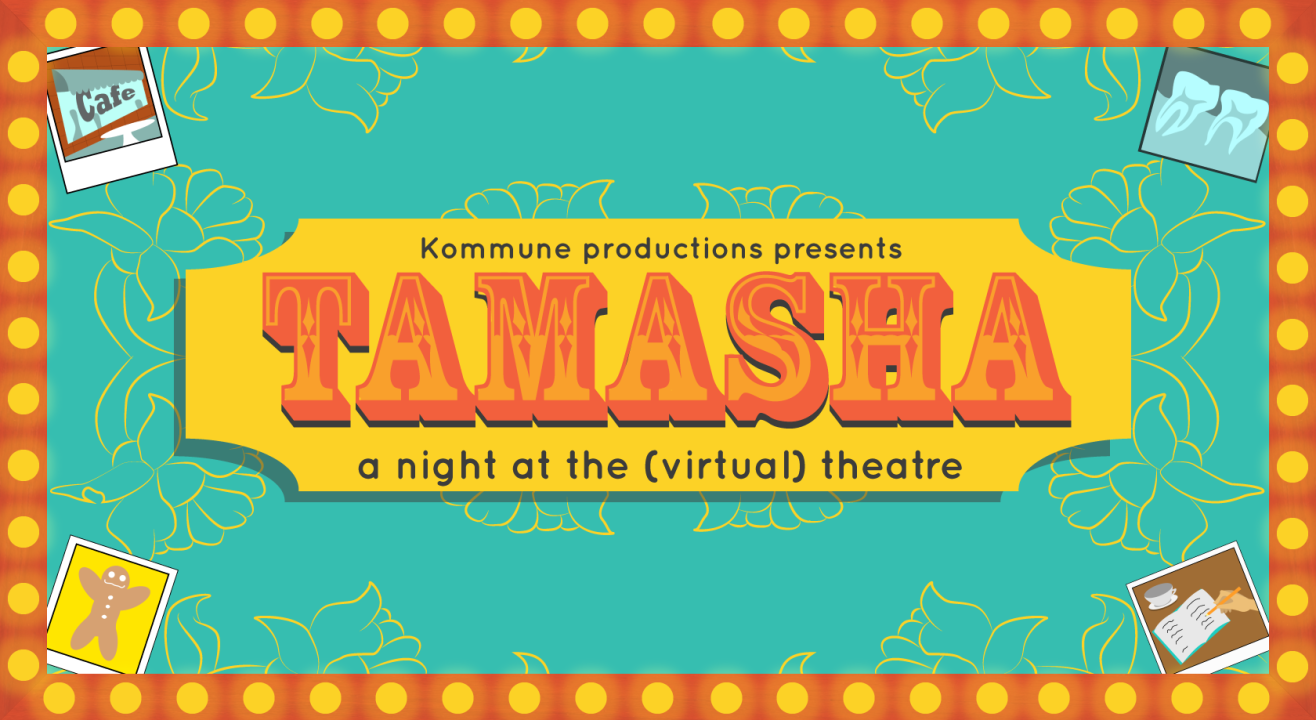 Kommune presents Tamasha - A Dramatic Readings Event
Enjoy this event from your home
Event Guide
For Age(s)
Family Friendly
Live Performance
Enjoy a unique experience
Invite your friends
and enjoy a shared experience
Kommune presents Tamasha - A Dramatic Readings Event
Enjoy this event from your home
Event Guide
For Age(s)
Family Friendly
Live Performance
Enjoy a unique experience
Invite your friends
and enjoy a shared experience
Event Guide
For Age(s)
Family Friendly
Live Performance
Enjoy a unique experience
Invite your friends
and enjoy a shared experience
Life amazes us everyday, so do people! Four strangers in a cab, what do they talk about? Same as four captives in a confined cell? And what about a husband and a wife fighting over tooth pain or a few friends fighting illness of another friend? Endless possibilities.
And there are multiple ways to explore these, but the easiest one is drama!
Kommune presents 'Tamasha', an online dramatic readings show with a group of talented actors, performing live readings on some really interesting topics and with all the feels!
In a month-long process, performers were selected and trained by the likes of Sheena Khalid and Roshan Abbas.
So grab your cup of chai or coffee and join us on Sunday, 5th September at 7 PM for an entertaining, soulful evening.
List of readings:
Number 22:
Four captives in a confined cell..arguing, frightened, annoyed. But are they really who we think they are?
Performers: Monica Dani, Vedika Vyas, Zarin Shihab, Nikhil Alves, Anuj Gurwara
Meri Seat:
Ever fought over a seat? Ever fallen in love? Relive that, come sit with us on 'Meri Seat'. A story of two people who fought and then fell in love - over a seat.
Performers: Ankur Thakur, Shilpa Varma, Sreeja Mukherjee, Rohan trivedi
Rideshare:
One cab, four different lives. But one of them has a secret, a special ability. Will the others find out?
Performers: Vaishnavi Nandkumar, Amaara Sangam, Lisha bajaj, Manjiri pupala
Beemar:
Past whole year of this pandemic has been about unsolicited advice and hundreds of home remedies. Through this comic script, Saadat Hasan Manto predicted this more than 70 years ago! In this story, poor Kumar wants to get better but rather becomes a guinea pig for his friends.
Performers: Bishal Rungta, Shubham Jain, Damini chopra, Karan Dutt, Robbin singh
Diary of a Breakup:
Breakups are hard. And you know, what's harder? Getting over them! Walk with these relatable characters, on this journey of healing.
Performers: Veeha Verma, Brinda Mehta, Nishu Dikshit, Ekta Shah
Akal Dadh:
Another classic piece from a legendary storyteller Saadat Hasan Manto! In which he smartly says, tooth pain is one thing and marriage is another! This story is clearly more than a fun conversation between a husband and a wife!
Performers: Shreyan Saraswat, Shreya Singh
Smell of Rain:
A rainy day, a warm cafe, a tense man, a cheery girl, what could possibly go right?
Performers: Neha Vyas, Anuj Gurwara
About Kommune - Kommune is India's premier platform for great art and great artists, and has built communities of creators across the country. In the last year, Kommune has conducted over 5 bootcamps and pitch fests on podcasting. And has organised over 30 workshops and story slams across various themes and genres.
It's going to be one great show! See you there!
Kommune presents Tamasha - A Dramatic Readings Event
Enjoy this event from your home
Event Guide
For Age(s)
Family Friendly
Live Performance
Enjoy a unique experience
Invite your friends
and enjoy a shared experience