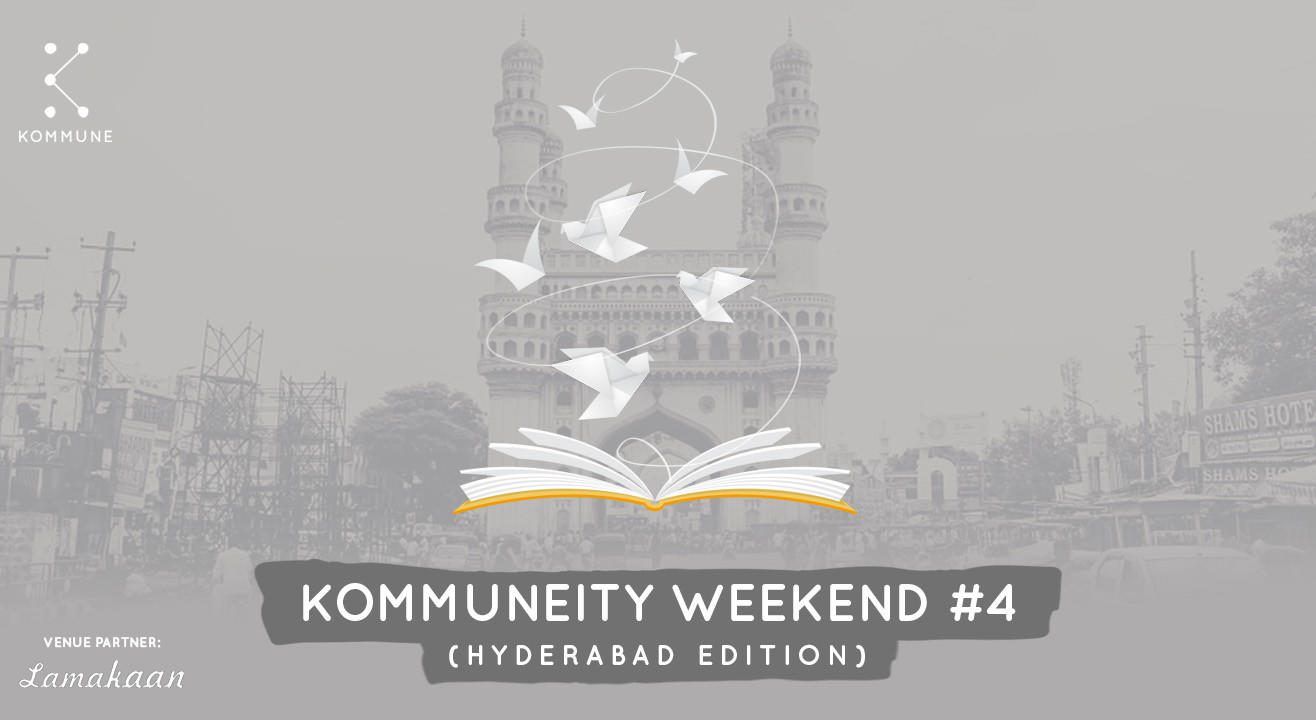 Storytelling
Kommuneity Weekend #4 : Hyderabad Edition
October 13 & 14 | 3:30PM & 4PM
About
Kommuneity - we've had workshops, and we've had story slams. Our workshops have you walking in with words and walking out with stories - stories you never knew existed, stories you never thought were worth sharing. Our story slams are what unique Sundays are made of, complete with tellers breaking down their walls and finding support in strangers who look a lot less strange by the end of the evening. Both events however, define the Kommuneity for us. So we decided to combine the two to give you a weekend with all things Kommune, a weekend you'll want to repeat again and again. Welcome to the Hyderabad edition of the Kommuneity weekend, where we marry the beauty of learning with the promise of growing.
So Hyderabad, we come to you with a Saturday of learning in the workshop, followed by a Sunday of using everything you've learned in the story slam. The theme for this story slam is 'Taste' - from food to memories, tell us about your favourite taste. Tell us if sadness tastes like your mother's food gone cold or if happiness tastes like a the rain after months of waiting. In a city that loves food, tell us a bit about your swaad.
Participants will receive complimentary writing material. After all, what's a writer without a book? So join Kommune as they create, captivate, and collaborate at this Kommuneity weekend!
Why should you attend the workshop?
- Learn how to turn every experience into a brilliant 5 minute story, a skill that is often used in interviews and presentations. A skill that is left out of the school syllabus.
- Learn how to string the beginning, the middle and the end together to make a kickass story.
- Skip the submission and feedback process and learn directly from some of the most loved storytellers and creators.
- Have an intimate session of learning, sharing, and creating.
- Walk in prepared for Kommune's story slams, where they often find amazing performers, stories, and storytellers.
- Begin the journey of self-editing and curating - become your own most reliable critic.
Why should you attend the story slam?
- Kommune story slams are intimate evenings where storytellers get a chance to tell their stories, with or without curation.
- More importantly however, it's a chance to become a better storyteller, perform in front of a supportive crowd and take part in a completely democratic competition (the audience votes to pick the winner).
- Some of the best poets and storytellers have been slam winners – this includes names like Mohammed Sadriwala and Gaurav Tripathi.

To participate, please read the rules carefully
- The theme for this session is 'Taste.' All stories must reflect the theme.
- Only original and personal stories (from your own life) are allowed. Fictional stories and poetry are not allowed for the Story Slam. Kommune does not encourage reading out your story/using books/paper/phones for reference.
- The time limit is 5 minutes per story.
- To send submissions, attach a screenshot of your Insider ticket and send Kommune the title and the description of your story in two lines to team@kommuneity.co.in with the subject line "Kommuneity Weekend (Hyderabad): Taste."
Submitted stories will make it to the Kommune Slam Jar and by random selection, tellers will be picked to perform. Best stories of the day get a lot of love and amazing prizes!
Venue
Lamakaan
Off Road No. 1, Banjara Hills, Opposite GVK One, Green Valley, Banjara Hills, Hyderabad, Telangana 500034
GET DIRECTIONS