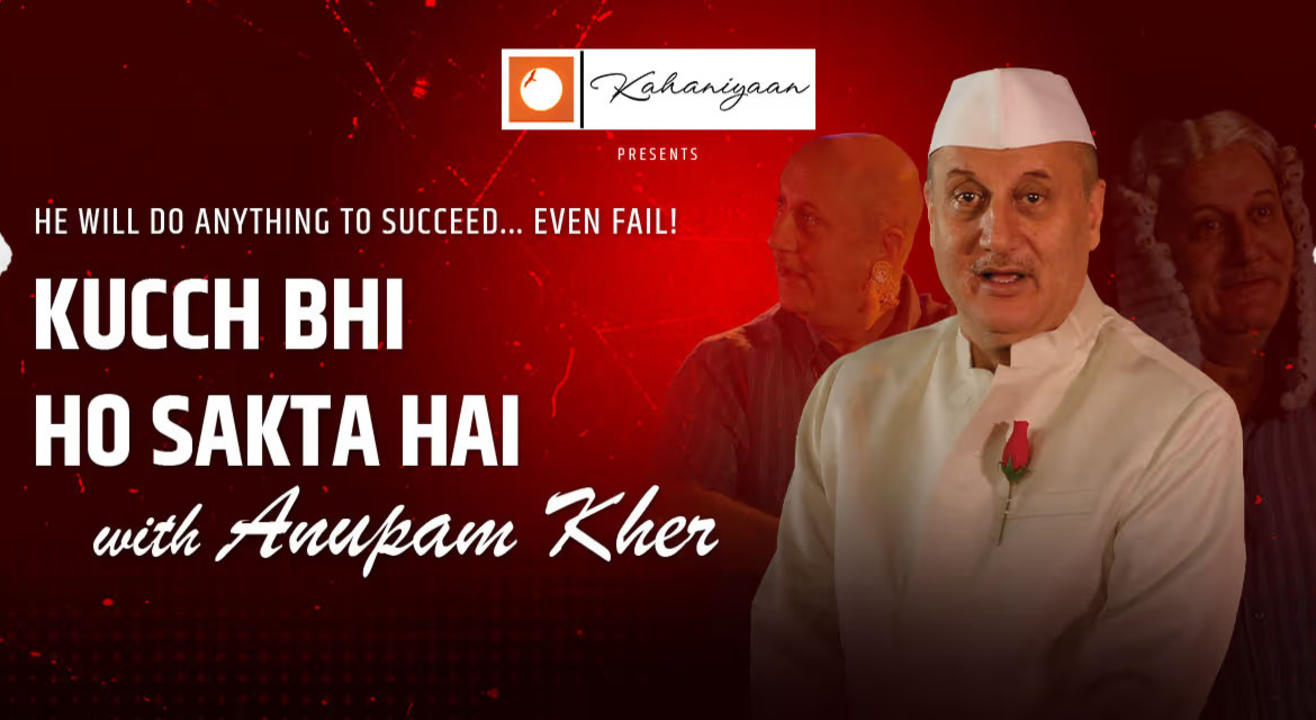 Kucch Bhi Ho Sakta Hai with Anupam Kher
Invite your friends
and enjoy a shared experience
Kucch Bhi Ho Sakta Hai with Anupam Kher
Invite your friends
and enjoy a shared experience
Invite your friends
and enjoy a shared experience
Kahaniyaan presents Anupam Kher on stage with Kucch Bhi Ho Sakta Hai in association, after a decade in Kolkata. A larger than life theatrical production, that will motivate you & melt your heart at the same time. This play made Dilip Kumar "drenched with Joy", made Amitabh Bachchan "stunned" and gave him "..an unforgettable experience" & Lata Mangeshkar say "Simply Brilliant ".
An exclusive chance to witness Anupam Kher live on stage, who will make you not only laugh & cry but also gives you a lifetime experience. An evening never to be missed.
This is a journey of a man who should have been a failure; but he manipulated his destiny and forced it to become a success. Never, in the history of theatre, has the autobiography of an actor been dramatised on stage, especially when he is still practising his craft.
Anupam Kher, with over 500 films, is perhaps the most versatile and prolific actor Indian Cinema has ever seen. In recent times all the biggest blockbusters bear his name in the credits. People have loved him in blockbuster films like Hum Aapke Hai Kaun, Dilwale Dulhania Le Jayenge, A Wednesday, Special 26, Uunchai and most recently, The Kashmir Files. He has also garnered international acclaim with Silver Linings Playbook, Bend It Like Beckham, The Big Sick and New Amsterdam.
At the zenith of his career and crossroads of his life, he pauses to reflect and share his pain, joy and tears peppered with rib tickling humour. Anupam's struggle seems like a shaky Hindi film finding some coherence by the sheer determination of the protagonist and interesting twists and turns that life provides in fits and passion.
The play will be staged as a full production with Anupam Kher narrating and dramatising the important events in his life, such as his first romantic encounter, failure at Gandhi audition, casting in Saaransh, his record breaking award streak, personal relationships etc.
Although the play will tell the story of a small-town boy making it big in the Hindi Film Industry, the audience will identify with him and find snatches of their lives being played on stage.
This is a play that celebrates life and reaches out to all, with honesty and rare candour.
News Paper Comments :
"Funny…….Poignant": Times Of India
" A Rare Play….": The Hindu
"Mesmerising….": Mid Day
"Fascinating….Brilliant Performance…": Asian Age
"Excellent…..Captivating…." : Bombay Times
"Life portrayed through the eyes of the heart…": Tribune
Captains of the Film Industry applaud
"Simply Brilliant": Lata Mangeshkar
"I am drenched with joy": Dilip Kumar
"I was stunned…unforgettable experience": Amitabh Bachchan
" It was sheer magic on stage" : Yash Chopra
"Excellent ": Kumaramangalam Birla
"Inspiring…wonderful…heart wrenching": Govinda
"Life's lessons…on stage": Mahesh Bhatt
Science City
JBS Haldane Ave, Mirania Gardens, East Topsia, Topsia, Kolkata, West Bengal 700046, India
GET DIRECTIONS
Kucch Bhi Ho Sakta Hai with Anupam Kher
Invite your friends
and enjoy a shared experience