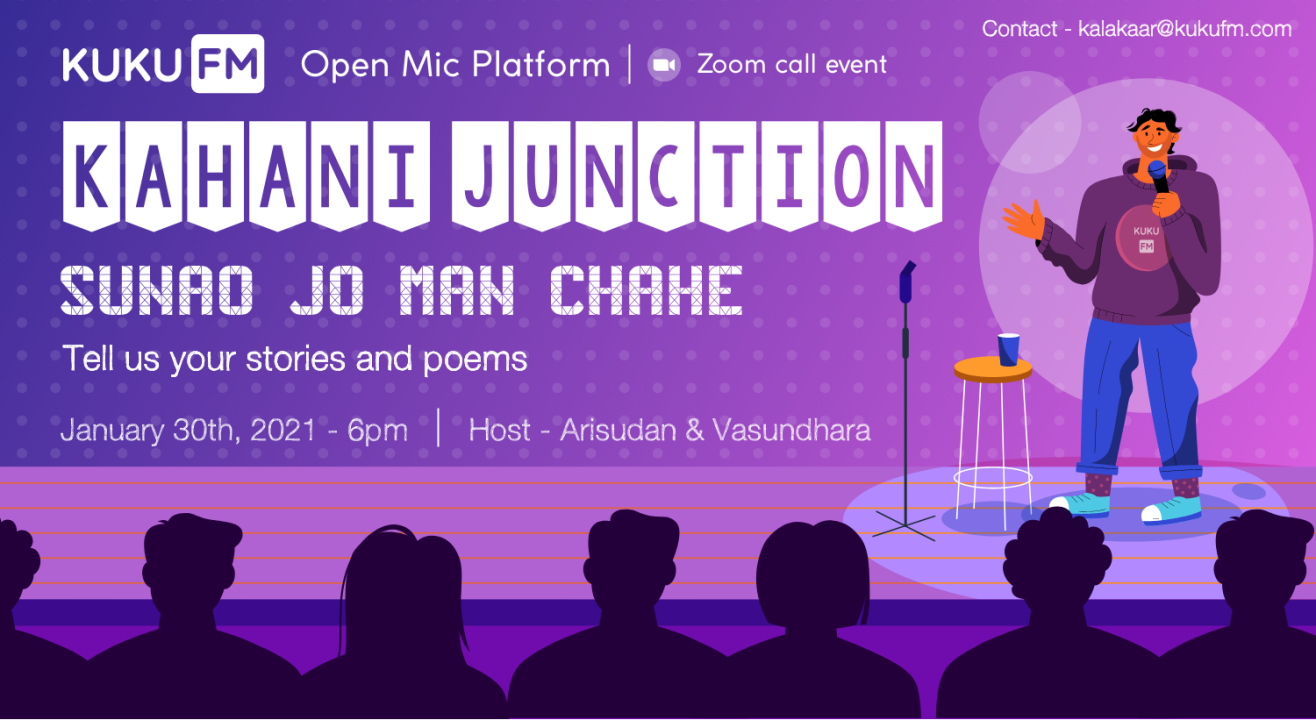 Kuku FM's Kahaani Junction
Enjoy this event from your home
Event Guide
Digital Event
Live On Insider
Live Performance
Enjoy a unique experience
Invite your friends
and enjoy a shared experience
Event Guide
Digital Event
Live On Insider
Live Performance
Enjoy a unique experience
Invite your friends
and enjoy a shared experience
About the Event
Welcome to Kuku FM's Kahaani Junction which is an open mic platform where you can share your stories and poems to a literaeture loving audience.
We have 10 slots for open mic. Please fill in your details in the given form.
https://forms.gle/z8ybf5UszHt5iRVV9
Fun−filled open mics organized by KuKuFM - India's leading audio content platform.
What is an open mic?
An open mic is a platform where you shed your stage inhibitions and express your love for an art form like music, poetry, and comedy. The general misconceptions around an open mic are about the ambiance being too formal or the audience being scornful.
That's not the case, at least at Kahani junction - Open mic. Our open mics are going to be cheerful, inclusive, pleasant, and intimate gatherings which would leave you smiling and craving for more. There's a minimal fee of Rs 45 for performing and an audience ticket is for free (so you can come to check out an open mic before performing in the next :D).
You will 5 minutes to perform your piece of poem/story or whatever you want. We have a total of 10 slots so register fast.
What is KuKu FM?
Kuku FM is a podcast platform that is re-inventing the traditional radio by allowing listeners to easily discover new, emerging, and diverse audio content, and engage with their favorite creators. With 700+ podcasts, Kuku FM has grown into a family of 350K+ happy listeners and 500+ creators in only 8 months. People lose countless hours to mundane
activities such as commuting, chores, and aimlessly staring at their phones. What if they could turn these little blocks of unallocated time into a mind-space well filled? These are moments of learning, joy, reflection, and even memories. Their goal is to democratize audio content. By providing production, distribution, and marketing support, they want to empower creators to monetize their content, grow their audience and connect with their fans through their platform.
Guidelines For The Open Mic
- Please ensure a good internet connection so as to not hamper your experience.
- Leave all other work and be there for the whole session for a wholesome experience.
- If performing, ensure good lighting around you.
- The virtual sessions will take place on Zoom App.
- If you wish to perform, please do register online so as to not create any disturbances during the virtual event.
- No use of cuss words, please.
- No sexist, ethnocentric, Xenophobic comments will be allowed.
- No plagiarism. We love when artists come up with their original work. Beauty lies within you, and we love to appreciate it!
- Please be ready at least 10-15 mins prior to the time mentioned so that you don't miss the beginning! Hope you have a fun-filled time!
- BYOA - Bring your own Audience. Feel free to bring your friends along with you. Audience ticket is free.
When − 30th Jan 2021 | 06:00 pm onwards
Host : Arisudan ( Instagram: _ibnbatuta) and vasundhara ( Instagram : @ChitthiWaliChori )
Zoom App
Contact kalakaar@kukufm.com for any queries. See you!
Note: The open mic would take place online via Zoom App.
Open mic FAQs:
Q. What are the languages that I can perform in?
Generally, the audience is most comfortable with English and Hindi.
Q. Is there any restriction on content?
No. But we discourage abusive, sexist, homophobic, xenophobic or sexually explicit content.
Q. Is there any age limit?
No, people of all ages can join our open mics.
Q. What is the duration of the event and of each time slot?
Every performer will get a maximum of 5 minutes to perform. We look to have upto 10 performers per open mic. The duration of the event in going to be a maximum of 1.5 hours.
Q. Can I know my slot timing?
As it is just a 1.5 hour event, we expect everyone joining to be from start to end. Due to the online nature or the event, we won't be able to provide with slot information beforehand.
Q. Is my audio and video supposed to be on always?
A. It is preferable that ways but exceptions are okay if any internet issues.