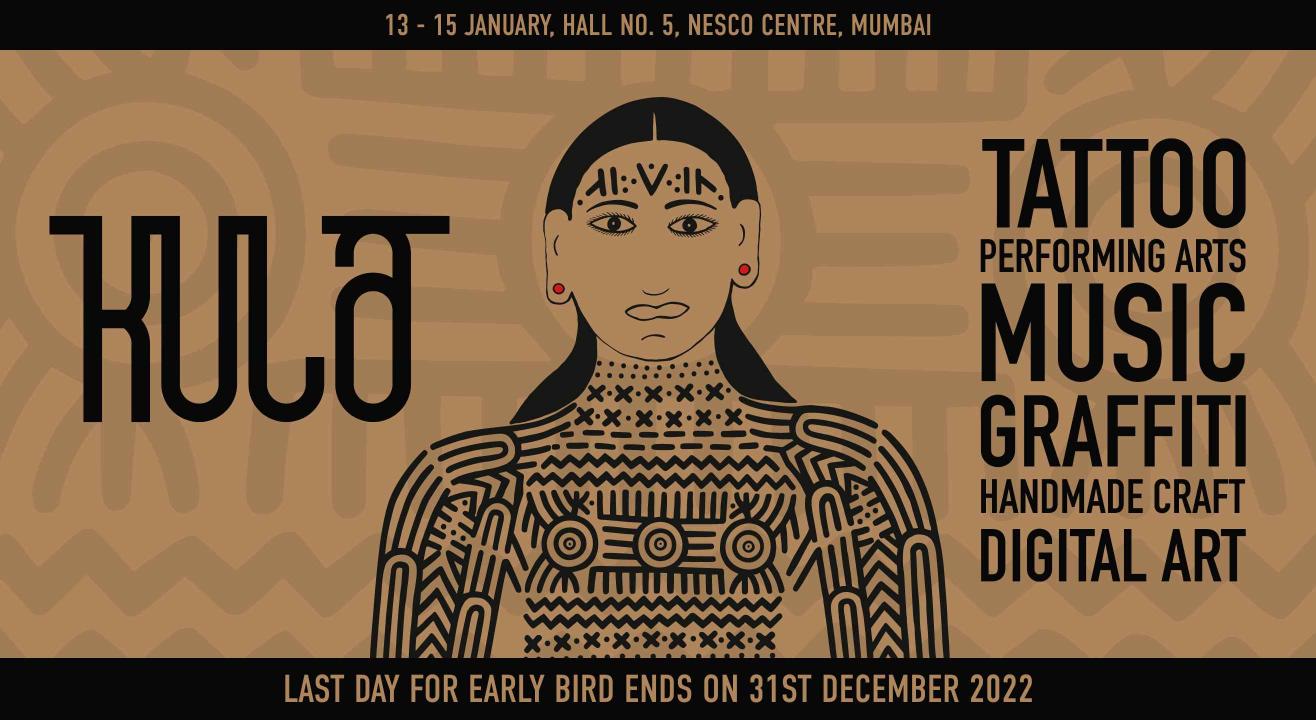 Kula - A Global Gathering
January 13, 14 & 15 | 11AM Onwards
Event Guide
For Age(s)
Family Friendly
Invite your friends
and enjoy a shared experience
Kula - A Global Gathering
January 13, 14 & 15 | 11AM Onwards
Event Guide
For Age(s)
Family Friendly
Invite your friends
and enjoy a shared experience
Event Guide
For Age(s)
Family Friendly
Invite your friends
and enjoy a shared experience
Featuring 150+ artists from over 10 countries, KULA brings to you one-of-a-kind gathering of global arts and culture.
KULA – A Global Gathering celebrates the diversity of traditional as well as contemporary arts ranging from tattoo, music, dance to graffiti and street art.
Mumbai's very own multi-disciplinary, genre-bending and the most diverse festival ever. Indigenous artists share the stage with leading contemporary & modern artists showcasing art practices which challenge boundaries and dare to experiment with the unfamiliar and unlikely.
Who do you get to meet?
For the first time, traditional and contemporary arts will vibe together with urban sub-culture and art & tech with artists from Australia, Germany, India, Indonesia, Japan, Malaysia, Nepal, New Zealand, UK, US and Vietnam.
What's in store for you?
3 days of live tattooing, live graffiti mural creation, contemporary dance with live animation, dance battles, hip hop face-off, knowledge sharing workshops, and brilliant and daring live music acts. Catch the complete schedule at www.kulaworldwide.com.
It's time to join the tribe and vibe together!
NOTE
• This is a 3-day festival from held from 13 to 15 January 2023 at the NESCO Centre, Mumbai.
• The festival celebrates diversity of arts practice and features multi-disciplinary multi-genre and multilingual shows.
• Season pass available with access to programme on all 3 days.
• Daily pass available as well.
AJAY YADAV


ALLAN GOIS


AMEY ACHARYA


BHANU PRATAP


BHAVESH KALMA


BRYAN SANCHEZ M


DEEP KANDU


DEEPAK


DEVENDRA PALAV


DIPTI CHAURASIYA


FLYEST


GAURIISHANKAR MISTRY


HARRY NATHANI


JAI SONI


JIVA


KETAN VAIDYA


MANOHAR KOLI


MERAKI FADE


MOHIT KHURANA


OBi


PRATIK PATKAR


RAHUL GAIKWAD


RAHUL VENKAT


SAHIL PATEL


SAKSHI PANWAR


SHREYA JOSH


SHYAM GANJU


SHYAMLI PANDA


SIDDHESH GAWDE


SNAKESKIN


SUBHOJI CHAKRABORTY


SUDAMA


SUE ELLEN VAZ


SUMIT TANK


SUNNY BHANUSHALI


SWASTHIK IYENGAR


TAKU OSHIMA


TUSHAR MARANE


UDITHA RANGANA


VYSHAKHAN ANIYAN


WILLEY JOE


YANGDOL NAMGYAL


YASIR

JASON


SIDDHESH SURVE

Kula - A Global Gathering
Nesco Pvt Ltd
next to Western Express Highway, NESCO, Goregaon, Mumbai, Maharashtra 400063, India
GET DIRECTIONS
Kula - A Global Gathering
January 13, 14 & 15 | 11AM Onwards
Event Guide
For Age(s)
Family Friendly
Invite your friends
and enjoy a shared experience