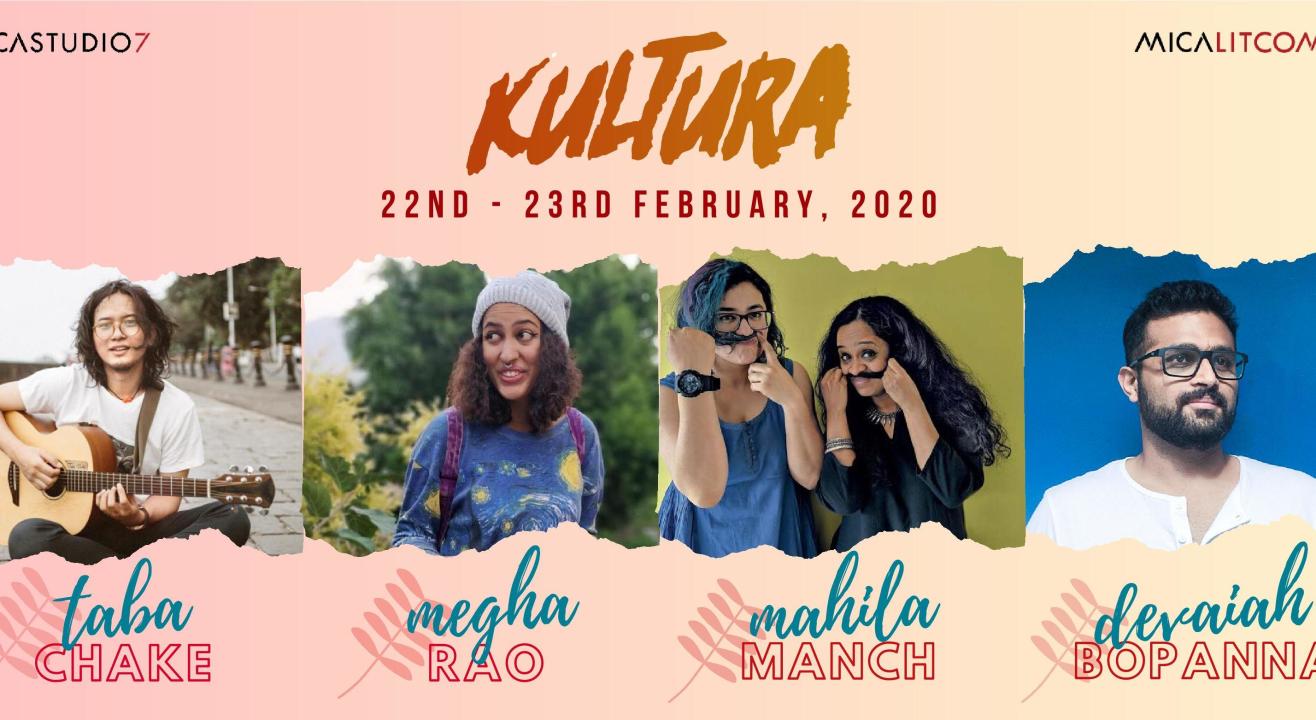 Kultura- The Ultimate Music & Literature Festival
February 22 | 8PM - February 23 | 11PM
MICA, Ahmedabad, Ahmedabad
Invite your friends
and enjoy a shared experience
Kultura- The Ultimate Music & Literature Festival
February 22 | 8PM - February 23 | 11PM
MICA, Ahmedabad, Ahmedabad
Invite your friends
and enjoy a shared experience
Invite your friends
and enjoy a shared experience
Kultura, MICA's flagship music-literature festival is a beautiful consonance of melodies and words. With Rhapsody as the theme for this year, Kultura presents an exciting lineup of artists, workshops and talks. With stellar names like Mahila Manch, Megha Rao, Devaiah Bopanna (of AIB fame), and Taba Chake, the popular singer-songwriter from Arunachal Pradesh, join us at MICA to have the perfect weekend.
For budding filmmakers, we have India Film Project with their iconic 24-hour filmmaking workshop and challenge. For lovers of all things art, we have a day-long art and photography exhibition. And for the foodie in you, we're lined up with exciting options for your palate!
DAY 1 SCHEDULE:
Poetry Writing Workshop | Megha Rao
DAY 2 SCHEDULE:
Artscape Digital Art Exhibition | 10:30 AM- 6:30 PM
The India Filmmaking Workshop & Challenge | 12:00 PM - 2:00 PM
Run Rabbit Run - Experience Zone | 12:00 PM- 2:00 PM
Fireside Chat With Devaiah Bopanna | 2:30 PM - 3:30 PM
The MuLi Quiz - A Music & Literature Quiz | 4:30 PM - 6:00 PM
Stand Up Comedy- Mahila Manch | 6:00 PM - 7:00 PM
Gig Under The Stars With Taba Chake | 8:00 PM Onwards
Join us at MICA, Ahmedabad to celebrate art, literature and music in the theme of rhapsody and #EscapeReality for the weekend. You know you want to.
Kultura- The Ultimate Music & Literature Festival
February 22 | 8PM - February 23 | 11PM
MICA, Ahmedabad, Ahmedabad
Invite your friends
and enjoy a shared experience