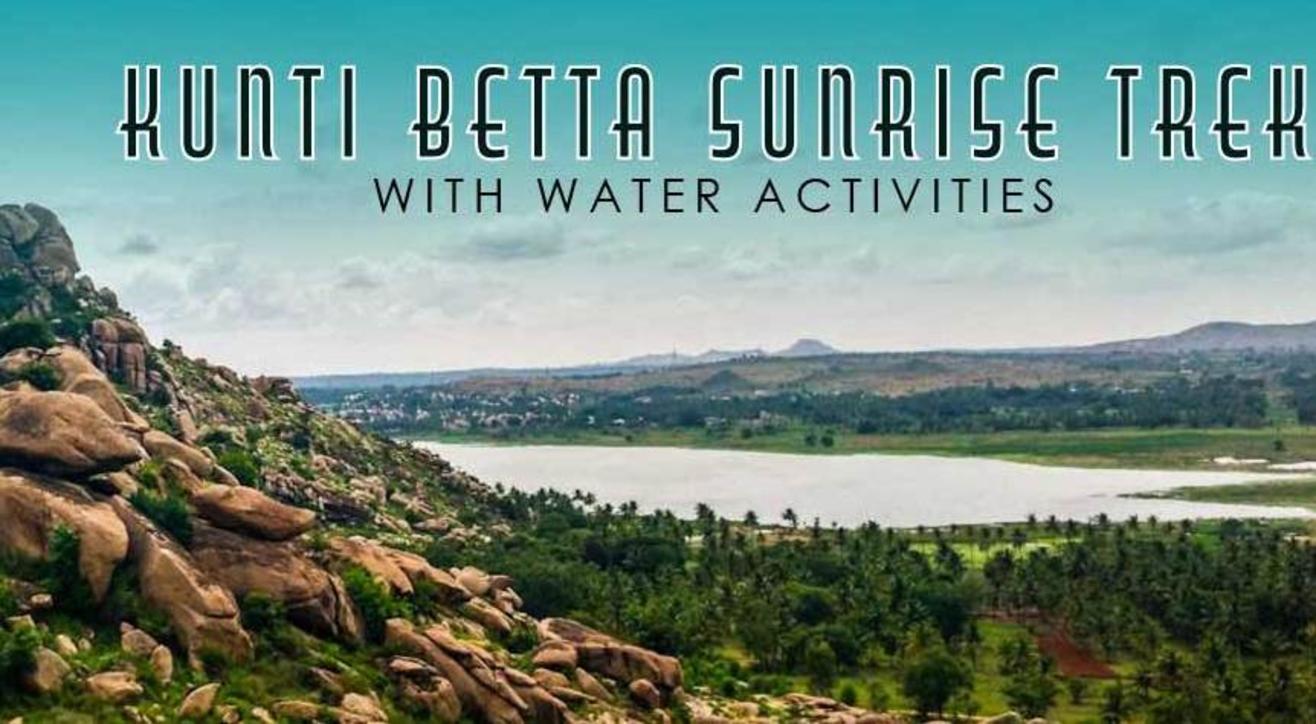 Trek
Kunti Betta Sunrise Trek & Water Activities | Nammatrip
Kunti Betta Peak, Karnataka
1,049 - 1,299 (*Inclusive of taxes)
About
Kunti Betta sunrise trek stands out as the most famous and thrilling trekking encounters one can experience near Bangalore. A sunrise trek is a mesmerizing and unforgettable experience, and thrilling enough to tickle your adventurous bone. Watching a sunrise from such a beautiful spot will fill you with a lot of positive energy that you can take back with you when the weekend gets over. Two rocky hills standing tall in the town of Pandavapura, surrounded by some amazing picture perfect scenery, overlooking the beautiful Pandavapura Lake is Kunti Betta. Hindu Mythology gives an insight about the short stay of Pandavas in this region and their mother Kunti, who developed a fondness towards the hillocks. Hence, the town and the hill were named after them. Cool down with water activities like swimming and kayaking adventures after your long hike!
Itinerary·
11:00 PM Pick up starts from Bangalore
· 01:30 AM Reach Kanva Campsite
· 03:00 AM Reach Kunti Betta base
· 05:00 AM Reach peak, relax and enjoy the sunrise
· 07:00 AM Descend after dawn
· 09:00 AM Have breakfast
· 10:00 AM Indulge in water activities
· 12:00 PM Head back to Bangalore
· 02:00 PM Reach Bangalore
Activity
· Trekking
· Kayaking
· Swimming
· Bonfire
· Sunrise
Transport
Pick up and drop from/to Bangalore
Things to Carry
· Backpack
· Raincoat/Poncho
· Water bottles
· Energy bars
· Personal medication or A First Aid Kit
· Sweater/ jackets for the night
· Extra clothing (in case you plan to dive in the lake)
· Sports shoes or trekking shoes in good condition
· Flashlight/Torch with extra batteries
· Track pants and Shirts
· Camera (optional)
Note
Your equipment and equipment distributed are to be carried by self, like bags, sticks, etc.
As you are exploring nature, don't expect washrooms near hills. Washrooms are only available at hotel, campsite & home stays are multi-sharing basis (you reach hotel/campsite for breakfast or lunch).
Don't expect electricity & luxury in the camping area.
About NammaTrip
NammaTrip Adventures is not just one of Bangalore's leading adventure travel companies, it's a hub for all nature lovers, adventure enthusiasts and those who just need a little escape from the routine of life to explore outdoors. With NammaTrip, find the much notable adventure activities near Bangalore. Choose from a wide range of exciting outdoor activities and destinations that best suit your team/group, and leave the arrangements to us.
Organizer Details
For queries about this event contact the organizer Vinay +91 9972233979
Pickup Points
1. Marathahalli (10:30 PM) - Near Kalamandir
2. Silk Board (11:00 PM) - Bus Stop, Opposite To Pizza Hut
3. BTM (11:10 PM) Udupi Garden Bus Stop, Opposite To A2B
4. Banashankari (11:30 PM) - Banashankari Bus Stop
5. Kengeri Bus Stand (11:45PM) - Krishna Priya Convention Hall