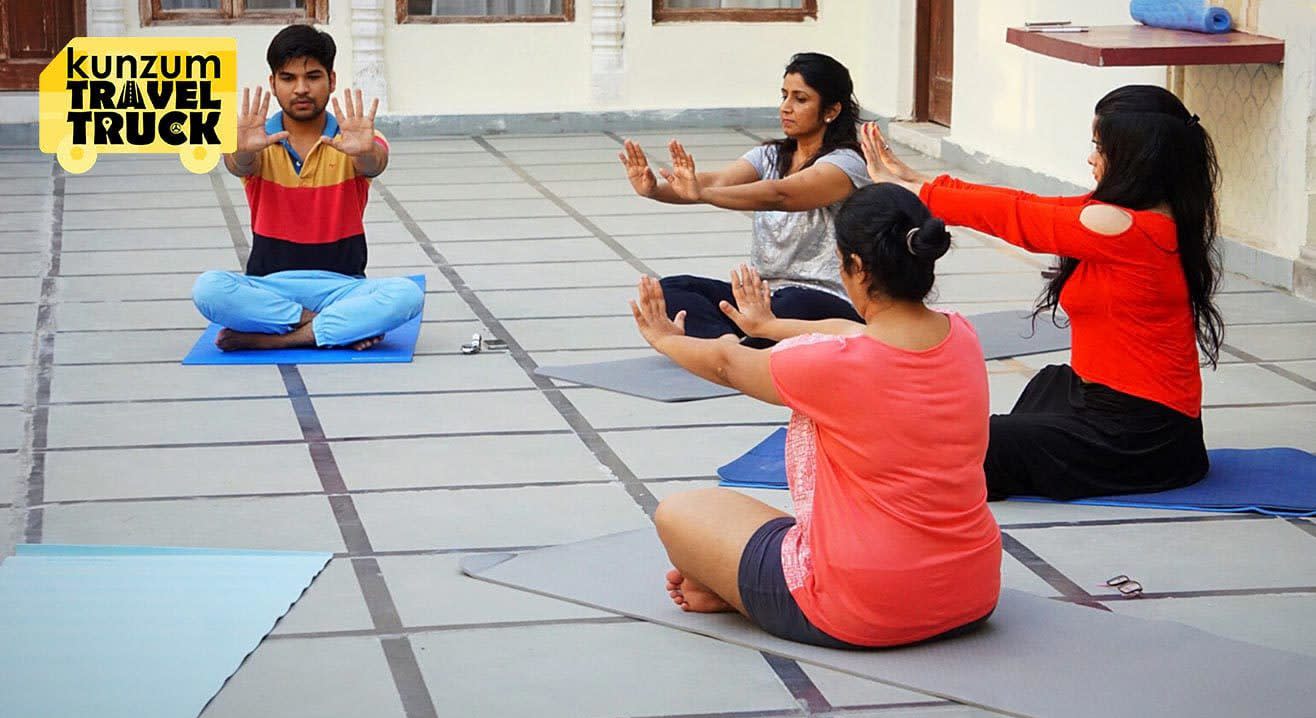 Yoga
Kunzum Yoga Getaway For Women
About
The Kunzum Travel Café opened its doors to the world on June 12, 2010 – it has since become synonymous with the idea of a traveller community.
As Brand Kunzum, established earlier in 2007, completes a decade, we have introduced an idea that promises to be another game changer – we call it the Kunzum Travel Truck. Very simply, it is recreating the café on wheels. People would no longer just talk travel, but head out together too.
On journeys curated by experts. In vans that make travel fun and engaging – comfortable push back seats, unlimited bar, WiFi on board, funky interiors, LED screens, music systems and more. Trips have been scheduled every week taking you to places you may not have considered on your own. With service standards that will delight you.
In other words, the Kunzum Travel Truck would be the destination in itself. Where you will make new friends too. Hop aboard – book a journey at http://kunzum.com.
Want to book a truck for your family, friends, alumni and office colleagues?
We all like to head out with our private groups – why not do it in style in a Kunzum Travel Truck? We can suggest itineraries and you can express your preferences. Leave the rest to us – we will handle all research, curation, bookings and organisation of the trip.
About the Trip
It's time for women to head out – for a bit of wellness, a bit of sightseeing and a bit of girly fun. At the Kunzum Yoga Getaway in Shekhawati in Rajasthan, India. Hop aboard the Kunzum Travel Truck for what promises to be a trip where you unwind and come back with strong takeaways. You will be in the hands of experts in this field to ensure it's an enriching outing.
Ladies with all levels of fitness and knowledge of yoga including beginners. Mentors will ensure they give personalized attention to all participants so they may benefit from the retreat.
About Shekhawati
The Shekhawati region is a collection of towns and villages in Rajasthan, and about a five hours drive from Delhi. These towns are known for their old havelis (bungalows) with frescos, historical monuments and bazaars. The region is the ancestral home of many a Marwari and Bania families, known for their sharp business acumen, who invested in the art and architecture in the area.
DAY 1
6:00 a.m.: Leave Delhi / Gurgaon for Shekhawati.
10:00 a.m.: Brunch on the way
1:00 p.m.: Reach our destination
1:00 p.m. – 3:00 p.m.: Check-in, freshen up, lunch and rest.
3:00 p.m. – 5:00 p.m.: Option to explore a bit of Surajgarh and have tea.
5:00 p.m.: Preksha Meditation
6:00 p.m.: Bhakti Yog with mantras explained and end with kirtan
8:00 p.m.: Fun dinner. Ladies will be encouraged to entertain others with travel stories, songs, music, anecdotes from their lives and more.

DAY 2
5:00 a.m.: Shath Karma Yoga – Jal Neti
6:00 a.m.: Hatha yog class (Asanas+Pranayam)
8:00 a.m.: Breakfast
10:00 a.m.: Asana alignment and discussion
11:00 a.m. – 4:00 p.m.: Sightseeing in Shekhawati region with lunch on the way
5:00 p.m.: Chakra Meditation
6:00 p.m.: Bhakti Yog + Kirtan
8:00 p.m.: Cook-Out where participants learn and cook with local chefs and share the dinner.

DAY 3
6:00 a.m.: Shath Karma Yoga-Jal Neti
7:00 a.m.: Power Yoga Flow
9:00 a.m.: Breakfast
11:00 a.m.: Yoga session+discussion
2:00 p.m.: Lunch
3:00 p.m.: Leave Shekhawati
9:00 p.m.: Reach Delhi / Gurgaon

DAY 4
Wake up feeling good!!
Ashish Singh
Very popular with his students, Ashish is strongly grounded and knowledgeable about yoga, meditation and general wellness. He has believed in being disciplined and passionate about sports and fitness since childhood, putting in hours of practice daily as a habit. He has students of all age groups from 10 years to 85 years. He says, "My students have taught me perseverance and patience, which I feel that any true professional should adopt and develop the art to manage people from all walks of life. The suppleness in managing relationships with my clients has helped me to be popular among young and old."
Manisha Ahlawat
Founder and the driving force behind the all-women fitness chain, Vivafit India, Manisha is a strong proponent of fitness for women. A believer in exercise and diet being a daily routine, she truly knows how to inspire and motivate other women to lead healthier lives.
Transport to and from Delhi in the Kunzum Travel Truck
Accommodation on twin sharing basis
Sightseeing with a guide as mentioned
Yoga / wellness / meditation sessions
Meals: Breakfast x 2, lunch x 2 and dinner x 2
Mineral Water: 4 bottles x 500 ml per day
Lunch / snacks / beverages on the highway and during sightseeing on Day 2. Guests would be recommended suitable places and they may pay directly.
Alcoholic beverages, additional bottled water / soft drinks, laundry, shopping and any other expenses of personal nature.
Additional tea / coffee / snacks ordered in hotel.
Dates: December 1 – 3, 2017
Accommodation: Surajgarh Fort or Mandawa Haveli or an equivalent high quality heritage property.
Travel: In the Kunzum Travel Truck, a 9-seater luxury van. The distance of about 250 kms from Delhi will be covered in about six hours.
DRIVE / RIDE ALONG IN YOUR OWN CAR OR BIKE: Want to be a part of the trip but prefer to come in your own vehicle? Sure, no problem. Ask for rates for the same.
Refund of 50% to be given if cancelled at least 30 days before departure date.
No refunds will be possible otherwise but you are free to transfer your booking to anyone else.