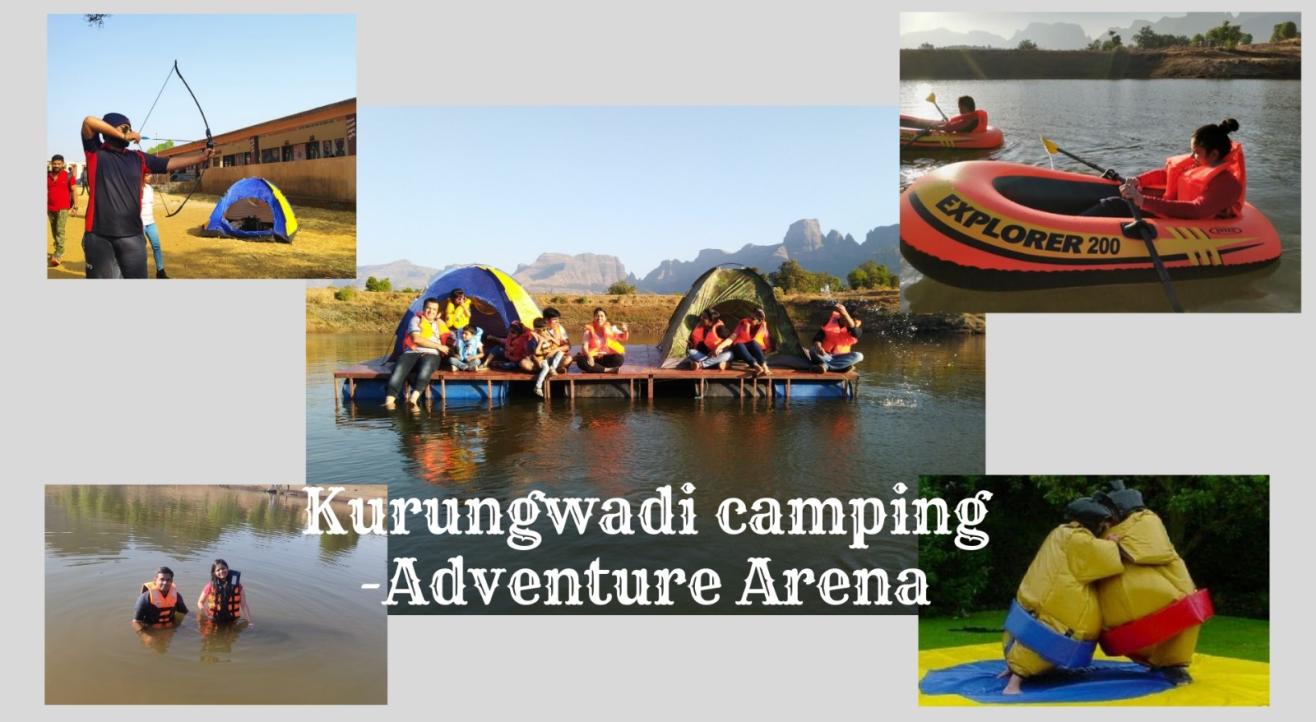 Camping
Kurungwadi Camping- Adventure Arena
About
Kurungwadi Camping- Adventure Arena
Kurungwadi...A small and quiet village flourished with scenic beauty at the foot heels of the Sahydris. It is actually a hidden treasure for all nature lovers. It's hardly few kilometers away from Igatpuri Kurungwadi is a water reservoir and also a new weekend gateway near Igatpuri hill station. The soothing blue-green water of Lake and the surrounding lush green mountains range of sahyadri with giagantic view of Alang, Madan & Kulang fort makes for a great treat to the eyes. Imagine a camping trip with such beautiful surrounding, delicious food made on chulha and the opportunity to make new friends. Pitching up the tent right beside the lake and gathering wood for the campfire surely would make up for the awesome ambiance of this place.
We are philanthropic partner with Fendry Foundation to generate employment in kurungwadi by sourcing tourism related job which involves camping & food management for tourist who comes for camping /trekking/for adventurous activities etc.
It will include the following activities for tourists
1. Tent Camping
2. Archery
3. Water tubing
4. Kayaking
5. Delicious barbecue (limited)
6. Blanket with mattresses
7. Open eye star gazing
8. Swimming with Life jackets
9. Floating Tent experience.
10. Sumo Fight
Toilet- Indian, Western
# Food- Organic Village food (Veg./Non Veg & Jain.) for Jain need to tell us in well advance
Cost:- 1350/- without transport
Cost:- 1650/- with transportation from kasara to kasara
Here are common instructions for people travelling by train and things to carry.
- Transportation is fixed Departure-Hence:-mandatory for all to catch the same train in case you missed the train consider missed the event.
• By Train- 12:33pm CST > 12:46pm Dadar> 12:53pm Kurla > 12:57pm Ghatkopar > 01:15pm Thane > 01:28pm Dombivali > 01:37pm Kalyan > Kasara @ 2:47pm
- Things to carry:
• Comfortable footwear
• Extra pair of clothes
• Basic First Aid kit
• Mosquito repellants (odomos)
• Sunglasses
• Pillow (optional)
• Extra blanket to protect from cold (optional)
- Dos and Don'ts for the event
• No drinks allowed
• No smoking allowed
• Listen to the instructions of Campsite in charge
• No littering in eco sensitive zones
So come join us at Kurungwadi to enjoy surreal nature and get refreshed over the weekend..
Kurungwadi village and the villagers are all geared up already to welcome you all..