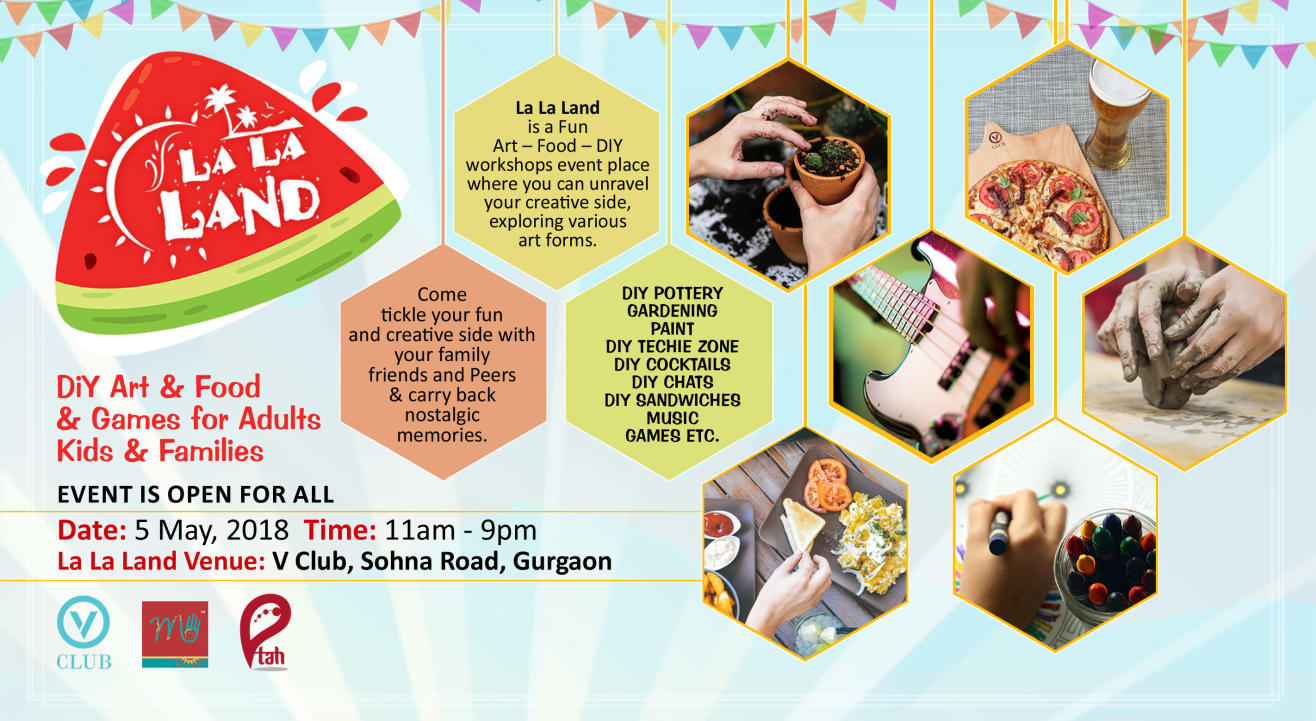 Creativity
About
La La Land is a Fun Art – Food – DIY workshops event Land where you can unravel your creative side and explore various art forms with your family, friends and Peers besides you! Besides, there are other activities like live Music, plays etc. planned for the event.
The first edition of La La Land 1.0 will have various Artists performing and teaching various skill sets for creating artworks and professional Chefs conducting DiY food workshops throughout the 2 day event on 21st and 22nd April,2018 at Vclub, Sohna Road – Gurgaon!!
Block your calendars as It's that time of the year where all enthusiasts can drop your phone/tabs away for a while, take a deep dive in the creative world and indulge in amazing things that the city has to offer.
Join in along with your kids, parents, peers or friends and experience the first ever-creative land of India!! Souvenir framed capturing your memories will be given as a take away from La La Land team.
So much so all under the same roof !!
La La Land will have various ART activities to learn and experience viz. Urban Gardening, Pottery and Clay Modeling, DiY Art zone, Painting, Photography workshops etc. from experienced artists who will take you on a creative journey and make your experience blissful.
La La Land Food workshops
La La Land will have a DIY Food zone where one gets to learn and savor Food as per one's specific taste and choice viz. DIY Food Corner (Chat Street/Sandwiches etc.), DIY Bakery Zone (Waffle/Muffins etc.), DIY Salads Zone, DIY Mocktails Zone etc. all brought to you from professional chefs.
Other Activities at La La Land
The event is also planned to have various other activities viz. Live Music, Live plays, Games etc.
Never mind! La La Land will also have mouthwatering Food curated exclusively by Professional Chefs and Handpicked vendors for you experience the event and rejoice without having to work/create.
A Place without Shopping? Sounds Boring? Hold on!! For all those Shopaholics out there, we have handpicked various Artists and vendors selling handmade masterpieces for you to enjoy not just the process of making art but treasuring one!! The team at La La Land believes in designing fruitful learning experience and creating memories for you and your loved ones!!
Book your tickets now We promise you, the memories you create here, will stay in your heart and mind forever and don't forget, its Open to all age groups !!

PS: IT IS NOT A SHOPPING EVENT/ FLEA MARKET.IT IS AN INDIA'S FIRST EVER ART – FOOD – DIY WORKSHOP AND EXPERIENCE EVENT LAND and that's why its La La Land !!!
Venue
V Club, Gurugram
V Club, Vipul world, near Tatvam Villas,, Sector 48, Sohna Road, Tatvam Villas, Dhani, Sector 48, Gurugram, Haryana 122018