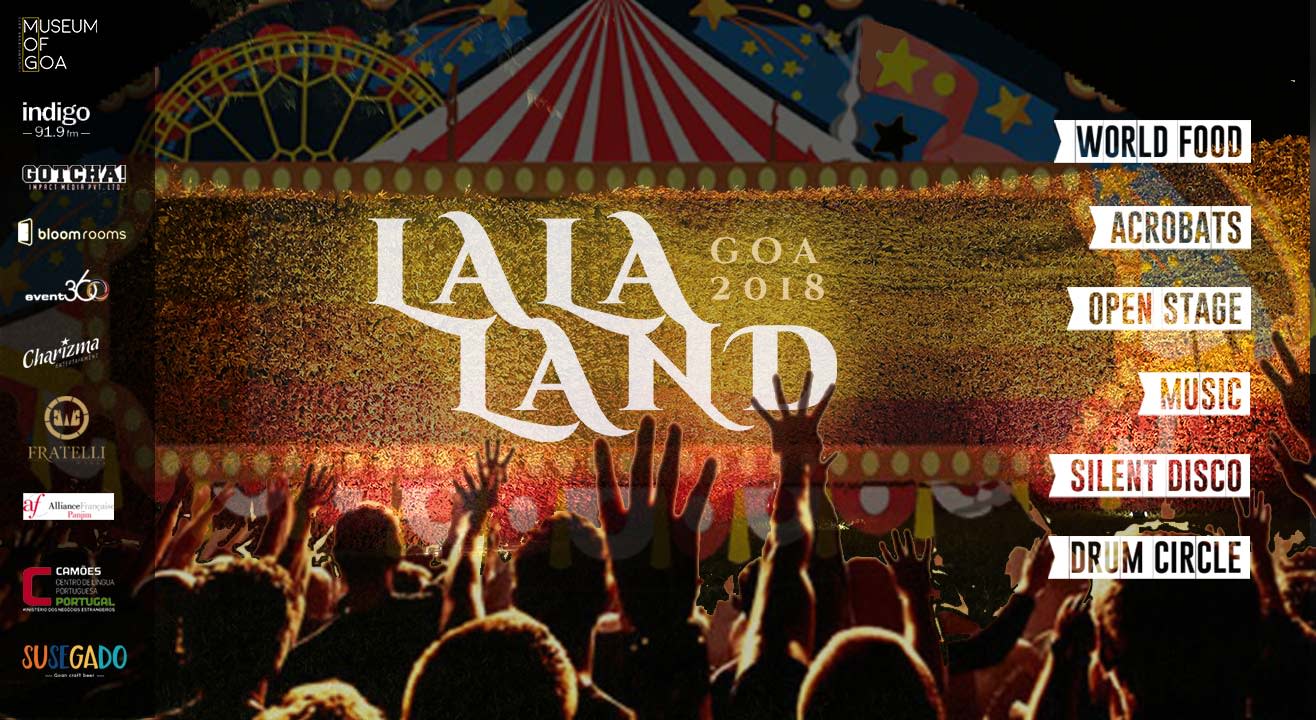 Music
About
Take a trip to LaLaLand!


A two-day festival of happiness and magic. For everyone! Witness spectacular international acrobatic acts, great music on the main stage and the theatre; join the largest drumcircle of Goa, experience the silent disco, and try a variety of food and drinks.


The festival is set in the garden of MOG - Museum of Goa, set against the backdrop of the Carpet of Joy, an art installation made out of 150,000 discarded plastic bottles, which sets the tone of sustainability as the norm.
Thaalavattam, which means "a circle of rhythm," is a unique percussion project by Montry Manuel from India, that harnesses the universal power of music to inspire people to reduce, reuse and retune. Their organic grooves emerge from discarded tubes, paint cans, industrial plastic waste, plastics bottles, bicycle parts, etc. which are reborn as kits, floating jugs, tubes, didgeridoos and more, and then electronically sampled to provide an organic and earthly experience. Thaalavattam was the "first live music act" from India to perform at the O.Z.O.R.A Music Festival (Dragon Fest) in Hungary in 2014.

Easy Wanderlings just played at Supersonic and now they come to LaLaLand! Easy Wanderlings is a musical journal of the band's cherished memories about soulful conversations, escapades into the majestic wilderness, and of the feelings felt when spending quiet evenings at home. Set off in mid-2015, their music is an amalgamation of ambient pop, soul, and folk. They have performed extensively across diverse spaces, from small intimate cafes, art galleries to Sofar Sessions, from venues like Hard Rock Cafe, big flea markets to major music festivals.
"Most promising debut of 2017" - A Humming Heart
"Playful, story-centric and emphatic." - Rolling Stone
India's 4th best selling Indian independent music album, 2017, based on sales on OkListen.
Also featured in the Elle Magazine, MOSTLY Strings, Indie Music Dimension, National Radio, Swelltone, Indian Music Diaries, Indie Folx, Maed in India, Indie Berlin and Indian Express.

Silent Noise was conceived in the beachside town of Palolem, South Goa and the place has undoubtedly left its mark on the parties. Silent Noise has continued to thrive in throwing the best silent parties in Goa and throughout India since 2005. They are the original and the best in the business when it comes to staging unforgettable events. They have three world class DJs playing simultaneously, taking the crowd through a musical adventure compelling everyone to dance.

Nadia Rebelo, popularly known as the Princess of Fado, is a postgraduate student at the Goa University. She is going to bring a heartfelt performance of Fado at LaLaLand. Fado is a celebrated form of world music that has retained its traditional qualities but moved with the times. It is a form of Portuguese singing and has over the years become an integral part of Goa's culture. It was brought here by the Portuguese and had since become intrinsic with the local music folklore. Nadia will be accompanied by Franz Schubert.

Acrobatic Acts will be there at LaLaLand to help you experience various acrobatic and circus performances, by international circus and acrobatic artists. Trapeze acts, aerial performances, Chinese pole, stiltwalkers, jugglers and more.

Drumcircle is the largest drum circle of Goa organized by Taal.inc! Taal Inc. aims to build a sustainable network organization that helps people find their inner self through rhythm, music and the arts using pathways of knowledge, actions, interactions and entertainment. They conduct innovative drum circle experience for different populations, introduce drumming as a recreational activity across all ages and heritages, research, build and improve behavioural software and acquire and impart knowledge of facilitation using experiential arts based interventions. They are going to host the biggest drum circle of Goa with 200 drums at LaLaLand.
About the Organizer & Venue
Housed in a 1038 square metre space, designed by Architect Dean D'Cruz, MOG - Museum of Goa is situated on the Pilerne Plateau in North Goa, not too far from Calangute. The infrastructure for the Museum of Goa has been fully funded by the artist Subodh Kerkar and now they are reaching out to philanthropic partners as well as supporters of art for further funding that will support the functioning and the unfolding of this art space.