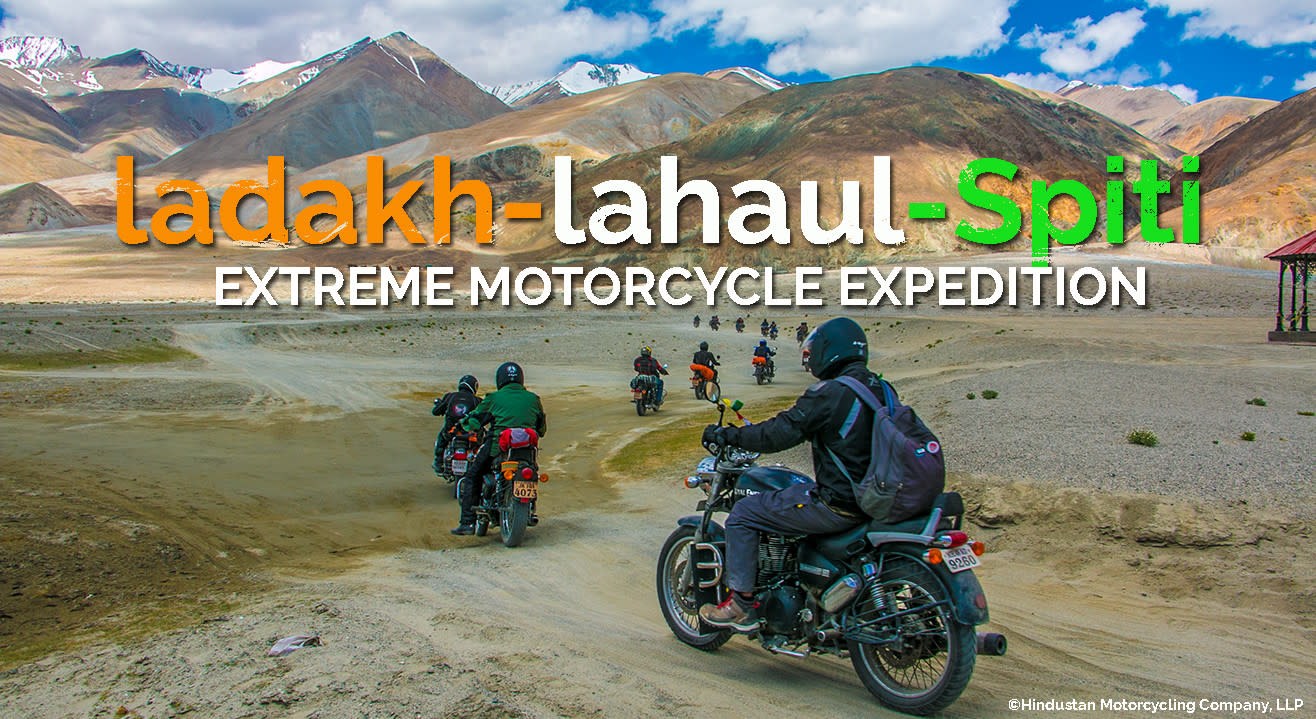 Biking
Ladakh - Lahaul - Spiti - Extreme Motorcycle Expedition
September 17 - October 03 | 4 AM
Venue To Be Announced, Delhi
About
Hindustan Motorcycling Company brings you the grand motorcycle escapade this summer. It is called Ladakh-Lahaul-Spiti, its beauty makes the God reside there and its challenge makes the truly adventurous motorcyclist attempt a ride through it.
The roads are unforgiving mostly single lane and infinitely meandering. The altitude is the highest any road in the World can boast of taking you to. The rivers you cross are furious and they laugh a riot in your face. The Buddhist monasteries provided the deepest spiritual experience people have ever had. The sheer dedication of the Indian Army and the amazing Border Road Organisation who keep these roads working is infectious.
Impossible bridges over rivers and impossible rivers over bridges are equally possible. Glacial melts, landslides and washed-out roads need to be taken in as your daily cup of tea. Else, it is really not your cup of tea! But if you brave through Ladakh – Lahaul – Spiti, you will return a mountain adventurer, a storyteller, and most importantly, a lover!
EXPEDITION HIGHLIGHTS3000 KMS | 09 Lakes | 12 Mountain Passes | 06 Nights Camping | 10 Night in Deluxe Hotels | Toughest Motorcycle Journey | Lush Green Mountains | Naked Mountains | Curvaceous Road | Super Blind Turns | Highest Desert of the World | Glacial Movement | Landslides | Snow-Melt Waters | Anticipation | Exhilaration | Charm | Jaw Dropping | Ancient Culture | Highest Village in Asia | People of Wisdom | Cuisines | Stories | Ghosts | The Journey
CONTACT DETAILS:Mobile +91 88 0018 0333 | +91 88 0026 4333 | +91 98 6823 6717Desk: +91 11 2695 1419 | +91 11 4155 6733
Email: info@hindustanmotorcycling.comFor details: http://www.hindustanmotorcycling.com/portfolio-items/ladakh-lahaul-spiti-extreme-motorcycle-expedition/
1. All accommodation in Deluxe Hotels and Camps on Double Sharing Basis (Two Persons in 01 Room/ Tent). HMC will attempt to match roommates according to smoking preferences. If HMC is unable to do so, participants should agree to refrain from smoking in their hotel room/ tent.
2. All breakfast and dinner except for some prominent places (Shimla, Manali & Chandigarh) where participants have more variety of platter to try. One should not miss the local delicacies of the places you are visiting.
3. An experienced Tour Captain (more than 50 rides to Ladakh, Lahaul and Spiti) with English and Hindi as spoken languages.
4. Mechanical Support Team - which means a small team of trained and experienced mechanic with all the spares and tools will be accompanying the group in back-up SUV. They will work on motorcycles in case something goes wrong and also keep checking your motorcycle on regular intervals to keep it fit throughout the ride.
5. Medical Kit with Oxygen Cylinders
6. Bonfires, wherever possible
7. Exclusive Trans-Himalayan Motorcycle Expedition T-Shirt
8. Exclusive Trans-Himalayan Motorcycle Stickers for your Motorcycle and Helmet
9. HMC reserves the right to change services included in the registration fees after registration in case an unexpected situation arises.

Motorcycle Rental Details
Participants who want to join the Ladakh - Lahaul - Spiti Motorcycle Expedition with rented Motorcycles. Kindly contact Hindustan Motorcycling Company for the Motorcycle Rental Details.

CONTACT DETAILS:
Mobile +91 88 0018 0333 | +91 88 0026 4333 | +91 98 6823 6717
Desk: +91 11 2695 1419 | +91 11 4155 6733

Email: info@hindustanmotorcycling.com