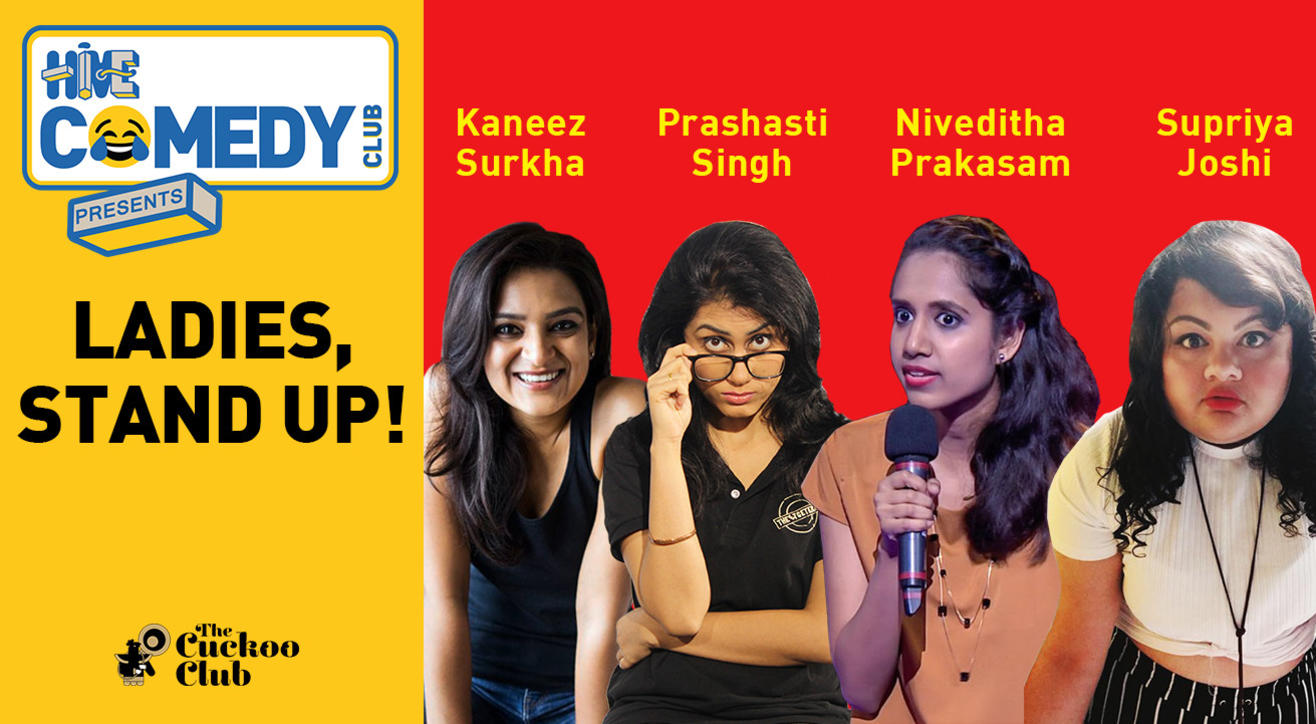 Comedy
Ladies, Stand-Up! with Kaneez, Prashasti, Niveditha and Supriya hosted by Biswa Kalyan Rath
About
The funniest lineup with some of the wittiest women in Comedy. Drop by the Cuckoo Club this Wednesday for a special show, Ladies, Stand-Up! with this stellar lineup featuring Kaneez Surka, Prashasti Singh, Niveditha Prakasam and Supriya Joshi. The show is also hosted by sabka dost aur duniyan ka pyaara, the hillarious Biswa Kalyan Rath
About the Artists
Kaneez Surka
Kaneez Surka is an improviser, comedy actor, sketch artist and stand-up comedian. She is India's first female improviser and has been associated with The Improvisers collective since 2009, along with comedians Abish Mathew, Kanan Gill and Kenny Sebastian. She's been invited to four international Improv Festivals, ones in Amsterdam, Berlin, Seattle and Toronto. Currently, she hosts a game-show called The General Fun Game Show, which has featured popular comics Kanan Gill, Biswa Kalyan Rath, Tanmay Bhat, Rohan Joshi, Abish Mathew, Zakir Khan and several others.
Prashasti Singh
Prashasti Singh is a stand-up comic, writer, actor and improviser, who you've most recently seen in Amazon Prime Video's Comicstaan. She has been active in the Mumbai comedy circuit since 2015. She has 3 years of experience in improv comedy and 2 years in stand-up, performing across venues like Canvas Laugh Club, NCPA and the Cuckoo Club. Prior to comedy she has dabbled with theater and has performed at venues like Kamani auditorium in Delhi and Rangamandira in Bangalore. Prashasti has a degree in engineering from Delhi university and MBA from IIM Lucknow.
Niveditha Prakasam
Niveditha Prakasam is an automobile engineer turned language editor turned standup comedian from Tamil Nadu. She won the reality TV show TLC Queens of Comedy and has now moved to Bombay to steal everyone's jobs. Her style has been described as intelligent, wry and sarcastic.
Supriya Joshi
Supriya Joshi aka Supaarwoman is a writer, comic and caped crusader battling the pointlessness of life, one meme at a time. Supaar covers a wide variety of topics from PCOD to why Govinda might actually be the second coming of Christ. After killing is on Facebook, Twitter and Instagram, Supriya has found a new weapon of choice in the microphone and she is coming to a stage near you.