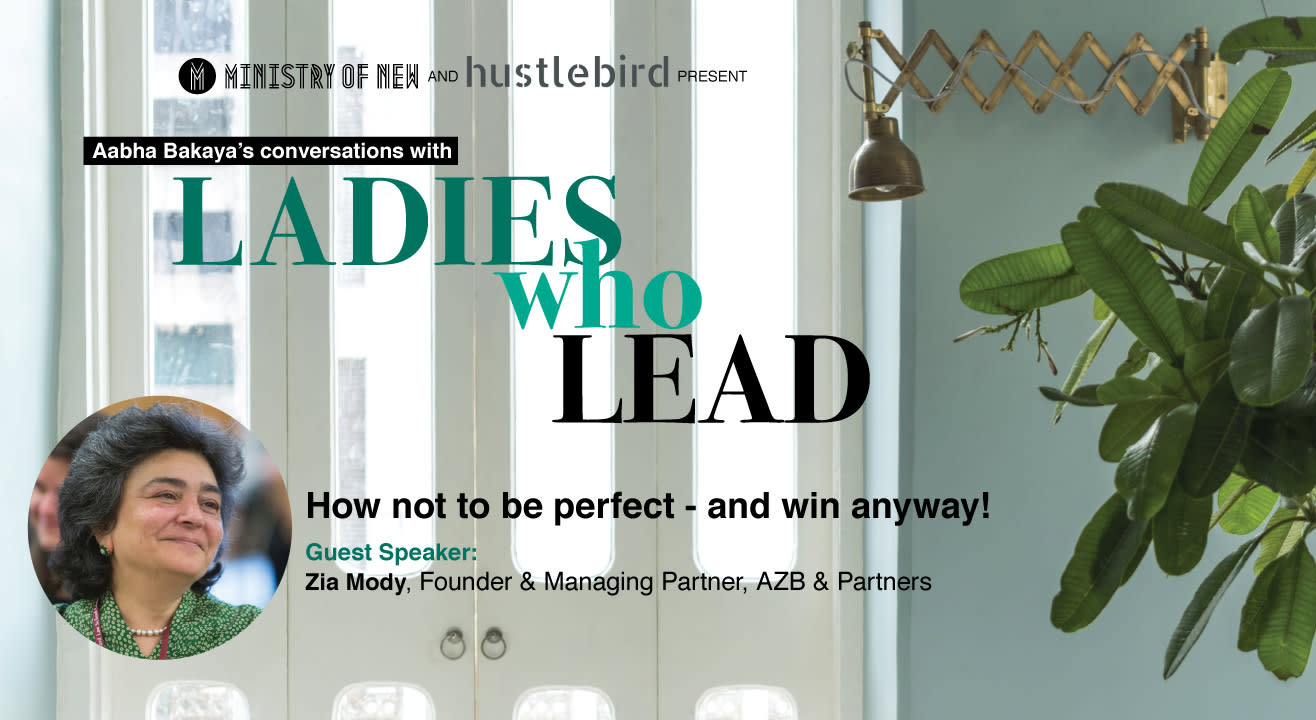 Learn
About
Ladies Who Lead (LWL) is a series of monthly events, with each one featuring an inspirational mentor - a woman who has excelled in her field of work - as a speaker, in conversation with Aabha Bakaya, Broadcast Journalist. This series is presented by Ministry of New and Hustlebird.
The primary aim of LWL events is to create a platform for professional women, both at entry level and also at the mid level, who could benefit greatly from mentorship and a network of like-minded, driven and ambitious peers embarking on their way up the corporate or startup ladder. There are often numerous challenges faced by women in the professional world, and we aim to provide that extra support to encourage discussion, staying focused on their careers, and making the right choices.
LWL events will be an intimate gathering of approximately 50 women once a month.
Zia Mody, Founder & Managing Partner, AZB & Partners.
Zia Mody is one of India's foremost corporate attorneys, who been recognised for her contribution to the legal world, both in India and internationally. Listed by Forbes Asia as one of 'Asia's 50 Power Businesswomen' (2015) and by Forbes India (2014) as one of 'India's 10 most Powerful women', it has been said that few of Zia's peers can match her skills or take her on when it comes to mergers and acquisitions, joint ventures, company restructuring, foreign inward investment related practice and corporate law.

Also joining in conversation is Prachee Banthia-Dhondge.
Prachee Banthia-Dhongde is the former Vice President of Sales and Marketing at Mapro Foods with experience across consulting, operational management and advisory for various large and small consumer businesses in India on sales, marketing and business development. At Mapro, Prachee headed the national sales for confectionery products, and started the marketing and branding function, establishing core brand identities, manuals and recruited the marketing team. She evaluated, introduced and rolled out systems and processes for sales force effectiveness, inventory and channel management.
Aabha Bakaya is an experienced News Broadcast Journalist. She currently collaborates with partners to create content on Finance, Thought Leadership and Entrepreneurship across media formats. She has worked for several years at leading media houses like NDTV Profit, ET NOW and Bloomberg TV India. She believes in empowering women with a strong network, support and encouragement.
Ministry of New, founded by Marlies Bloemendaal and Natascha Chadha, is a design-inspired collaborative workspace, for independent professionals looking to be part of an international creative community. Located in the heart of South Mumbai, Ministry of New has been ranked 2nd in Forbes Magazine's list of the 5 most beautiful coworking spaces in the world.

Hustlebird, founded by Jinanda Sheth, is an integrated digital marketing consultancy with a personalized approach to working with businesses and providing customized solutions for their growth needs. Starting as a nomadic business with team members, clients, and collaborators worldwide, Mumbai is now home with a clientele of Indian startups looking to grow online.
Venue
Ministry of New, Mumbai
Kitab Mahal 3rd floor 192 Dadabhai Naoroji Road, Fort Mumbai, Maharashtra 400001