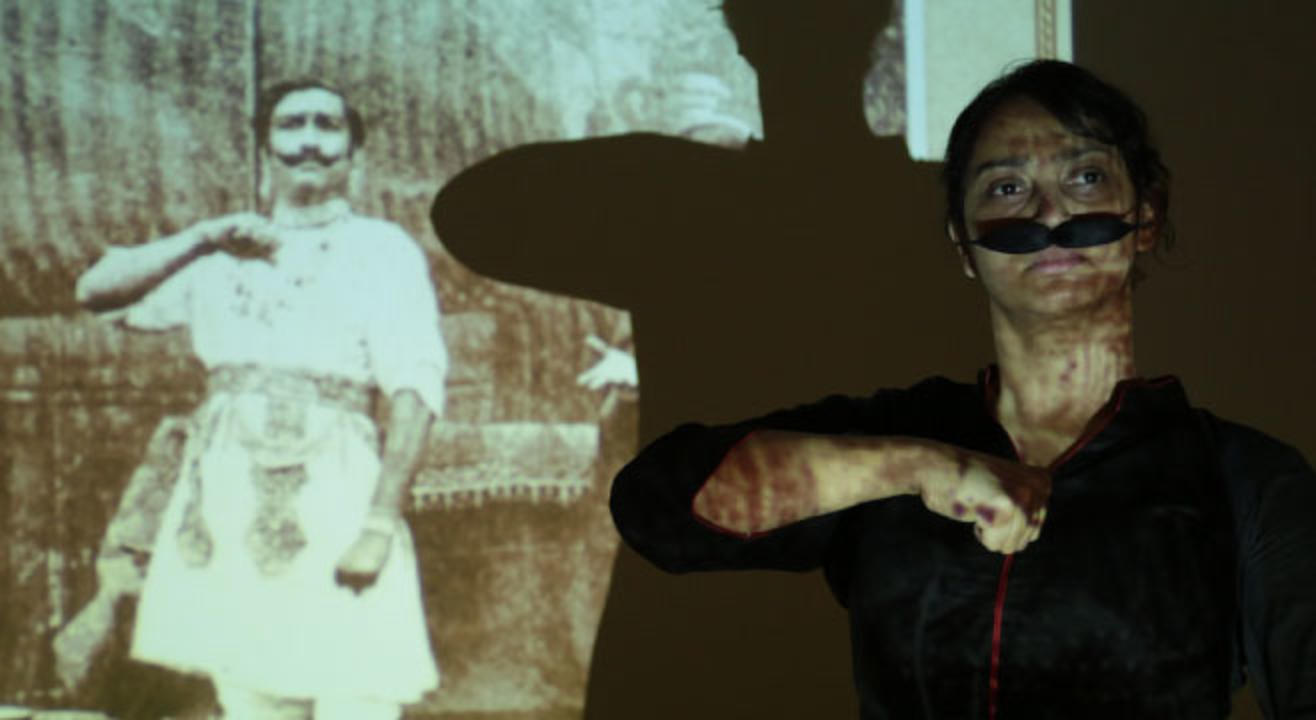 Lady Anandi by Drama Queen
Sitara Studio, Mumbai, Mumbai
Invite your friends
and enjoy a shared experience
Lady Anandi by Drama Queen
Sitara Studio, Mumbai, Mumbai
Invite your friends
and enjoy a shared experience
Invite your friends
and enjoy a shared experience
"Expect images and documents dug out from century-old archives, and libraries as part of the narrative."- The New Indian Express
"Anuja's performance introduces a unique form of documentary theatre." - Deccan Chronicle
"We are taken rapidly through charged, potent moments from the past and the contemporary." -Theladiesfinger.com
Lady Anandi is the story of F, an actor-writer who is haunted by the ghost of her maternal great grandfather — a female impersonator in regional Indian Theatre in the late 1800s. When she finally encounters him, he is dressed as a woman, in a blood red, silk saree, essaying the role of Lady Anandi — a controversial 18th century Indian historical figure. F tries to imagine her great grandfather's life, playing women's parts in the theatre by looking at his photos, and trying to re-enact the characters he essayed.
The performance is based on extensive research and, exploring a personal archive, brings together elements like performance, history, early photography and gender. It is a quirky, absurd and historical look at how to act like a lady in a man's world. The text was written during Anuja's month-long residency at Art Lab Gnesta, Sweden. It is a documentary theatre piece and is being showcased as a work in progress.
Post the show, Anuja will be in conversation with award-winning filmmaker and artist Shumona Goel.
Anuja Ghosalkar is a theatre actor, writer and director based in Bangalore. Anuja has worked with theatre directors including Atul Kumar, Abhishek Majumadar, Kirtana Kumar and Arundhati Raja. She teaches theatre to young adults and children across Bangalore through Jagriti and Ranga Shankara. When not doing theatre, she works on Experimenta, a festival of moving image art in India. In the past, Anuja has worked as a programme officer at India Foundation for the Arts, in film research, curating, writing and teaching cinema. Recently, she was an artist-in-residence at Art Lab Gnesta, Sweden, where she wrote Lady Anandi.
Sitara Studio, Mumbai
Garage Galli, Kakasaheb Gadgil Marg Near Congress Bhavan, Opposite Indiabulls Finance Centre, Lower Parel
GET DIRECTIONS
Lady Anandi by Drama Queen
Sitara Studio, Mumbai, Mumbai
Invite your friends
and enjoy a shared experience